This post contains affiliate links.
Kayak fishing is a great outdoor activity where you sit close to the water level and directly in weather and surf elements. Fishing from a kayak can be a great adventure and yield some awesome results. However, since you are in a lower profile watercraft than a motorboat, you may want to plan on layering your clothing for fishing from a kayak.
The clothes to wear for fishing from a kayak should be breathable, layered, and protect you from the sun's UV rays. Wear a long-sleeve UPF shirt in the summer. In the fall and winter, Goretex undershirts, layered flannel, and a waterproof jacket and pants are best.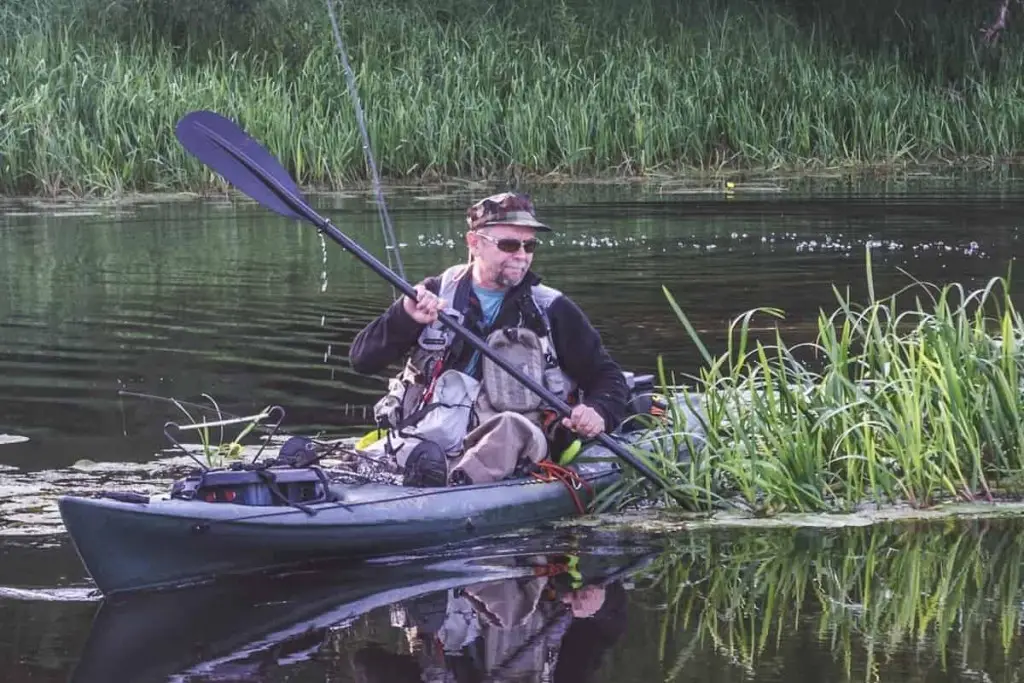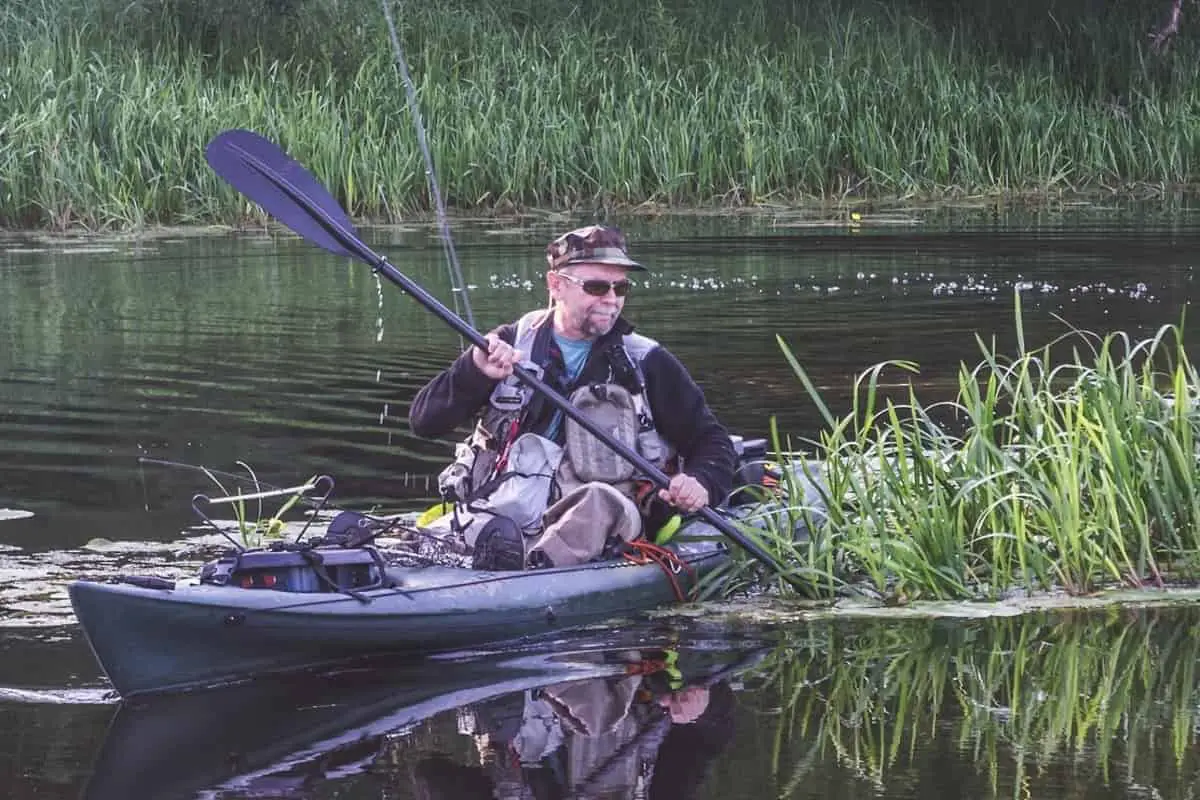 Fishing from a kayak is a great sport and gives you the adventure and action close down to the water. In order to have a comfortable fishing expedition in a kayak, plan on getting a little wet and invest in layers of clothes that you can shed off as you get hotter or cooler throughout the day.
Not all materials are made equal, so the rest of this guide will give you the information you need to choose the proper clothes to wear for kayak fishing.
Layering Clothes for Kayak Fishing
The ability to strip layers and put them back on while kayaking is a great attribute. You want to dress for the water's temperature, not the air so that if you get wet and are sitting, you will still be warm, and if you start paddling and get hot, you can strip layers off.
If you want to be comfortable on the water, there are several different layers that you should think about when kayak fishing. You'll want to have a top and bottoms which are breathable and wick away moisture from your skin. A light long or short sleeve shirt over that depending upon the weather. And possibly a shell jacket and pants for the wet days.
The clothing you wear while kayak fishing will keep you safe, warm, and dry and maintain the maximum range of motion in your shoulders. Also, bring along accessories that you think you will need for sun, wind, water, or comfort.
The best bet for your clothing layers is to dress for the temperature of the water. You can check current water temperatures at the National Centers For Environmental Information website, which provides water temperatures at hundreds of locations in the ocean with sensor buoys.
Planning ahead can help you to choose the proper clothing for fishing from a kayak.
When you find out the water temperature, you may want to study the weather and sun exposure you can expect on the day you are kayaking. The three main types of outfits you should plan for when fishing from a kayak are for cold water and cold air, warm air and cold water, and warm air and warm water. 
Cold Water Cold Air Clothing
The best kinds of waterproof clothing are dry suits that are made from waterproof material and can keep your skin from getting wet. If the water temperature is below sixty degrees or you are going to be out in open waters, it is best to wear a dry suit. 
A dry suit that goes the length of your arms and legs will keep you completely dry and protect you from UV rays simultaneously. You will conserve heat and energy while wearing a dry or wet suit while fishing from a kayak.
Warm Air and Warm Water Clothing
Suppose the temperature of the air and water is well above sixty degrees Fahrenheit. In that case, you shouldn't feel obligated to wear a wetsuit. Instead, you need to have quick-drying layers that can also protect your skin from the sun's UV rays.
Cold Water Warm Air Clothing
Even if the air temperature is warm outside, you want to dress for the water's temperature. If the water temperature is cold, you may want to consider short sleeve or sleeveless wetsuits that can protect the core temperature of your body heat but allow you to feel the warmth of the sun and air.
A soft sleeved shirt for UV protection that is moisture-wicking can be a great shell layer over a sleeveless wetsuit in cold water and warm air weather conditions while fishing from a kayak. 
Safety Clothing
Staying safe while kayaking includes clothes that can also be used as personal flotation devices. Kayaking without a personal flotation device is illegal in some states and can help you to stay safe in any kind of water or weather condition.

Safety clothing for fishing while kayaking should not get in the way of paddling or casting, so it is best to use some of the personal flotation devices that remain small and deflated until you enter the water like the ones listed below: 
NRS Chinook Fishing PFD – My Top Choice
My top choice and the PFD I wear when on the water is the NRS Chinook Fishing PFD. I've field-tested a number of different PFD's and this is by far the best I've owned.
You can read why I chose the Chinook Fishing PFD on my Recommended Gear page: Best Kayak Fishing Life Jacket: My top pick
Eyson Automatic/Manual Inflatable Life Jacket Life Vest PFD 
This PFD inflates manually with the pull cord or automatically upon entering the water. It stays deflated and out of your way for maximum range of motion while you are paddling or casting your fishing line. 
Pros: 
Auto inflate 
Manual inflate
Lightweight
Cons: 
Not as form-fitting/slim as other brands
More expensive than other brands
Premium Quality Automatic/Manual Inflatable Life Jacket Lifejacket PFD 
The Premium Quality PFD is one of the best on the market for its lightweight, and slim fit feel that hugs your body and allows for maximum range of motion.
Pros:
Light weight
Slim feel design
Auto inflate
Manually inflates
Cons: 
Belt fit can be uncomfortable
Does not fit larger belly sizes
Accessories 
The best accessories for fishing from a kayak are things that will add to your protection and comfort while you are sitting stationary in the water. This may include articles of clothing like UV protection sunglasses, wide-brimmed hats, and bandanas to protect your face, ears, and neck from sunburn or the wind. 
Spray skirts that wrap around your torso and seal the inside of your kayak from the waves and water outside are a great feature that can keep you very dry and also allow you to store a bit more body heat.
Footwear
The type of footwear you use while fishing from a kayak should be slip-resistant. You don't want to be battling with slippery sandals as you try to get out of your kayak after hours of fishing. Instead, using grip sole water shoes or sandals are the best bet to keep you safe and on your feet while entering and exiting the watercraft. 
For more information on kayak shoes, give my post 7 Best Shoes for Kayak Fishing a quick read!
Best Materials 
Thinner layers are the best to use while fishing from a kayak instead of using a single thick layer. As you paddle, you may want to strip off a layer to cool off or add a layer as you sit and fish in a stationary position.
Materials that are the best for fishing from a kayak are synthetics such as fleece, neoprene, or polypropylene, as well as natural fabric such as wool. Cotton should be avoided at all costs because it will not hold heat after it gets wet and instead just make you feel colder.
Final Thoughts
The best clothing to wear while fishing from a kayak will keep you warm, safe, dry, and give you a range of motion. You should also consider the water temperature first, and then the air temperature to decide the clothing type that will best fit the situation you will be kayaking in. 
Clothing material is also very important since you are almost guaranteed to get a little bit wet during your fishing expedition from a kayak. Just remember to use the sources this article provides and check the conditions before you get dressed. Finally, use layers just in case the conditions change. 
Have fun and stay safe out there!