This post contains affiliate links.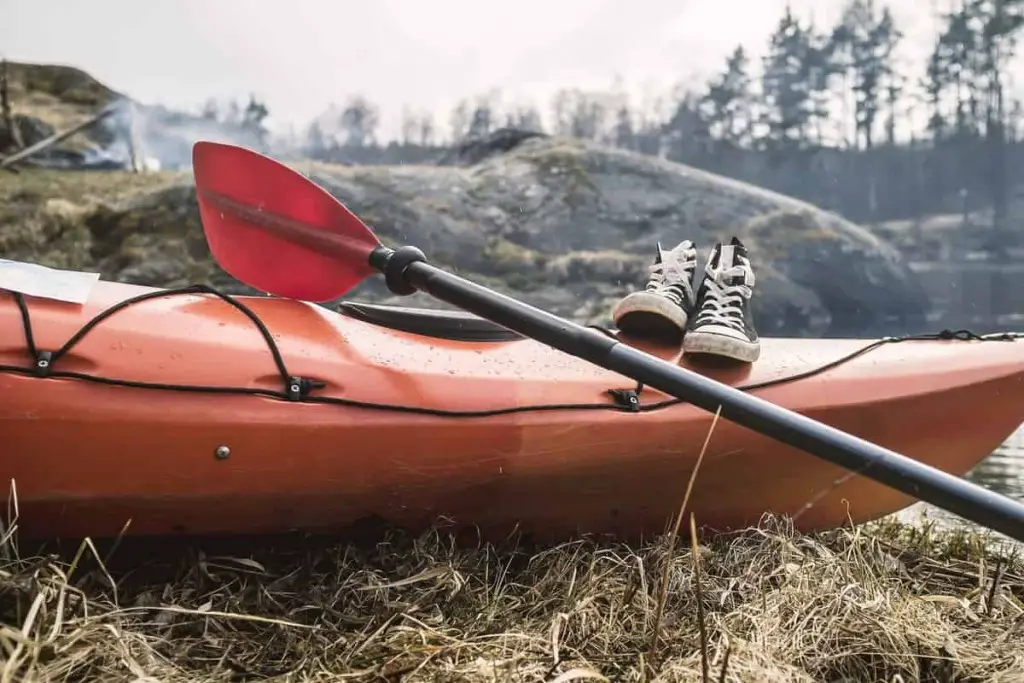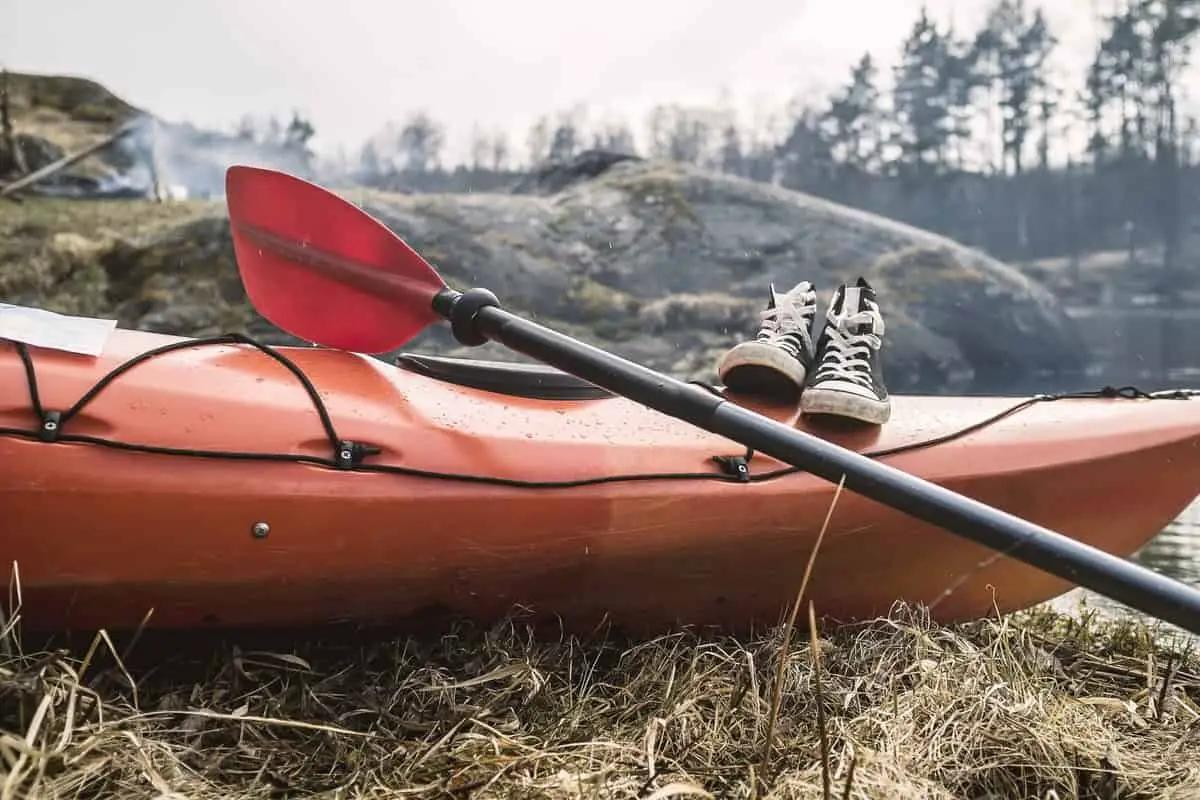 Whether you indulge in kayaking for recreation or to seriously practice the sport, kayak fishing shoes would ensure your feet remain dry and comfortable throughout your indulgence. The shoes also offer protection over rough terrain and against impact with objects like creek rocks. 
The NRS Boundary is great for how it marries comfort and protection. If you want a shoe with an understated, yet unique design and comfortable, check out the low-profile Vibram Signa. The NRS Paddle, NeoSport Premium, Northside Brille II, etc. are also great options.
The shoes listed below have been chosen for their ability to intelligently blend attributes that a great kayak fishing shoe must possess – which include comfort, protection, durability, and design. No kayak shoe is perfect. The ones mentioned below are as close as they get.  
P.S. If you think you don't need kayak shoes and could do just fine with any other type of shoe, such as tennis shoes, watch this video:
NRS Boundary Dry Boot
Click here to see the current price on Amazon
With a pronounced footbed and fairly thick 7mm (0.7cm) rubber sole, the NRS Boundary is a mukluk-style boot. 
It's made of neoprene and, therefore, is waterproof and quite versatile. The 5mm (0.5cm) neoprene is relatively thick and works in most conditions. To ensure warmth and comfort during extremely cold weather scenarios, pair the boot with thermal socks.
Though this knee-high shoe looks a bit unwieldy at first, it's surprisingly comfortable and breathable. The shoe's extra height, in fact, helps keep your feet toasty when it's cold outside. Wearing and removing the shoe is pretty easy, too, thanks to the arch strap. The convenient strap also locks the boots in place and prevents sand and water from getting in. All things put together the shoe gives a secured feeling to your feet.
Pros
Warm, dry, and comfortable
Tough sole and well-padded insides
Durable and loads of traction
Security arch strap
Cons
Female kayakers may have issues finding the right size
Vibram Signa Athletic Boating Shoe 
Click here to see the current price on Amazon
The Vibram Signa is an athletic boating shoe for kayakers who need a low-profile kayak shoe. This Vibram pair is made using synthetic material and an abrasion-resistant, stretchy, and comfortable upper polyester mesh. The shoes are pretty flexible and thin, which makes you feel more grounded or like not having worn anything on your feet.
The shoe is slip-resistant, thanks to the WAVEGRIP compound. It ensures you don't slip while treading on damp surfaces. The slip resistance is a pretty handy feature, particularly when you consider the shoe's use case. The shoe has drainage holes to facilitate quick drying. Also, you get a strap to ensure a more comfortable and cozier fit.
Pros
Lightweight and breathable
Snug fit
Resists abrasions pretty well
Cool and innovative design
Cons
Arch support could have been better
Neo Sport Premium Neoprene Men & Women Wetsuit Boots
Click here to see the current price on Amazon
The NeoSport Premium is a zipper, hi-top boot made from a rubber and durable neoprene material laced with advanced technology for increased wearer comfort. 
It has a heavy-duty zipper that ensures zero water ingress. This relatively lightweight shoe's insert sole boasts increased traction and solid puncture protection. The seams and sole are also glued together, reinforcing the pair's durability and longevity.
The shoe starts at 3mm (0.3cm) of thickness and moderate layering, which helps it resist impacts and abrasions. The layers also keep your feet warm, making the pair ideal during cold weather conditions. 
You can choose from three levels of thickness: 3mm, 5mm, and 7mm. The 3mm thick shoe is ideal for kayaking in warm water, while the 5mm and 7mm pair are designed to withstand moderate and cold-water conditions, respectively.
Pros
All-weather shoe
Durable and flexible
Different thickness options
Puncture-resistant sole
Cons
Zipper mechanism's durability is suspect
NRS Men's Paddle Wetshoes
Click here to see the current price on Amazon
The NRS Paddle is a warm, comfortable, and pretty versatile shoe. It has a side zipper entry that opens pretty wide, making it quite easy to put the shoe on or take it off. The low-profile, high-top design offers great protection and warmth without any bulk. In chilly waters, the 3mm Terraprene neoprene and the heat-reflecting titanium glue ensures your feet stay warm.
The fleece-like, soft lining tends off water and dries almost instantly for greater comfort and warmth. The high-traction, 3mm sole paired with the 5mm neoprene insole offers your feet protection from roots and rocks. The sole wraps around your toe and heel for added protection. Moreover, the toe box is quite roomy and gives your toes enough space and all-day comfort.
Pros
Ideal for all-day paddling
Convenient zip side entry
Neoprene offers great cushioning
You can swim in it
Cons
Getting the right size could be tricky
Northside Unisex Brille II Athletic Water Shoe
Click here to see the current price on Amazon
The Northside Brille II water shoe is made from a blend of quick-drying mesh and neoprene. The shoe features a removable insole and synthetic sole and looks more like a regular pair of sneakers. The drawstring laces ensure a snug and pretty comfortable fit. The rubber sole offers a solid grip even on slippery waterbeds.
Available in a range of colors, the Brille II keeps up the reputation of Northside, a brand known for making rugged footwear for all kinds of terrain and weather conditions. The shoes are fairly flat, with raised portions in the right areas. For a water shoe, the padding is pretty thick. There is also arch support. People with wide feet will find the shoe quite accommodating.
Pros
Durable and comfortable
Decent traction for the design
Sneaker design
Removable insole
Cons
NeoSport Wetsuits Paddle Low Top Boots
Click here to see the current price on Amazon
The Neosport Wetsuits is a pair of kayak shoes constructed using comfortable and soft neoprene for the upper. 
The sole is made from a flexible and soft thermoplastic rubber, and the sole insert is hardened for solid puncture resistance. The glued and hand-sewn rubber seams and outsoles offer solid traction on all surfaces, while the under-ankle cord helps with securing the shoes to your feet. You also get an arch strap for increased stability.
The shoe is pretty easy to wear and remove. Though ideal for paddling, these boots are all-around shoes that can also be used to navigate river bottoms or rocky beaches. Not to mention, the shoe works pretty well both in and outside of the kayak.
Pros
Great all-terrain shoes
Warm and durable
Seams are both glued and stitched
Soles offer great traction
Cons
Minor water retaining issue
Aleader Men's Mesh Slip On Water Shoes
Click here to check the current price on Amazon
This Aleader slip-on shoe is made using a combination of hydrophobic engineered mesh and FluidFlow technology to facilitate quick drying. The shoe is lightweight, breathable, a comfortable fit, and grips on pretty well to various surfaces. It has an inner lining that prevents sand particles and small rocks from settling inside the shoe.
The shoe is commonly referred to as the 'amphibious shoe' within the community since it marries qualities that render the shoe ideal for different environments. The Aleader slip-on comes in a range of colors comprising different grey, white, and black color pairings. 
Aleader Women's Mesh Slip On Water Shoes
For women, there is a separate pair, which comes in even more interesting colors.
Click here to see the current price on Amazon
Pros
Fairly versatile
Comfortable, snug fit
Flexible and cushy soles
Removable inner liner (which means increased space)
Cons
A tad too many vent holes
Conclusion 
A kayaking adventure can be full of surprises and revelations. Proper kayaking shoes ensure your feet are ready and willing to meet those challenges. 
If you are a seasoned kayaker, buy an all-weather, all-terrain shoe such as the NRS Boundary. 
Also, look into other aspects of the shoe: breathability, comfort, fit, and construction. Buy a pair only after weighing in the various attributes and what aspects matter to you the most.