This post contains affiliate links.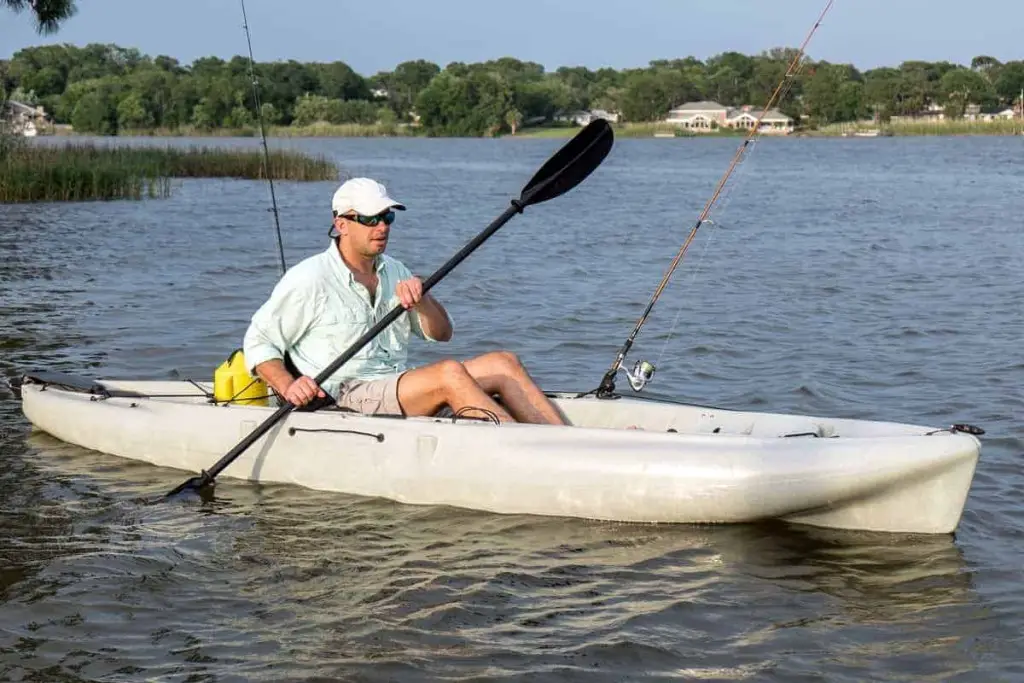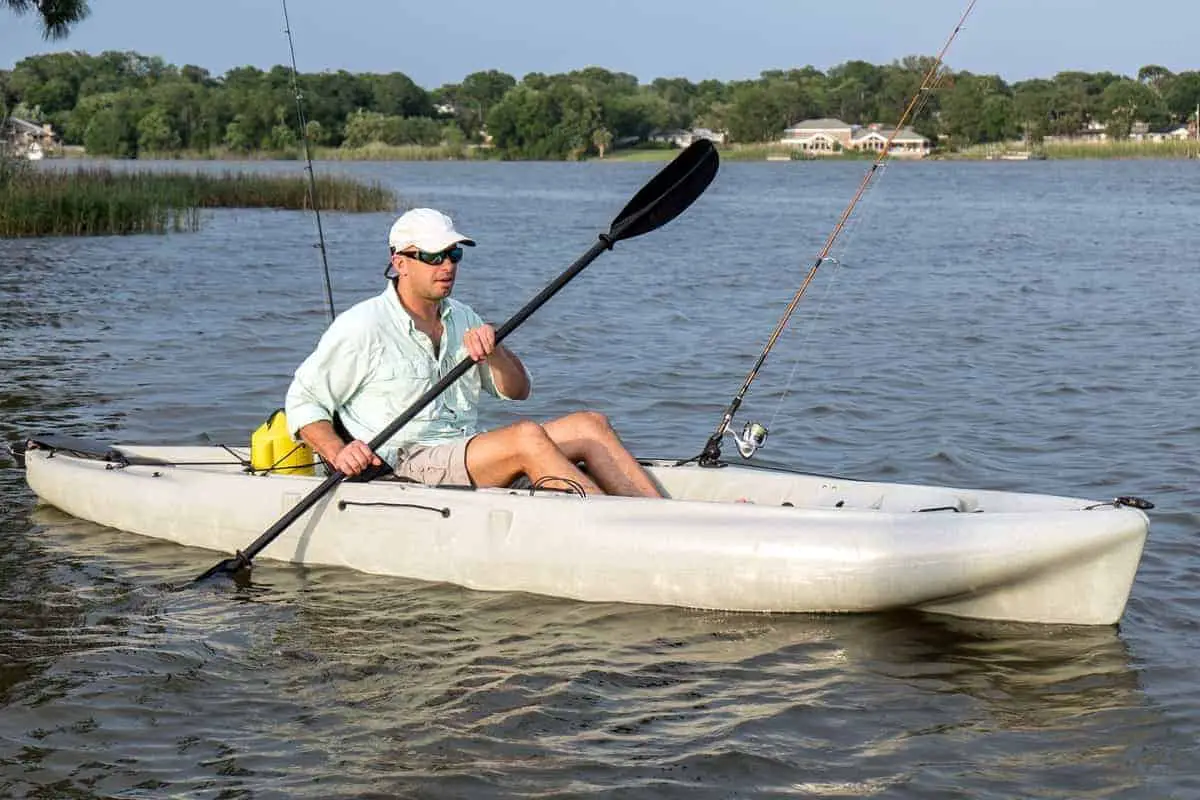 In recent years, kayak fishing has gained popularity and is all the rage right now. It's a sport that can be traced back thousands of years. The difficulty in kayaking lies in choosing what to wear. The plan is to stay in the kayak, but you should also be prepared in case you fall in the water. 
When kayaking in summer, most people wear bathing suits, shorts, and long sleeves tops. It is advised that you wear clothes that offer thermal protection and fabrics that carry UPF and SPF for protection from harmful UV rays. Additionally, wear loose-fitting clothes for adequate air circulation.
This guide will help you to determine the most suitable gear you can wear when kayaking in summer. So, read on.
What to Wear When Kayaking in Summer
As mentioned above, what you wear when kayaking mostly depends on temperature and time of year.
Conversely, it's challenging to find one clothing solution for kayak fishing during summer, especially if you live in an area where it's extremely hot during this season.
What should be key is protecting yourself from the various weather elements; hot sun, harsh winds, cold temperatures, and wet conditions.
Clothing Tips for Kayaking
Here is a brief on what you should always keep in mind when going for kayak fishing:
Pay close attention to the water temperature and not air temperature. Wear a wetsuit or drysuit.
When you dive in the water, you want to stay dry and comfortable for as long as possible. Make sure that you keep extra clothes in your car in case you get too wet.
Reduce the chances of cold water contacting your skin. The kind of dressing gear you should be looking for needs layering.
In summer, especially on hot days, dress for sun protection. As long as you're going outdoors, no matter the cloud cover, the sun's rays can be harmful to the skin and eyes. It's essential to avoid excessive sun exposure, so wear clothes with UPF-rated fabrics.
Avoid cotton fabric clothes because when they absorb water, they stay wet. Polyester, quick-drying nylon, and wool are excellent quick-drying fabrics.
Look for abrasion-resistant fabrics that can withstand the wear and tear of rough materials along the way.
You never know when you may end up in the water. Possible capsizing can occur due to small rapids in your river or rough waves on the coast. A personal floatation device or a PFD will come in handy in the case of such scenarios. 
Let's now look at the specific kayak fishing outfits that you can wear under different weather conditions. 
Dressing for Kayak Fishing in Hot Weather
Summer is a time when most people take up kayak sport fishing. During this time, you can wear non-cotton underwear to stay comfortable during expeditions. Let's look at the different kinds of gear you can wear in warm weather.
You Can Wear a Drysuit
A surfer's drysuit is popular with divers, boaters, and water sport enthusiasts. The essential components that make the drysuit include a shell of watertight material, an inflation valve with a gas supply, and a unique closure that seals the opening when it is worn.
It also features thermal insulation that keeps the wearer warm in cold water. Additionally, since the suit prevents water from entering, it provides passive thermal protection. The seals at the wrist and neck prevent water from entering thanks to a close contact fit against the skin. 
A dry suit protects the whole body except the head, hands, and feet. It makes better insulation, especially in cold water, but can cause discomfort and sweating during hot weather conditions. The beautiful part is if you start feeling too warm, you can get a quick dip to cool down.
However, most drysuits don't provide adequate insulation without appropriate undergarments. They are also pricey and more complex to use but make a great option in lower temperatures. Besides, most drysuit undergarments are full length. In warm weather, the best drysuit undergarment would be lightweight and one with moisture-wicking properties.  
Wear a Wetsuit
In warm weather, some kayak anglers choose to wear shorts and short-sleeved shirts to feel comfortable. But a better option would be a sleeveless wetsuit "farmer John" style like the highly affordable O'Neill Men's O'Riginal 2mm Back Zip Sleeveless Spring Wetsuit from Amazon.
While a drysuit prevents water from penetrating, a wetsuit, on the other hand, allows the water to enter and provide thermal protection while wet. A drysuit is a popular option with kayakers, surfers, river rafters, sailors, divers, windsurfers, and others who engage in water sport activities. 
A wetsuit includes hydrophobic qualities that provide thermal protection while wet. It also offers buoyancy, protection from UV rays, stings from marine organisms, and protection from abrasion. 
Neoprene is the chief property material in a wetsuit that reduces its ability to conduct heat, making it an excellent choice to wear in warm weather. However, a wetsuit must have a snug fit on the neck and wrist to work well when immersed.
Wetsuits come in different shapes:
A sleeveless vest – provides minimal coverage, and some come with an attached hood. 
A full-suit – covers the full length from the torso, including arms and legs. Some come in short-sleeved versions.
Pants – covers the lower torso and legs.
A hooded tunic – covers the torso and head. It can also include short or no sleeves.
A short john – covers the torso and legs up to the knees.
A farmer john/jane – resembles a bib overall and covers the torso and legs only.
A spring suit – covers the torso. It includes long or short sleeves and short legs. 
The wetsuits that come in two pieces offer the most comfort in warm weather.
Wear Dry Pants and a Dry Top 
Some kayak anglers find dry pants and a dry top more comfortable when paddling and casting. However, it would help if you kept in mind the layering that you need underneath.
Dry pants come in either short or long varieties. The long pants are an excellent choice in sunny conditions, especially when kayak fishing and when the weather gets colder and windy. A dry top stays warm when wet and features quick-drying material, usually nylon and polyester.
Thermal pats are form-fitting, they are not thermals, although some have a fleece lining. If you're a first-time kayak angler, remember to purchase a pair of waders to match with your dry top to keep you warm when temperatures drop. 
Synthetic Pants and a Long-Sleeved Shirt
Full wetsuits and drysuits may be too much gear for some kayak anglers to keep them comfortable in hot weather conditions. If the temperature is not a concern, lightweight, moisture-wicking synthetic pants, and a long-sleeved shirt will make a great choice. 
Most are well suited for paddling thanks to their quick-drying and high UPF rating. They are also waterproof and can withstand the changing environmental elements. The synthetic pants and the long-sleeved shirts feature large fitting to allow easy layering.
Although some include built-in SPF sun protection, a sun hat and sunglasses make an excellent choice for sit-in-top kayaking and also to protect you from the weather elements. Other kayak anglers go the extra mile and wear sunscreen, lip balm, and a buff to cover most of their face. Conversely, sun gloves come in handy to protect exposed skin from harmful UV rays. 
There are numerous types of footwear that kayakers can use to protect their feet when sport fishing. The shoes range from water shoes, crocs, sandals or old sneakers. 
Besides, the choice of gear that a kayak angler picks should be of high quality, comfortable to wear and designed for kayaking.
Wear Light-Colored and Loose-Fitting Clothes
Wear loosely or semi-fitted clothes to allow room for adequate air circulation. You can also put on loose-fitting clothes that have venting. 
Light-colored clothes reflect the sun's light away; hence less heat is absorbed into your body. Luckily, companies today are making clothes that carry UPF (Ultra Protection Factor). This factor is similar to the SPF (Sun Protection Factor), which shields the skin from harmful UV (ultraviolet) rays.
Conclusion 
Whether you're kayak fishing in summer or winter, your clothing choice should reflect safe and comfortable attributes to protect you from cold and wet conditions. 
Dress suitably for versatility and comfort while you're on the move. In Summer, your clothes should protect your skin from the sun, and be comfortable at the same time. And don't forget a good hat!
Thanks for stopping by and be safe out there!