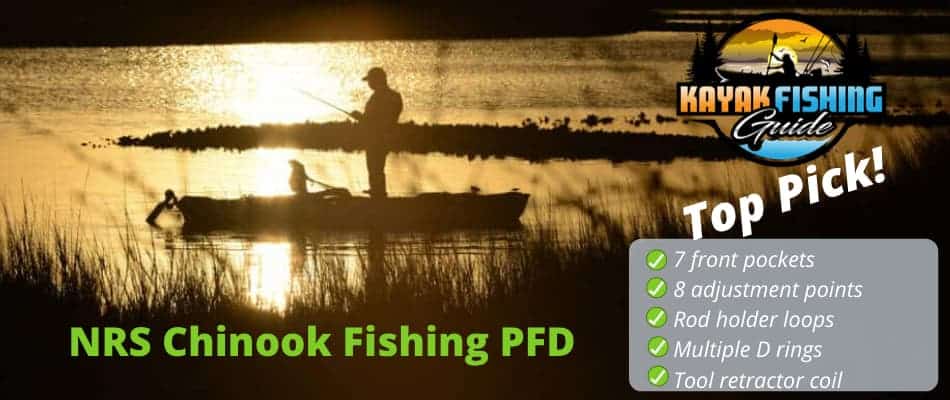 Today, there are many quality life jackets to be found on the market. But when I fished from a larger bass boat in the mid-'80s, the seat cushions lying around on the floor were considered to be PFD's (Personal Floatation Devices) legally by the State Game & Fish Department, and I went with them. Not the smartest safety choice by any means in today's fishing world!
When fishing from a kayak, there isn't room for any error when it comes to your safety and coming home to your family and friends. Comfort, functionality, and the ability to save your life in rough or cold water is nothing to skimp on.
I narrowed my choices down to three different life jackets, and it's my belief, I went with the best of the three.
These are the Top Three Kayak Fishing Life Jackets
Why I Picked the NRS Chinook Fishing PFD
Best all-around vest for the price
Quality and well built,
All seven pockets were readily accessible
Eight adjustment points for a perfect fit
Rod holder loops
A removable coil tool retractor
Multiple D rings
Attachment loops
The whole PFD is very well thought out for the fisherman
I liked the fact the pockets didn't open all the way out like the Stohlquist did and appeared to hold items a bit more securely.
My criteria for choosing a life vest was safety, comfort, fishability, and pricing. I ended up with three vests. One of super high quality, one of high quality, and one of comfort. All three are great choices.
When you compare all three of my final choices, the Stohlquist was a definite contender to the NRS Chinook PFD with all their pockets and accessory loops. Pretty close to being of the same design to the Chinook, but the way the pockets opened weren't to my liking compared to the Chinook. The Stohlquist was quite a bit pricier too, although I wouldn't fault anyone for choosing and fishing with the Stohlquist Fishermen PFD! It's a nice one!
The Absolute Outdoor Onyx was lightweight and breezy when wearing. I would personally choose the Onyx if I were fishing from a larger bass or walleye boat – it's that comfortable. The other feature of this particular life vest is the automatic inflatable design. With the other life vests, you have nothing to if you go overboard. So I also chose a vest that would inflate itself automatically.
But when on a kayak, I need more pockets and carrying space, and the Onyx didn't meet those criteria. If you're looking for extreme comfort, fish, and kayak with a small amount of gear, this could be the life vest for you.
The NRS Chinook Fishing PFD earned my choice for the best fishing life jacket! Price, quality, numerous accessible pockets, a known industry leader, and it is pretty comfortable once you get used to wearing one all the time.
Features to look for in a quality kayak fishing life jacket:
Low bulk design – You want your flotation panels to be in the front and back sides and not overly crowding your shoulder or neck area. Not having them crowd you, will give you more freedom to cast in different positions.
A fishing design – Most anglers will want to have numerous pockets, both zip, and velcro, within easy reach. Think of a fly fishing vest and all its pockets and compartments. Having small tackle and jig boxes at your fingertips, pliers, hook removers, walkie-talkies, and possibly a whistle or even a small flare if you're offshore fishing.
Panel positioning – A kayak specific life vest will have a smaller panel with a high back to it, so it rides above the top of your seat, giving you a comfortable position. Mesh side panels that allow air and a cool breeze in are great for the hot summer days too. 
In conclusion
For a more in-depth comparison between the NRS Chinook and Stohlquist Fisherman PFD's, you'll want to read NRS Chinook Vs. Stohlquist Fisherman: Which PFD Is Better?
If you have the extra money, don't mind spending it, and you like your pockets a certain way, the Stohlquist is the Cadillac of the vests I checked out. The NRS Chinook Fishing Vest is a quality vest with a ton of features and for the money is the best one around and the one I wear.
For sure, there are cheaper vests with fewer features to be had and plenty of discount stores with plain life vests, which will work fine if you're just starting in the sport of kayak fishing. Go with what you have or can afford, but overall, be safe and have a great time!