This post contains affiliate links.
A Personal Floatation Device, often abbreviated to PFD, is a crucial piece of equipment that everyone fishing from a boat should use. This is even more important when fishing from a kayak because you are usually alone without anyone nearby to offer assistance should you need it.
Two popular PFDs are the NRS Chinook and the Stohlquist Fisherman, but which one would be best for you?
The NRS Chinook and Stohlquist Fisherman PFDs are very evenly matched for features, quality, and price. Still, our vote for the best would have to go to the NRS Chinook for the better PFD due to the more storage space, better access to tools, and the rod holder feature incorporated into the PFD.
For a kayak fisherman, a PFD needs to be more than just a PFD. Onboard our kayaks, space is at a premium, and we need our movements to be restricted as little as possible.
As a result, kayak fishermen have quite particular requirements for a PFD, and it is always a bonus if the PFD can give us extra gear storage space as an added feature!
In a hurry? Check out Best Kayak Fishing Life Jacket: My Top Pick on my recommended gear page and the Kayak Fishing PFD I use from the Top Three Fishing PFD's!
Lifejacket Vs. PFD What's The Difference?
If you are a fisherman who is just starting in the world of kayak fishing, you may wonder what the difference is between a PFD and a lifejacket.
For the kayak fisherman, there is a whole lot of difference. Traditional life jackets are generally chunks of a lightweight foam material encased in a fabric intended to keep you afloat. 
This is something a water skier would wear before going out skiing, or something people would wear out on a speed boat. These lifejackets are generally single-purpose pieces of equipment with very little in the way of additional features.
A PFD, in contrast, is designed to be a multi-function piece of safety equipment. PFDs are designed to give kayak fisherman options for storage, gear attachments, and comfort.
The sitting position in a kayak is quite different from that of other watercraft or activities, and a traditional lifejacket will push up under your chin and be uncomfortable. 
This will result in your not wearing it, which defeats the purpose of having one with you out on the water.
A kayaker also will be wearing the lifejacket or PFD for many hours at a time, which requires a greater degree of comfort from the garment from the point of fitment, adjustments, and airflow in hot weather.
Thus, a PFD for a kayak fisherman is much more than a lifejacket. The PFD becomes an integral part of the gear that the kayak fisherman needs when out on the water.
And the additional comfort and thought that goes into the design of a PFD makes them easier to wear on a kayak and for long periods of time.
Now let's take a look at the differences between the NRS Chinook and Stohlquist kayak fishing PFD!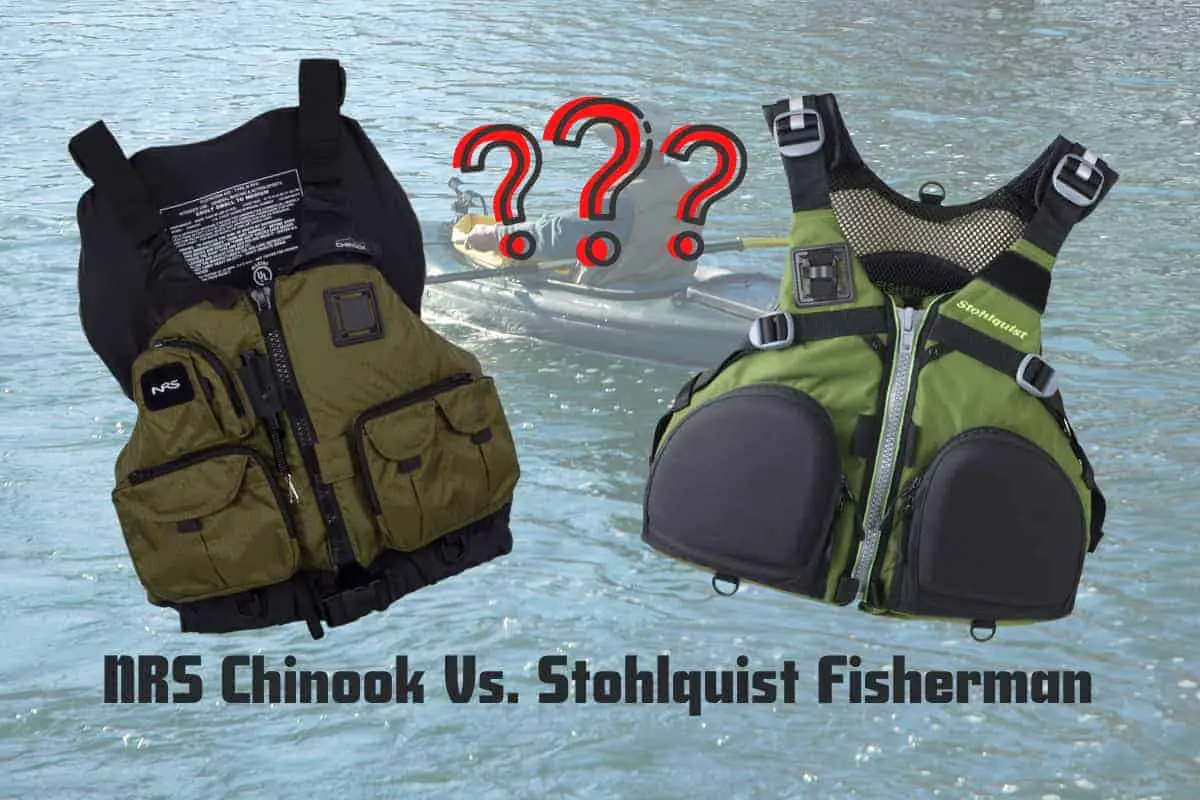 The NRS Chinook PFD For Kayak Fishing
NRS is an American company that has been producing gear and safety equipment for boaters, kayakers, and fishermen since 1972. They operate from Idaho, where they are headquartered, and design all their boating and outdoor gear.
The company is committed to producing quality gear designed for active kayak anglers, and this shows in the NRS Chinook PFD with:
High-Back Design
Mesh Ventilation
Plenty of Storage Pockets
Rod Holder
Strobe Light Fitment Tab
Safety Knife Lashing Point
And more…
The Chinook is not a bulky piece of gear; it is considered a medium profile PFD. It has a high-back design which is great for kayak fishermen, especially if you have a high-back seat on your kayak.
The lower back of the Chinook is a mesh design that increases the ventilation characteristics and helps to keep you cool, even on those scorching summer days out on the water!
Pockets, storage space, hook-up spots, and gear fitment locations are all primary features any kayak fisherman would look for in a PFD, and the Chinook does not disappoint in this department either.
The NRS Chinook has two large front pockets, which are zippered and open completely flat for easy access to the contents.
There are plenty of pockets and compartments, elasticized and webbing tabs, and smaller zippered pockets within these two large pockets on the NRS Chinook for your gear's organization.
The two main pockets have plenty of room and can fit an extra mini tackle box and are easily accessed!
The outer part of the two large pockets offers tool holsters for pliers, hook removers, line cutters, and hook-and-loop closure style pockets.
The Chinook has a rod holder feature too! A combination of a looped tab at the waist that you slip the rod's base into and a Velcro pull tab on the right shoulder to secure the rod's upper part.
This feature will free both your hands for paddling the kayak or while you are tying lures or flies to the line. 
The left shoulder of the PFD has a lashing point for a knife that gives you the option to fix the knife in different orientations depending on your preference.
There are also external attachment points on the Chinook where you can attach carabiners or other clips to hook gear that you need easy access to.
The Chinook does not have large reflective strips on the PFD but has strategically placed reflective accents and also has a strobe fitment tab on the upper rear of the PFD. 
The access point to put the PFD on is via the front zippered opening, and it has six different adjustment points on the sides and shoulders to get the best possible customized fit for your body.
This means you can get a snug fit for the PFD without it being restrictive or uncomfortable.
The Chinook PFD bears US Coast Guard Certification, which is good to know and shows the device has been tested, but the staff at NRS also use their own products out on the water.
This allows them to field-test their own equipment and incorporate enhancements into their future designs. It also shows that the company has faith in its own product.
Check the pricing for NRS Chinook PFD on Amazon!
A good quality PFD should be considered as much a part of your gear as your fishing rod or your kayak, and wearing it should be a matter of discipline and part of your kayak fishing routine.
The Stohlquist Fisherman PFD For Kayak Fishing 
Stohlquist is also an all-American company, started by founder and owner Jim Stohlquist, who has been a lifetime kayaker and brings this experience to the products they develop for waterborne activities.
The Stohlquist Fisherman PFD is made of rugged construction, with the outer material is Cordura nylon, a hardwearing, durable nylon material. 
The Stohlquist Fisherman is a top-notch PFD with the following features:
Form-fitting Foam
Rib cage Leveling Strap
High Back Design
Open Sides for Ventilation
Safety Knife Lashing Point
And more…
A feature of note for the Fisherman PFD is the foam material that the floatation components are made from is designed to become more comfortable the longer you wear it.
The foam molds over time to the shape of your body, which increases the comfort and quality of the fit as the PFD adapts to your body contours.
This PFD does not have a waist tensioning strap. It does have a ribcage-level strap down the side and to the bottom of the PFD.
The advantage of this is a snug fit around the rib cage that prevents the PFD from riding up under the chin even when you are in the water.
The adjustment for this is on the front of the jacket, which means it is easy to cinch tighter when needed, even in the water. Lean back in the water and cinch the straps down for a tighter fit.
This PFD is also a high-back design, with the lower back being a mesh design that gives good ventilation and breathability to prevent overheating on warm days.
The high-back design rides high enough so that the PFD does not get in the way of kayaks that have a high-back seat.
The Stohlquist Fisherman also features gradient sizing. This means that larger-sized PFDs actually have more material and wider construction, and smaller units have less material and smaller construction.
Most other manufacturers' trend is to have longer or shorter straps and adjustments on the different sized products. 
This feature allows you to get the right buoyancy, fit and comfort for the size of your build rather than simply extended straps.
The Stohlquist PFD has open sides for better ventilation and Neoprene padded shoulder straps, and the lower back waistband for improved comfort, and two side strap adjustment buckles.
The Stohlquist has a lashing point for a knife on the right shoulder strap, which allows for mounting of a knife in various orientations, as well as an elasticized band for attaching other equipment to the mounting point.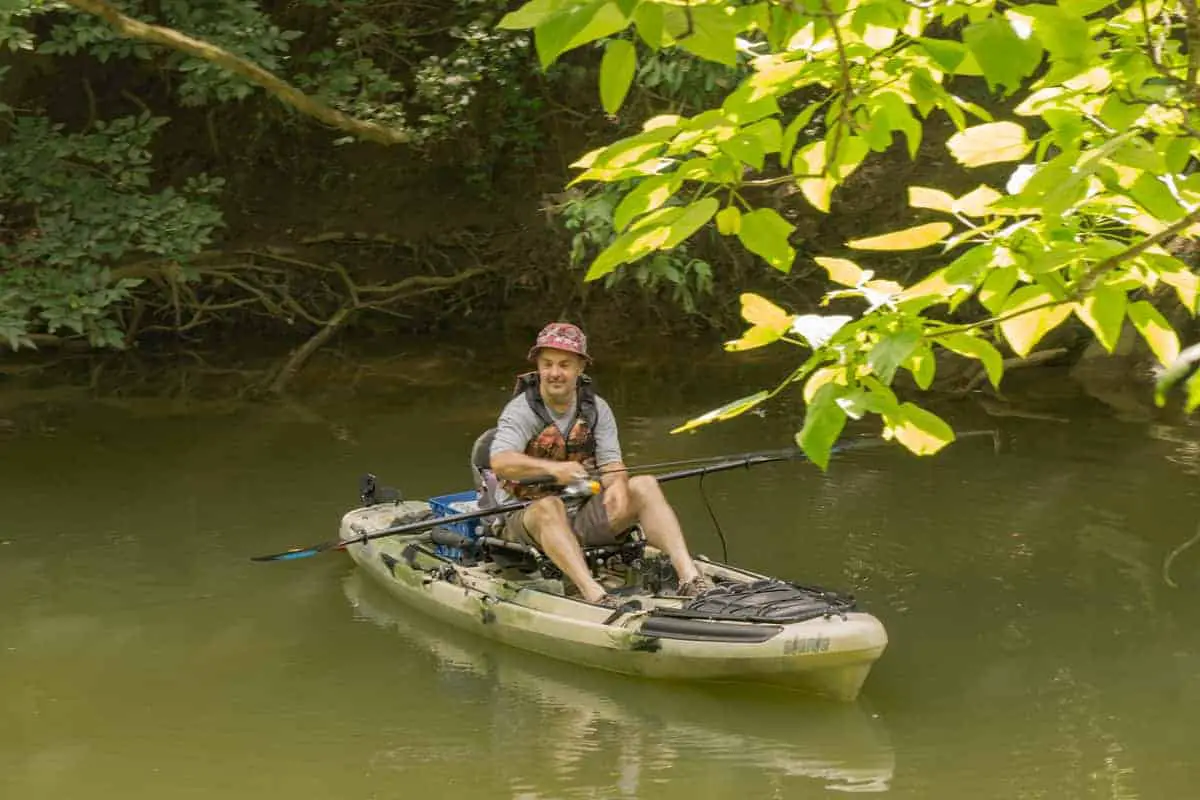 The two main front pockets are a little different in design from many other PFDs and are one of this model's stand-out features. The outer shell of the two front pockets is made from a hard EVA material that serves several purposes.
The hard shell will protect the items stored inside the pockets from damage, especially electronics such as your GPS, radio, or mobile phone.
The second advantage of these rigid outer shells is that when opened, they fold down to provide two firm worktops that are 7.5-inches by 7.5-inches.
You can place small items such as hooks, lures, weights, and other things on these worktops while you rig your line and tie on your gear.
One of the main problems with kayak fishing is a secure, stable worktop so that you are not juggling things in your hands and pockets and risking dropping your gear into the water. This makes the rigid outer shell pockets a bonus feature for this PFD.
The inside of these two front pockets offers smaller internal pockets, hook-up locations to secure gear as well as elasticized loops to hold items such as hook removers, scissors, or pliers.
All the pockets on the PFD are fitted with drainage holes to allow water to drain out and prevent a buildup of moisture in the pockets and prevent mold from forming and slowing your gear to dry out.
The Stohlquist Fisherman is a well-made device and is a popular choice among many kayak fishermen. 
Check the pricing for The Stohlquist PFD on Amazon!
NRS Chinook And Stohlquist Fisherman Compared
In a direct comparison, feature for feature, these PFDs are very evenly matched. They are both Type III floatation device which is considered a sea-level floatation device.
Both units have a rugged, durable construction that will handle the rigors of kayak fishing very well.
Since these PFDs are both quality products, the choice between the two will come down to personal preference of the individual features of each PFD.
We will table the main features of both brands side by side so that you can compare, and then we will give our opinion as to which one we prefer and why.
Feature
NRS Chinook
Stohlquist Fisherman
Bouyancy
16.5 lbs
16lbs 12oz
Design
High-back
High-back
Material
400-denier Ripstop Nylon
500-denier Cordura Nylon (more durable)
Entry
Front zip
Front zip
Front Pockets
2, soft material pockets with gussets for expansion with contents
2, with a hard EVA shell to protect contents and fold out to provide a work surface
Total Pockets
5
2
PFD Adjustment Points
4 – Side(2), Shoulder(1), Waist(1)
4 – Side(2), Shoulder(1), Chest(1)
Lash Tabs
1
1
Rod holder featureStrobe holder on the rear Reflective accent pockets with good internal organization
Rod holder loop Strobe holder on the rear reflective accent pockets with limited organization
Foam
Plush Fit foam – comfortable.
Gaia foam conforms to your body over time, so get more comfortable the more you wear it.
Sizes
XS/M 30″-42″ Chest size
L/XL 42″-52″ Chest Size
XL/XXL 50″-56″ Chest Size
SM/MD   33" – 39" Chest size
LG/XL      40" – 46" Chest size
XXL          46" – 52" Chest size
These products are very equally matched when it comes to features, durability, and price, so the choice as to which is the better of the two products will essentially come down to which features you will feel will make the most difference to you when you are out fishing on your kayak.
As a personal preference, I would put the NRS Chinook PFD as the top choice over the Stohlquist Fisherman PFD.
The reason for this is that the Chinook has the rod holder feature, which frees up your hands to do tasks which is a major plus in my opinion and suits the way I like to fish from a kayak.
The Chinook also has more pockets that can close individually, which allows you to keep more gear and keep it secure.
The hard EVA shell on the Stohlquist is a nice feature, but in my opinion, the soft pockets on the Chinook allow for better expansion of the material to store more equipment.
The tool holster on the outside of the main pocket on the Chinook is a big win in my book because I do not have to unzip a pocket to access the tool when I have a rod in one hand and a fish in the other.
So Which Would You Choose?
When comparing two excellent products, the final choice will always come down to your personal preferences in the features incorporated into each one.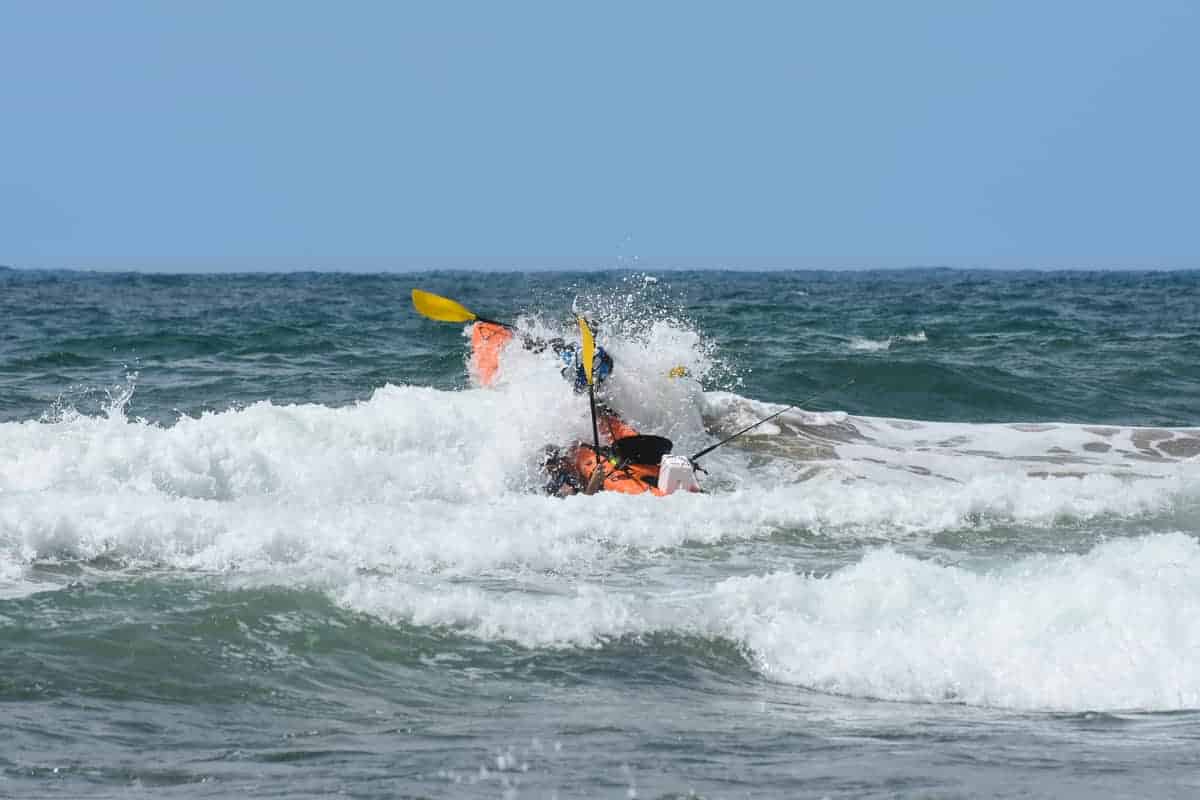 The NRS Chinook and the Stohlquist Fisherman are both great PFDs, and you will find many kayak fishermen that will swear that each one is better than the other.
The most important factor as a kayaker is that you actually buy a PFD and then use it every time you are out on the water kayak fishing.
Kayak fishing is one of the riskiest types of fishing because you are out on your own, and you are in a relatively small craft that is difficult to see out on the water.
Modern PFDs offer the kayak fisherman so many benefits when it comes to taking gear out on the boat and protection from the elements that the safety factor in the water is only one of the benefits that a PFD gives to the kayak fisherman!
I chose to wear the NRS Chinook Fishing PFD for a variety of reasons and you can see why at Best Kayak Fishing Life Jacket: My Top Pick.
The Stohlquist Fisherman PFD is a great PFD and you really can't go wrong with either one. It all comes down to a personal choice, but ALWAYS wear a PFD while on the water kayak fishing!
Have fun and stay safe out there!