This post contains affiliate links.
People like yourself want to know, "How do I make my fishing kayak better?" right? Outfitting a kayak for fishing into the 'Ultimate Fishing Machine' is more about customizing your kayak to your own personal needs and fishing style than anything else.
When it comes to rigging my own kayak, it's always an ongoing process. Every time I slide my kayak into the water, I come home with a tweak or two on my mind to improve my kayak setup! Modifying and improving your kayak's fishability never seems to end!
Let's take a look at the kayak fishing essentials every ultimate kayak fishing setup has. And what you'll want to have on your kayak to make your days more enjoyable!
Fishing Rod Holders for Accessibility and Safety
When you take your kayak out for the first time, you'll notice most kayaks have a rod holding system. Many will have flush-mounted rod holders behind your sitting area. Some may have them out in front of your seat too.
What you will find is they are not in the best possible position for you! Your rods need to be close and easy to reach but not in your way when your casting or reaching for a net or other gear.
By having your fishing rods out of the way, there is less chance of you breaking them or tripping over them. An organized kayak is a safer kayak!
There are two basic types of rod holders you can install or upgrade to!
Flush Mounted Rod Holders
Flush-mounted rod holders are built into the kayak and sit flush with the kayak's top. Once you install a flush-mounted rod holder, they are there for a long time!

Anndason 2 Pcs Kayak Deck Plastic Flush Mount
Flush-mounted rod holders are out of your way since they sit flat to the kayak! Many fishermen like them for that reason alone! Not much will become hung up on them!
Track Mounted Rod Holders
Track mounted rod holders are preferred by many as they are adjustable at any time, and most will swing 360 degrees to give you the best options for rod placement.
If you do not already have track mounting bases on your kayak, they are easy to install too. I have found the RAILBLAZA Rod Holder II with MiniPort Track Mount from Amazon to be a great accessory, and it's interchangeable with other accessory items too!

Railblaza Rod Holder II w/MiniPort Base
Track mounted rod holders can be placed and moved around on-the-fly as you need for different trolling and casting applications! Definitely my choice of rod holders!
Related Article: Can You Add Rod Holders to Your Kayak?
Whichever rod holder you choose, flush-mount or track-mount, you'll be one step closer to building your own customized fishing platform!
Gear Bags and Crate Systems for Storing Your Gear
Nothing will define and separate your kayak from all the others more than how you haul your fishing gear in it. And tackle gear bags and crate systems come in many shapes and sizes!
Tackle Bags and Trays
There are hundreds of tackle bags and hard-plastic trays you can choose from to store your fishing gear!
Personally, most of my crankbaits, spoons, and spinners are stored in the Plano 3700 Prolatch Stowaway plastic boxes. The boxes are super easy to stack and store. Plus, you can see everything inside of them and readily grab exactly what you need!
Most of the better tackle bags are built to accept the Plano 3700 Series of boxes and compact enough to toss into your kayak. They have numerous storage pockets to hold extra spools of fishing line, line cutters, hook removers, as well as your other items.
Kayak Crate Systems
There are many ways to build your own crate to store not only your fishing gear, landing net, and tackle, but to hold your rods as well!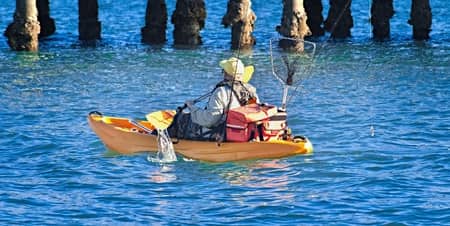 Milk Crate
The most common and popular is to build your own crate system from a milk crate you can pick up at your grocer's! You'll see them on kayaks with DIY PVC tubes to hold their rods and plastic dividers to store their 3700 Series tackle boxes!
If you would rather start with a good foundation and build it up from there, the Yak Gear Kayak Angler in Crate Basic Kit is a great option!
Milk crates are an economical way to carry your gear in the back of your kayaks well. With ingenuity, you can develop many different ways to modify them to suit your personal needs!
Crate Systems
There are two types of crate systems manufacturers put out, hard-side and soft-side crates. I prefer the hard side and went with the Wilderness System Kayak Krate for my kayak!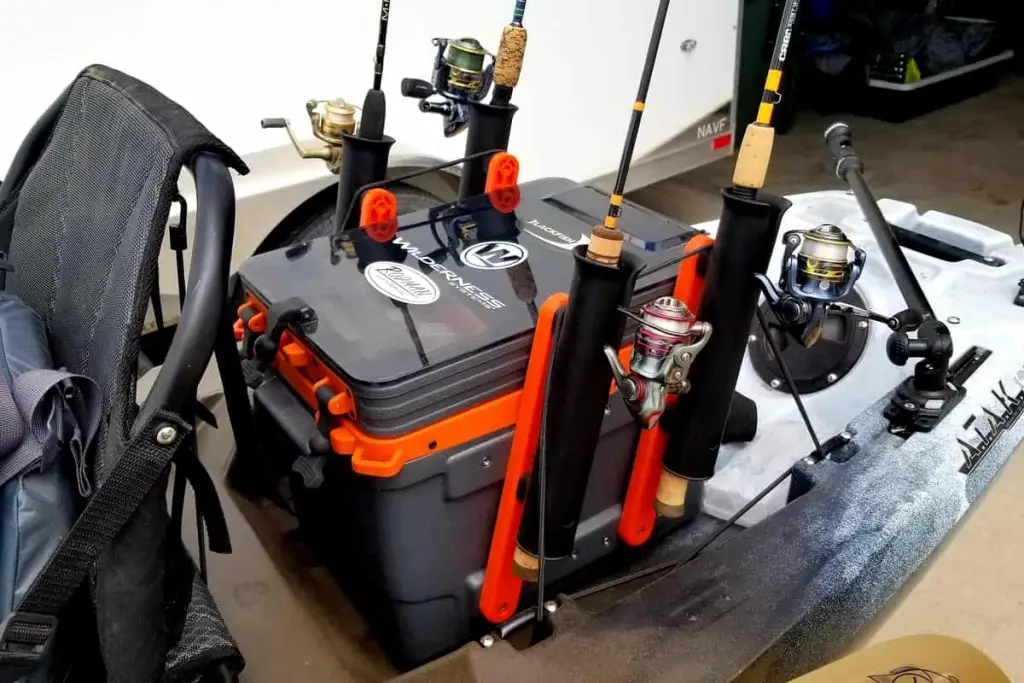 I like the idea of it being a solid hard-side so it doesn't get crushed. It holds four rods and my tackle inside of it and is easy to remove when transporting!
If you prefer, the other option is for the soft-side is the Plano Weekend Series Kayak Crate Soft Bag. It is built in one size and comes with two 3600 Series tackle boxes!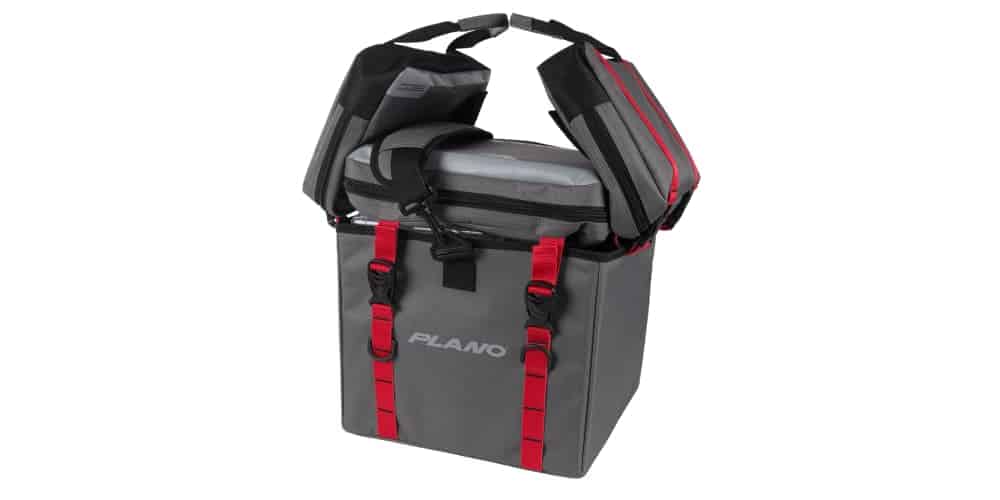 And if you decide you you want to use a milk crate so you can add-on other accessories, the Plano Weekend Kayak Bag fits inside of the milk crate too!
Dry Bags
A good dry bag will allow you to keep your electronic accessories, camera gear, and clothing dry if you do not have a waterproof storage area in your kayak. You can toss your hoodie and a change of clothing inside so if you become wet, and you have warm clothes to change to.
There are quite a few options when it comes to dry bags and their sizes. I recommend you check them out and decide if one of them is right for you!
Fish Finder To Locate the Hotspots and Fish
A fish finder is going to make your day way more productive when it comes to locating fish.
If you're beginning to hit the water fishing and don't want to invest a lot of money into electronics, I highly recommend the Navionics Boating App for your cell phone or tablet.
There is a Free Version, which is okay, but the paid version is $14.99 right now and is a steal when it comes to fishing use! I've had it on my cell phone for years and use it when I'm in the kayak and also when I'm ice fishing.
For the past few years, my personal choice of fish finder has been the Humminbird Helix 5 GPS/DI. It has a 5″ screen, is fairly compact, and has GPS ability to show me exactly where I'm at all the time!
What I like about this unit the best is it can be easily transferred from my kayak to my four Arctic Cat four-wheeler or Polaris snowmobile for ice fishing! When I'm done with the ice fishing season, it goes right back on the kayak!
Not only is it simple to move from one to the other, it contains all my waypoints and fishing hotspots!
An economical choice for those just starting would be the Lowrance HOOK2 4X – 4-inch Fish Finder with Bullet Skimmer Transducer. The transducer can easily be fitted into a scupper hole, on an electric motor, or with a side mount.
Portable Livewell To Keep Your Bait It's Freshest
For myself, I very rarely use live bait any longer when fishing. When I was trotlining flathead catfish on the Kansas rivers, I used a lot of bullheads for bait though!
If I'm fishing for crappie and other panfish, I use almost exclusively soft plastic baits from Makiplastic. Though a Mister Twister will find its way into my arsenal every now and then!
With that being said, I have been out with other guys when using live bait, and having a good live bait container onboard or with a buddy is definitely a good thing to have!
The most popular baitwell with the guys I have fished with is the Engel Live Bait Cooler & Minnow Bucket. It has an aerator to keep your bait alive longer than most other bait buckets.
Having lively bait can be a key factor in producing good quality fish! Or even catching any fish at all!
Action Camera to Record Your Catches and Trips
Once you're out there fishing, you may want to start a YouTube channel or get some good shots for your family and friends. A good action camera just cannot be beaten!
Sure your cell phone takes a great picture and even better video, but why chance losing it in the water or getting it ruined? Action cameras are waterproof and shockproof!
Like many others on the water, I'm a fan of GoPro Action cameras. Currently, I have three, the GoPro 5, 6, and 7, with numerous accessories. They are the top-rated action camera for a reason, and that's reliability and being able to place them almost anywhere you can imagine!
Plus, they're waterproof and can be submerged beneath your kayak for some awesome shots of your kayak gliding over or even fish on their spawning beds!
The one camera I have been eyeing the past year is the TACTACAM Fish-i Wide Lens Fishing Action Camera!

TACTACAM Fish-i Wide Lens Fishing Action Camera
I've seen it in action, and it's an amazing camera. I just don't need a fourth camera right now! But at half the GoPro's price, it's a serious contender to take over the kayaking and boating scene!
Landing Net to Safely Handle Fish and Remove Hooks
The last thing you want to have in your kayak is a large fish flopping around, slinging a crankbait loaded with treble hooks around!
Related Article: Nets for Kayak Fishing: Do You Really Need One
Not only can the fish injure itself, but it can also injure you as well. Another reason to have a quality landing net is to secure your fish at the side of your kayak!
With a long-handled landing net, you won't need to lean over quite so far to lift a larger fish. There have been instances where kayaks have flipped over while trying to fight or land a fish!
Related Article: Do Fishing Kayaks Flip Over Easily? The 3 Common Causes!
My net of choice is a larger-sized net that can handle about any fish I target. Smaller fish are easily lipped or brought into the kayak. For the larger fish like northern pike, trophy walleyes, or the numerous ocean fish, the Yakattack Leverage Landing Net is by far the best for the job!
Kayak Paddle Specifically Designed for Fishing
There are many different types of kayak paddles, and one designed specifically for fishing will suit you the best!
A fishing kayak paddle will be built with your needs in mind! A built-in tape measure right on the handle makes measuring a fish a breeze! And can keep you out of trouble if there is a slot or length limit on the water you're fishing on!
You'll find them with a hook retrieval notch built into the blade to get your expensive lures back when they get hung up!
Kayak fishing paddles come in two pieces, and the better ones will have an adjustable ferrule for feathering angles 0° and 60°, with either left or right-hand control.
A good, solid kayak fishing paddle that won't break the bank is the Bending Branches Angler Scout paddle. It's economical and gets the job done nicely!
For something a bit more advanced and built from carbon for a lighter paddle weight, take a look at the Bending Branches Angler Ace Straight Shaft Kayak Paddle on Amazon!
With a carbon paddle, you'll be less fatigued at the end of the day and paddle further and longer!
Anchor and Trolley Kit To Position Your Kayak
Add to your kayak's fishing ability by adding an anchor and trolley kit. Both will come in handy when you're fishing over a certain spot or piece of submerged structure. Winds and currents will shift your kayak, and you'll constantly be trying to get back to your spot!
Related Article: Kayak Fishing Anchors – Do You Really Need One?
An anchor kit will include all you need to mount your hardware to your kayak. Most anchor kits include:
3.5 lb anchor
40 to 50 foot of marine-grade rope
Storage bag
Buoy Ball for detaching from the anchor line
Stainless Steel carabiner
When you need your kayak positioned at an angle to the wind or current while anchored, an anchor trolley mounted to the side of your kayak will take care of that for you!
Related Article: How Does a Kayak Anchor Trolley Work?
The trolley lets you pull the anchor line next to your seat to attach or unhook from the anchor line without having to leave your seated position! More advanced kayakers will have an anchor trolley on each side of their kayak for better control.
Related Article: How Long Should a Kayak Anchor Line Be
The ability to attach your anchor line to either side of the kayak gives you more options on how to fish a certain piece of structure. It's these little nuances that will separate good fishermen from the top-level fishermen!
Drift Chute for When You Don't Want To Anchor
For the times you can't anchor in a spot, a drift chute is a go-to thing to have on board your kayak!
If the water is too deep to anchor in, or you simply want to drift over a certain spot or piece of structure, the drift chute is deployed!
The way it works is to slow down your kayak as the wind or current pushes it along. Drift chutes come in different sizes and also in kits too! If you're not familiar with them or want to see what's currently available, check out the vast selection of drift chutes on Amazon!
Cooler To Keep Your Fish Fresh for the Drive Home
Nobody likes to cook or eat old fish that has been sitting on a kayak or stringer all day long! By adding a fish cooler to your kayak and a little ice, you can keep your catch fresh for the whole day!
Related Article: How Do You Carry a Cooler on a Fishing Kayak?
There are many options to keeping your catch cool, like the Calcutta Fish Coolers Bag, which is insulated, waterproof, and is available in different sizes. They are easy to handle and carry around too!
The Seattle Sports Kayak Catch Cooler attaches to your kayak's deck upfront and is designed for larger fish catches!
Personal Flotation Device – Never Go Without It!
By now, you should have at least one high-quality PFD to wear while you're out kayaking. Rule #1 is to never go on the water without one!
It's best to have at least two PFD's with you since one of your buddies may forget theirs, and the one you let them wear may save your buddy's life!
There are quite a few life jackets and PFD's floating around on the market, but I break them down to three, and you can see the PFD I chose to wear here! Best Kayak Fishing Life Jacket: My top pick
You don't need to "break the bank" to build the Ultimate Fishing Kayak Setup. In fact, you can find or build much of the essentials as you like and have the Ultimate "Budget Fishing Kayak" Setup as well!
Add a few upgrades as your time allows you. Pick up an accessory or two whenever you can, and enjoy the sport of kayak fishing and all it has to offer!
Have fun and stay safe out there!