This post contains affiliate links.

Have you ever thought about adding rod holders to your kayak? If you are you having a tough time managing more than one or two fishing rods in your kayak, then do what I did! Easily add a couple of rod holders and a kayak crate to your setup!
In my experience, fishing rod holders are easy to add to your kayak with track mounted or recessed holders. They may also be added to an existing storage crate setup or purchased as part of the overall tackle storage and rod management system.
There is nothing more frustrating than having rods bouncing around or in your way while you're trying to reach for something or land a fish. On top of that, expensive rods can easily break if they are lying around in the way. Let me show you how simple it is to carry a few extra rods with you and have them out of your way.
Where To Place Your Rod Holders
I had others giving me the advice to place my rod holders a certain distance away from my seat, or out in front of my body. Others told me to have them far back to be out of the way of any casting I might do. Some said off to the side and out in front and way to the back of the kayak.
Here's what I found to be the best way to locate your rod holders. Head out to the water in your kayak! Take along only one rod for this exercise as you'll be practicing casting and setting your rod down.
If you already know what type of holders you'll be using, or have purchased your rod holders already, the best thing you can do is make a template of the base for installation. Using a waterproof marker or pen, trace the base, including the mounting holes, if any, onto a piece of thin plastic or cardboard.
Take your kayak to the water and paddle out a small distance and begin casting your rod. Notice how far the rod tip reaches back, how far it goes forward and to the sides. Different people will cast in different ways. You don't want rods in a holder to be in your casting way, so take note of these locations.
Then from a comfortable sitting position, place the butt of your rod to an area where you believe a rod holder would be a good place to mount. Keep it in an easy reach as you don't want to be stretching too far forward or backward to grab a rod or put one back.
How does your kayak handle when you're moving around? Wider beam kayaks will be more stable, and you can move around quite a bit more. Smaller kayaks will have a "tippy" feeling to them. Find the position you feel most comfortable with reaching for your rods.
When you have found the perfect spot for your rod holders, if you'll be using a recessed mount, take your marker and trace the template onto the surface of the kayak. There is no sense in roughly estimating where to be cutting holes or drilling into your kayak without first doing this.
If you'll be using a track mounted rod holder, place a small 'X' where you want the rod holder to sit.
Three Common Types of Rod Holders
The three common types of rod holders are:
Side Mounted Rod Holders
Flush Mounted Rod Holders
Track Mounted Rod Holders
Side Mounted Rod Holders are bolted, strapped, or sometimes even zip-tied to a fishing crate behind the seat and will typically hold two to three rods each. Many kayakers will mount one on each side of the crate so they can carry up to four additional rods.
Flush Mounted Rod Holders are usually flush with the surface of the kayak or sit just a little above the kayak's surface. To install this type of rod holder, you will need to drill a hole up to three inches or larger into your kayak. In my opinion, the less large holes you drill into your kayak, the less there is to go wrong in the future!
Track Mounted Rod Holders are straightforward to install and possibly the most adjustable. As their name implies, they are mounted directly to the track and my personal choice for overall ease of use.
Side Mounted Rod Holders
Side mounted rod holders are extremely popular with a majority of the kayak fishing crowd. Some of the easiest places side mounted rod holders can be attached are inexpensive milk crates and crate systems.
Let's take a quick look at them and how they're used!
Crate Systems = Tackle and Storage
Milk Crate
Within the "Crate System" of rod holders, a very inexpensive and one of the most straightforward additions to a "milk crate" setup is the Berkley Tube Rod Rack. It stores three rods vertically and can easily be attached to your "found" milk crate with bolts. For well under $20.00, it is an option most people use when they are getting started or adding a couple of rods to their kayak. You can give it a quick look on Amazon.
Yak Gear Kayak Angler
If you like the ready-to-go basic kit approach to get you set up and on the water fast – and for under $40.00 on Amazon -which is a steal in my mind – is the Yak Gear Kayak Angler.
It comes with a black milk crate, a storage pouch, two rod holders, and will accommodate 9″x11″ tackle boxes. It is a lightweight and inexpensive all-around solution for just about any kayaker.
My Choice – Wilderness Systems Kayak Krate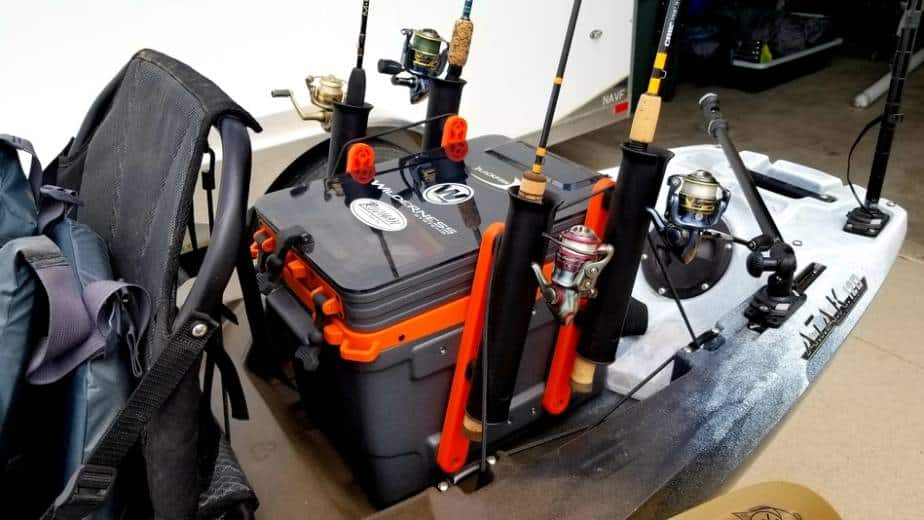 The crate I chose to run behind my seat is the Wilderness Systems Kayak Krate. The crate comes with four separate rod tubes you can adjust for either vertical or a slanted mount, depending upon which way you prefer.
The crate also has an easily accessed top storage unit for tackle and terminal gear you need to access most often. Beneath that, you'll find a spacious storage compartment where you can stack several Plano tackle storage boxes.
The crate is virtually water and bombproof, and the one I use to store the rods I'm not currently throwing when on the water. If you enjoy high quality, then definitely check out the Wilderness Sytems Kayak Krate.
Track Mounted Rod Holders
Most fishing kayaks are equipped with some type of track system. The rod holder is secured to the track with a mounting or base plate, and they are very adjustable.
Popular track models are built by Scotty, which are undoubtedly high quality and used by many. Railblaza is another high-quality company that recently celebrated its 10th year with its interchangeable mounting system.
My Choice – Railblaza Rod Holder II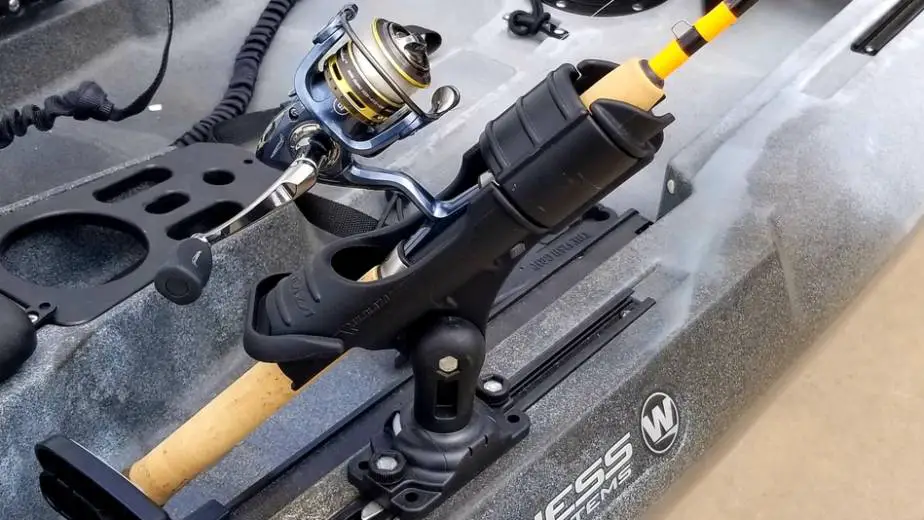 The Railblaza Rod Holder II is attached to the track with their Sideport mounting base, which is super easy. This rod holder will adjust 360 degrees horizontally and 90 degrees vertically. It also has a rotating collar, which keeps the rod from coming out when a fish hits your bait or lure.
The main thing I like is the fact the company has numerous styles of rod holders and other accessories you can mount into the same base. You can replace the rod holder with their camera boom mounts, flag mounts, cupholders, or other kayak specific accessories.
Flush Mounted Rod Holders
The best thing about flush mounted rod holders are they are out of the way since they are recessed into your kayak. The worst part of flush mounts are, one needs to drill a two inch or better hole into their kayak.
To plan where you desire to place your recessed rod holders use the template method described at near the top of the article.
For me, the less I need to drill large holes into my kayak, the better I believe I'll be over the long haul. Cutting a hole into your kayak isn't too tricky, although you need to be sure you use a waterproof sealer to make a watertight seal between the kayak surface and the recessed mounting plate.
Related Article: Can You Drill Into a Kayak? The Complete Guide!
Smaller sit-in kayaks will often hold water within the hull while sit-on-top kayaks will have scupper holes to allow any water to get into the kayak to flow back out.
My best choice of rod holders to use? Both the side-mounted and track-mounted rod holders are what I currently use. Side mounts from Railblaza, and I also enjoy having the Wilderness Systems Kayak Krate behind me within easy reach. Fishing rods are quickly accessed, and my gear in the Kayak Krate, protected from the elements.
Related Article: How to Outfit a Kayak for Fishing: The Ultimate Guide
Have fun and stay safe out there!