This post contains affiliate links.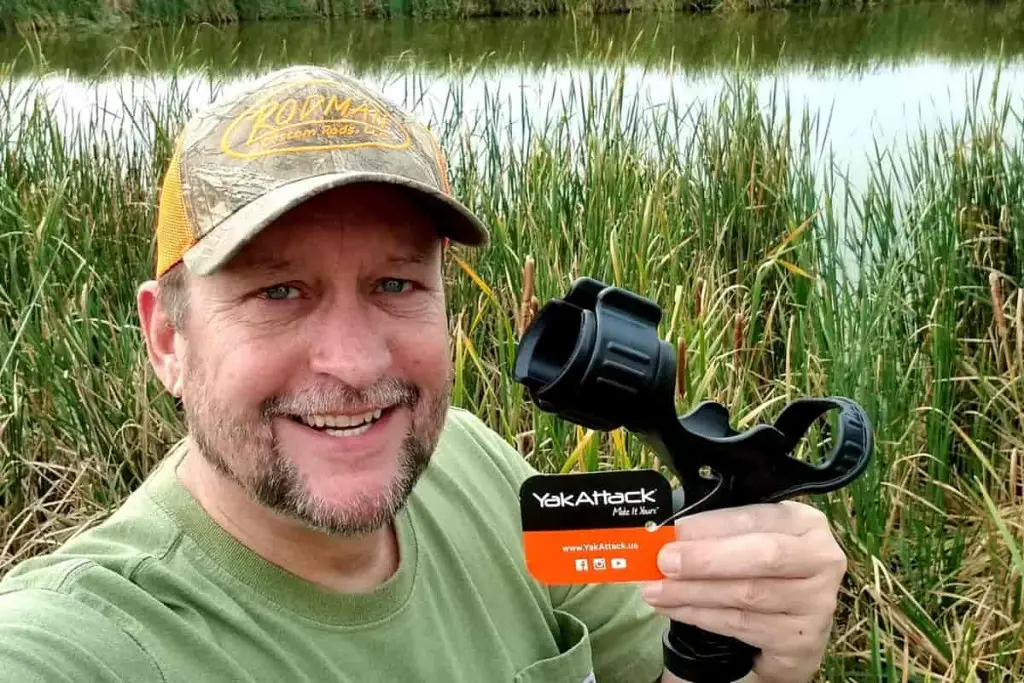 Rod holders are an essential piece of equipment that every kayak fishermen should invest in. Though these are essential for an enjoyable experience, not every rod holder is created equally. You'll want to select a rod holder that has the versatility to adapt to all fishing styles and rod types.
The Yakattack Omega Rod Holder with Track Mounted LockNLoad Mounting System provides ultimate versatility with a mounting system that will fit most factory tracks. The holder itself has a unique 360-degree rotating collar design that allows it to fit casting, fly, spinning, and conventional rods. 
The versatility offered with a Yakattack Omega Rod Holder will transform your kayaking fishing experience. Keep reading to see all the features contained in this rod holder and why you'll want to make the switch today. 
Yakattack Omega Rod Holder Review
The Yakattack Omega combines adaptability and adjustability in a sturdy locked in design.
If you're ready you can check out the price and give the Omega Rod Holder a quick look here!
Rod holders are a crucial piece of equipment that allow your lines to remain in the water and keep your pole locked in place. 
Holders free your hands up when you need to perform other tasks like steering the boat. Holders are especially important in a kayak because kayaks will inherently move more easily than a heftier watercraft, like a boat
Many kayak fishermen use more than one rod, so holders become crucial. Poles may remain in their holders for a vast majority of the time while fishing because of the other tasks required while kayaking. 
The Yakattack Omega performs the same primary duties as any other rod holder. However, you will gain a sense of security and versatility that more traditional holders won't provide. 
Why Choose a Yakattack Omega Over the Competition?
The patent-pending technology and ultimate versatility of the Omega make other rod holders seem obsolete. This is a great rod holder.
Versatility for Every Rod Type
Don't change rod holders for each style of rod that you own. The Yakattack Omega can be the only rod holder you need in your arsenal. 
Finding a rod holder that can adapt to the variety of fishing rods that a kayak fisher may want to use is often a frustrating and challenging pursuit. Yakattack found a way to overcome this obstacle with its 360-degree rotating collar.
Most rod holders that you can find in the marketplace, don't take into account different classifications of rods. Most are designed for one type of fishing rod, which can leave you needing to find multiple holders for each kind of rod you own. You can try and make them work for all of your rods, but you'll quickly find they won't sit naturally in the holder that was designed to fit only one kind of rod
Yakattack knows the modern fisherman enjoys multiple types of fishing. This pursuit requires various rods:
Casting Rods
Spinning Rods
Fly Rods 
Conventional Rods
The significant advantage of a Yakattack Omega Rod Holder is that it will fit all rods, in their natural positions. 
Spinning Rods
A spinning rod naturally has the reel positioned at the bottom of the handle. With the use of the 360-degree rotating collar, a spinning rod will slide into this position. Just rotate it, so the bottom of the collar is open, and you're ready to go. 
Casting Rods
Alternatively, a casting rod has the reel on top of the handle. The bottom open positioning on the rod holder, which works perfectly for a spinning rod, wouldn't allow the rod to slide down into the holder completely. Rotate the collar so that the top is open, and you've easily transformed this into the ideal holder for a casting rod. 
Casting and Fly Rods
As mentioned earlier, the rotating collar also makes this rod holder easily adaptable for conventional rods and fly rods. 
Take a look at all the configurations that are possible with this video. Check at about the 1:35 mark for a closer look at the rotating collar. 
Sturdy, Locked-in Design
The Omega features a patent pending LockNLoad mounting system, that delivers excellent mount security, so you never have to worry about slipping. 
This design makes installation easy and foolproof. Follow these steps and never worry about your rod holder moving:
Unlatch the lever to remove the base from the holder. (Make sure you engage the safety trigger.)
Loosen the base by spinning top knob and attach it into your kayak's track.
Once the base is positioned where you want your holder located, tighten the top knob.
Place the Omega Rod Holder over the top of the base.
Lock the lever back to its closed position.
It's as easy as that!
Simply follow these steps, and you'll have your new holder attached in no time.
A single Mightybolt allows the track base to attach with ease. The Mightybolt and LockNLoad track base provide a stable locking mechanism that can stand up to the rigors of fishing. Even when your rod is hit, the locking system will remain tight with no rotation or loosening. 
The Yakattack Omega Rod Holder was designed with kayakers in mind. However, the adaptability of the Omega allows for use with boats and several other watercraft. 
Adjustability to Fit Every Situation
Adjustability is a crucial element of any rod holder that a kayaker will purchase.
Because kayaks are so lightweight compared to a boat, they can get pushed around by the wind. 
Kayakers will need to make on-the-fly adjustments with their paddles, but they'll also need their rod holder to adapt to the ever-changing situation. 
Once installed, the Yakattack Omega Rod Holder will naturally sit securely in its locked position. When you find a need for adjustment, squeeze the side lever and position the holder in the place that fits your need. 
As a discerning fisher, you'll enjoy the ability to adjust to the exact angle and direction that you need. Not only that, but your rods will also become easier to maneuver. 
Rods will all vary in size, style, and butt length. Nothing is more frustrating than a rod holder that leaves your rod with its butt rubbing your kayak or hitting your leg. The frustration only mounts when this lack of adjustability affects how your reel operates.
The incredible adjustability of the Omega limits the adverse effects that rod differences can make.
After you've found your position, let go of the side lever, and gently push the rod holder down. Just like that, you're back to a locked position.
The handy thing is that when in this adjustment mode, the holder can't be removed, therefore it remains secure. You'll never have to worry about a clumsy mistake leading to your rod, holder, or both taking an unscheduled dip. 
Does Your Rod Have a Longer Butt? No Problem
For those fishermen and women that may like the versatility of the Yakattack Omega Rod Holder but are concerned because they have rods with longer butts, you're in luck. Yakattack has you covered.
They've developed the Yakattack Omega Pro Rod Holder. 
The Pro has the same features as the standard Omega Rod Holder and the identical sturdy locking system, but with the added benefit of an extension arm. 
This arm will help get your rod higher off the water and allows rods with longer butts to sit in the holder without interference from the kayak. 
The Omega and Omega Pro are both simple and easy to use while addressing issues that other rod holders seem to overlook.
Conclusion
The Yakattack Omega Rod holder is a top of the line, high-quality rod holder. I have one on my yak and it performs flawlessly and I wouldn't hesitate to tun all Yakattack gear for this purpose.
You may want to check out my other rod holder article: Railblaza Rod Holder Review: Best Rod Holder for Kayaks? and decide which fits you the best!
Definitely check out these other popular articles too!
Have fun and stay safe out there!