This post contains affiliate links.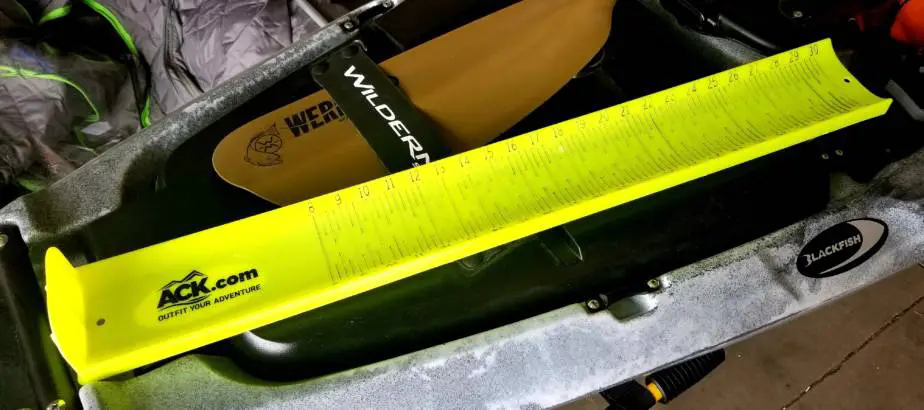 Whether you fish for fun, for the table, or in amateur or professional tournaments, a bump board is something you should have with you when fishing. Almost all anglers like to keep track of their PB (Personal Best) catches, and if in a tournament, you can measure your fish accurately for cash and trophies! So, what is a bump board?
A Bump Board is a flat or concave measuring device made from plastic, wood, or metal, with an end lip where you place the fish's mouth. Bump boards can range from 30 to 60+ inches in length and measure fish in quarter-inch increments. Popular with kayak anglers and ice fishermen.
Bump boards are found in many sizes and made from different materials, and some may be purchased made from recycled materials. If you're looking for a bump board, I've listed three of the most popular bump boards for kayakers below. Bump boards can range widely in pricing and quality, so I've included descriptions of the top three bump boards kayakers use today.
How to Use a Bump Board
Bump boards are simple to use and a three-step process. Some manufacturers make bump boards in the right or left-handed version depending upon the size and overall length of the measuring board.
On one end of the board, there is a raised edge, and this is where you carefully place the fish's mouth. Make sure you wet the board prior to placing the fish onto it.
The fish lays flat in the "cradle" of the board, and you measure the fish where the end of the tail touches the furthest measuring mark on the board. Most boards have 1/4″ inch or millimeter increments.
Top Three Bump Boards for Kayaks
| | | |
| --- | --- | --- |
| Model | Material | Measure Lengths |
| Hawg Trough | Plastic | 8″ to 30″ |
| Yak Gear Fish Stik | PVC/Plastic | 1″ to 36″ Foldable |
| Ketch Board | Milled Aluminum | 1″ to 48″ Foldable |
The above three popular bump boards are listed from the least expensive to the most expensive at the bottom. There are advantages to each one of them, and each is built differently from one another.
The best-valued bump board, in my opinion, is the Yak Gear Fish Stik. It has the features you want in a quality bump board and a reasonable price compared to other bump boards. Check out the Yak Gear Fish Stik from Amazon, you won't be disappointed with it, and it'll be your go-to bump board for years!
Which bump board you choose or use will be guided by the type of fishing you do and your budget. Not all bump boards are created equally, but they do the same thing; Accurately measure your catch. So whether you spend $20.00 or over $100.00 for a bump board, it is up to you.
My bump board cost under $20.00 and has served me well. But I do plan on upgrading but won't be spending over $50.00 for the next one.
Hawg Trough: What is it?
There is little doubt the most popular bump board today by far is the Hawg Trough. I would suggest a Hawg Trough is just about every kayak fishermen's first bump board. They are lightweight and inexpensive.
I started with a one of these and you can take a quick look at the Hawg Trough on Amazon
When you have your first kayak and someone mentions their Hawg Trough, your first thought is, "What the heck is that?." So let's take a closer look.
For many years the Hawg Trough has been the industry standard for measuring fish when out on a kayak. With its concave design, the fish is held comfortably on the device and plastic end lip, making measuring your fish effortless.
The Hawg Trough can be purchased in yellow or white and will measure fish from 8″ up to 30″ in 1/4″ increments. Made from plastic, and it doesn't float. There is a hole on each end to attach a leash to it if you like.
Although other companies and their proprietary designs are nipping at the Hawg Trough's heels, the Hawg Trough bump board is accepted in many major kayak tournaments and still used by a majority of kayak fishermen.
Yak Gear Fish Stik: The Next Level
You can have my top choice for a bump board delivered from Amazon and on your doorstep! Click here to check the current pricing on the Fish Stik!
In my opinion, the Fish Stik is the next step up from the Hawg Trough. Where the Hawg Trough leaves off, the Fish Stik picks up and has distinct advantages over the Hawg Trough.
The Fish Stik can be purchased in Sunset Orange, white, and yellow. The board begins at the 1″ mark and will measure fish up to 36″. Made from proprietary PVC and plastic, and it floats as well!
Another huge advantage over other bump boards is the fact it is foldable. It will go from an open position of 36″ and folds up to a compact 12″ to save space on your kayak. With a board like this, it is easy to stow it away in several places which are out of the way, yet easily reachable when needed.
There is a solid 3.5″ end lip (bump) to place your fish against, and also a slot at the end to place your fishing line through when measuring your fish if need be. Plus, Yak Gear has Fish Stiks bump boards that are approved for tournament use by KBF (Kayak Bass Fishing) and KATS (Kayak Angler Tournament Series), which are CPR (Catch, Photo, Release) tournaments.
The Yak Gear Fish Stik will be stowed away on my kayak this year. I believe this is an excellent middle of the road bump board for kayakers.
Ketch Board: Premium Quality
Now we come to the upper end of bump boards, the Ketch bump board! At the very top of their web site, it proudly states, "Uncompromisingly American Made." All Ketch boards are made with 100% American parts and labor.
I won't lie to you. These bump boards are pricey. But if you subscribe to the "Buy once, cry once" philosophy, this may be the bump board for you. They range from approximately $40.00 on the smaller boards, up to $90.00 for the largest.
The Hawg Trough can be a tad flimsy being plastic and prone to breakage. I can almost 100% guarantee you; you're not going to break a Ketch board with normal, regular use. They are a lifetime purchase. (Just keep an eye on it!)
The Ketch measuring board can be purchased in Alpine Green, Bass Boat Black, Burnt Orange, Candy Apple Red, Gun Metal Gray, and Midnight Blue. Blemished boards are also available for purchase at times.
There are at the time of this article currently four different sizes of bump boards, 16″, 26″, 32″ and 48″. The 48″ board does fold in half. Made from milled 6061 billet aluminum, these bump boards are built to last a lifetime. Powder coating and high contrast lines and markings will make these boards a good choice for tournament judges.
The KBF tournament series have approved Ketch boards for use, and additional accessories such as Ketch Kradles and tethers are available. If you're searching for that one-in-a-lifetime bump board, then the ketch board is for you.
Shown below is an important Revision to Rule 7.c Acceptable Measuring Boards, which was edited by the KBF Series on February 01, 2021, from their KBF Competition Rules Standards.
"Revision to Rule 7.C. :   Edited February 1, 2021 Acceptable Measuring Boards for the KBF Trail Series are the aluminum Ketch Products Measuring Board, the Ketch Karbonate and the Ketch X measuring board.  The Hawg Trough is no longer an acceptable measuring board for the KBF TRAIL SERIES."

KBF Competition Rules Standards
Revision to Rule 7.C. :  Edited February 1, 2021 Removed the FishStik Version 2 by YakGear as an acceptable measuring board from the KBF Trail and KBF Challenge Series. 
Kayak Bass Fishing Rules Revision Effective 02/24/2021
Tournament Use of Bump Boards
When in a fishing tournament or having a friendly fishing competition with your friends, whether you're all on the same lake or scattered across the Country, bump boards are a great equalizer!
We all have cell phones capable of taking detailed photos. The standard procedure on the water after landing a fish is to measure it on the bump board. With the fish's mouth held tight to the bump, and laying flat on the bump board, compress the tail and take a photo from above.
For fishing with friends, keep the whole fish and bump board within the photo, and be sure to show the fish's mouth up against the bump! Some contestants take pictures at an angle, allowing themself another 1/4″ to 1/2″ of length.
If you're fishing a sanctioned tournament or large cash prizes and timelines are involved, you'll most likely have a "tournament card" with the tournament name and dates displayed on it. This tournament card will need to show along with your fish in the picture.
IMPORTANT! With the Hawg Trough bump board, you will want to take a permanent black magic marker and highlight the increment markings like the picture at the top of the article. This will make the lines easier for the judges to see
The person having the largest total length number is the winner of the tournament! So have fun and get yourself a bump board!
If you're planning on keeping a few fish for dinner, be sure to check out this great article on Where to Keep Fish on a Kayak on this site!
Related FAQ's
How do you measure a Walleye?  To measure a walleye, you take the length of a fish in a straight line from the tip of the mouth, with the mouth closed, to the very end of the tail fin. Being sure to compress the tail, so both upper and lower parts of the tail are touching. This method gives you the correct length.
How do you measure a Lake Trout? Lake trout are measured by length and girth. You are then capable of calculating the estimated weight of the lake trout.