This post contains affiliate links.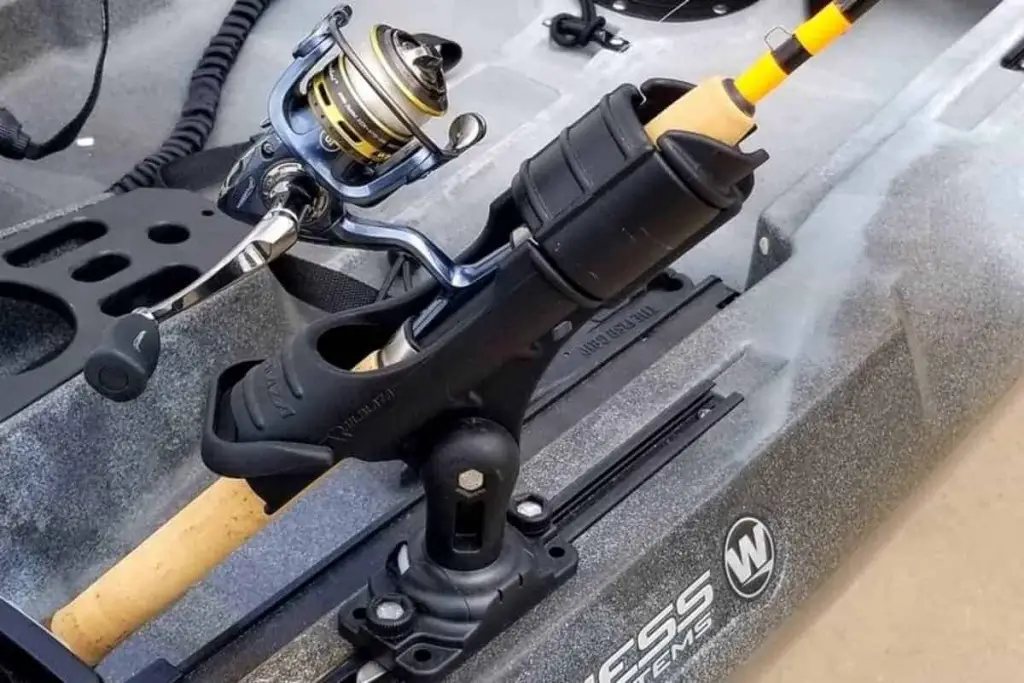 Kayaking is a great way to enjoy the water and get a little fishing in. But hanging onto your fishing rod while maneuvering your kayak with the paddle isn't as easy as you might think at times. There are many rod holders for kayaks on the market. The Railblaza Rod Holder is one of the most popular. 
The Railblaza Kayak Rod Holder is a very well-reviewed kayak rod holder. The lightweight, adjustability, and sturdiness of the design make the Railblaza the perfect choice for those who enjoy fishing from their kayak. And the mounting base gives you the flexibility for multi-functional purposes.
There are many kayak rod holders available on the market today, and I've used a number of rod holders over the seasons. So, how do you know which one is the best fit for you? Let's find out!
The Railblaza Rod Holder System is the one I use for their toughness, adjustability, and being able to swap out other Railblaza products such as the camera booms. Let's take a look at four of the Railblaza Kayak rod holders so that you can be better informed to make the best choice for your needs.
Railblaza Kayak Rod Holder: The Best Kayak Rod Holder
What makes the Railblaza Kayak Rod Holder the best are their various designs and durable craftsmanship. The creators of the Railblaza rod holders are kayak anglers themselves, and they developed their product line with their own needs in mind. 
With both functionality and appearance in mind, the Railblaza line has several rod holders from which you can choose. So everyone can find the rod holder, which suits them and their needs the best!
Railblaza Kayak Rod Holder and Base
This kayak rod holder with mounting base has everything you want in a rod holder at a lower price than many of the others! Whether you're landing that huge fish or moving from spot to spot, the Railblaza is right there waiting for you. Just place your fishing rod in the slot and strap it in!
Railblaza Rod Holder and Base – Check Current Pricing on Amazon
Some of the features of this kayak rod holder include: 
It is adjustable for any type of reel.
It's made of lightweight, superior fiberglass infused with plastic.
The durable and rugged design makes it perfect for the kayaker on the go.
The sturdy stainless-steel hardware means you do not have to worry about rust.
A low-profile base keeps it from sticking up and getting in the way when not in use.    
Railblaza Rod Holder R w/StarPort HD 
The Railblaza R is a light-duty rod holder made with plastic mixed with fiberglass. It is rugged while still being lightweight. Because many kayaks are now made to accept mounting bases, Railblaza decided to go ahead and make a StarPort HD base to fit any of these vessels.
This holder also can be track mounted with the Railblaza StarPort HD Track Nut Kit.  The Nut Kit can also be used for other mounting applications such as camera boom, flag, and light kits!
Railblaza Rod Holder R w/Starport HD – Check Current Pricing on Amazon
The main features of this rod holder are:
It has a StarPort HD base to fit into the mounting track on most kayaks.
The lightweight but strong design will last a long time.
The stretchable strap keeps it exactly where you put it.
It has stainless steel hardware, so there is no worry about rust.
RAILBLAZA Rod Holder II
If you want to go fishing for larger fish, this is the rod holder for you. Like the others, it has the fiberglass infused plastic and a rotating collar that fits any reel type to securely lock your rod in place! This rod holder also has a gimble lock in the rear to decrease the rotation for compatible rods.
With a 360-degree spinning horizontal adjust and 90-degree vertical adjust, you can move your rod to any angle or direction you want. 
Railblaza Rod Holder II – Check Current Pricing on Amazon
The unique features of this kayak rod holder include:
You can fit this rod holder to any StarPort or Side Port.
This one will also fit a Rail Mount or Rib Port.
The square-tooth tilt stops the rotational slipping that other rod holders have. 
It has a gimble lock for less rotation.
It is strong enough to handle the big fish.
Railblaza Kayak Rod Holder R with MiniPort Track Mount 
This light-duty kayak rod holder will work for any kind of inshore fishing but is not made to go trolling for the biggest fish in the ocean. It is also made with fiberglass plastic, so it is sturdy and light, just like the original one above.
What makes this particular rod holder different is that it is designed to fit almost any existing tracks. Also, just like the other Railblaza kayak rod holders, it adjusts to fit any kind of reel.  Rodman
Railblaza Rod Holder R w/MiniPort Track Mount – Check Current Pricing on Amazon
Some of the best features of this holder are:
It has a light and adjustable design.
No tools are required to install into a MiniPort Track Mount.
The flexible strap keeps it firmly in place.
Never gets in the way, even when you flip the boat.
Why Railblaza Rod Holders Are the Best
Railblaza kayak rod holders are made by real kayakers who fish. They are designed for many different types of anglers. 
If you are a fly fisherman, they offer a kayak rod holder for that. 
If you are a baitcasting reel angler, the Railblaza kayak rod holders have that covered too. 
They are also very lightweight, so your boat won't be leaning to the side, causing you to flip. But lightweight does not mean wimpy. Railblaza rod holders are reinforced with fiberglass, so they are incredibly strong. 
The stainless-steel mounting hardware is weather-resistant, so it will never rust. The rod holders have a stretchable strap in the front that wraps around the bottom for spinning reels and the top for baitcasting reels.
The Railblaza Rod Holder II has a rotating collar which means it can spin all the way around if needed. This is the rod holder I use and pictured at the top of the article! I recommend the Railblaza Rod Holder II from Amazon!
Different Types of Kayak Rod Holders
Kayak rod holders come in many different styles and types. What works best for you depends on your needs and preferences. 
Here are some of the types you can choose from:
Flush Mount Rod Holders are the least expensive while being very functional. You can mount these just about anywhere on your kayak without worry. 
Deck Mount Rod Holders are the easiest to install because they just mount to the deck of your boat. However, these stick up a bit, so you may have trouble when transporting your kayak. 
Milk Crate Rod Holders are a very interesting type of rod holder that does not require installation. You just hook it onto your milk crate and use bungees or straps to secure it to the boat. The crate can hold all your tackle as well. 
Side Mount Rod Holders are better for trigger or pistol grip fishing rods. Mounting them is a bit more challenging as you have to be careful to put it in the right place the first time. Otherwise, you end up with a bunch of holes in your boat. 
Track Mount Rod Holders are similar to the deck-mounted holders, but they move on a track. When you want to adjust your angle or move your pole, just press the button, and you can easily move the holder along the track. 
Clamp Rod Holders are similar to side mount holders, but there is no need for drilling any holes in your boat. This is perfect if you are using a rental. The removable clamp can be used anywhere and removed anytime. The easy and fast installation is a plus, but it is not as sturdy as the mounted kayak rod holders.
Related Article: How to Outfit a Kayak for Fishing: The Ultimate Guide
What is the Best Place to Install a Railblaza Kayak Rod Holder?
The best place to install a rod holder depends on how you fish and what you are fishing with. The best way to determine this is to take your rod out on the kayak for a day of "pretend-fishing." 
While you are out there paddling and casting around, you will notice where you naturally want to place your rod. These are the best spots for you to install your kayak rod holder. Mark those spots with a Sharpie marker, so you know exactly where to drill the holes for your rod holders!
The most common places to place the rod holder includes:
The side of your kayak
The front of your kayak
On a mounting track on either side or placed wherever you like
On a secure crate inside your boat
A Few Things to Note
No matter which kayak rod holder you decide to get, it is important to know that other safety precautions should be taken to save your rod in an emergency. 
There are two main items that most kayak anglers use:
A rod leash is a simple and easy way not to lose your expensive rod and reel. Snap one onto your rod and connect the other end securely to the boat or yourself. Problem solved. 
A rod float prevents your rod from sinking into the water if it happens to get away from you. The only problem is you will have to go after it and hope there is no major current that will take it away. 
If a fish is pulling your rod out of the boat, most rod floats are not going to save it. In cases like these, it is better to use a leash so that you do not end up losing the fish as well as your rod. 
In Conclusion
While there are several types of Railblaza Rod Holders you can choose from, the best choice for you is ultimately up to how you fish, where you fish, and what you fish with. With all of this information, you should be able to choose the best kayak rod holder for your needs.
Have fun and be safe out there!