This post contains affiliate links.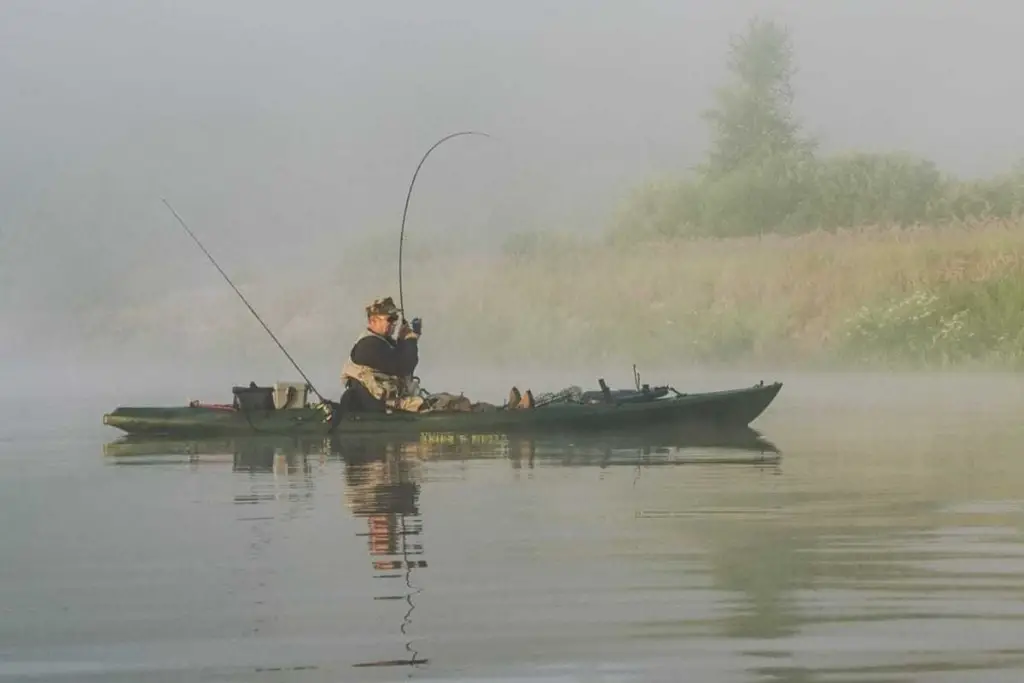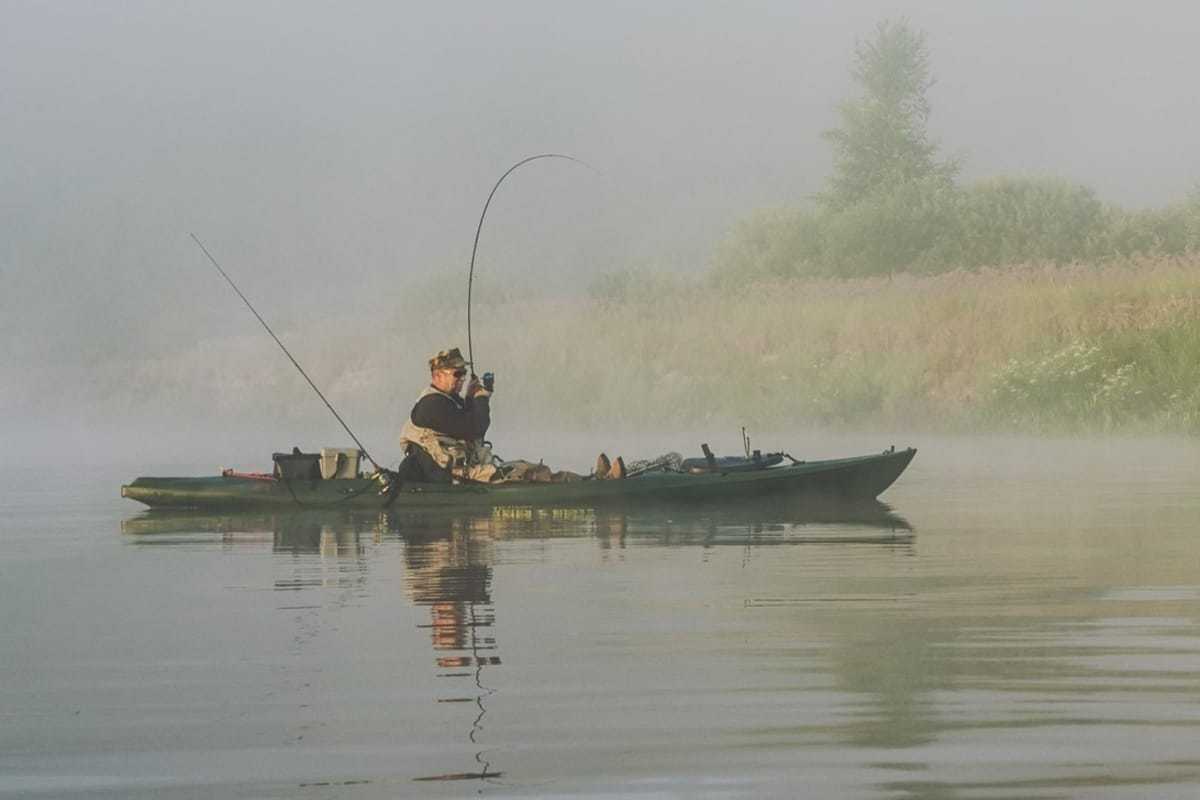 You may be wondering why fishing kayaks can be so expensive and are they really worth all the extra money printed on their price tag! I know I did! Here's the scoop on why!
Kayak prices increase almost every year due to releasing new concepts such as hull designs, pedal, electric motor drives, and advances in materials these kayaks are built with. These improvements benefit the kayak angler's overall experience and are certainly worth it!
As kayaks improve, and prices rise each year, it's possible these improvements may or may not be needed or even desired by you. Fishing kayaks are becoming more specialized every year, so let's dive further into the reasons below!
Competition and Innovation
The two things that will really drive the price of kayaks up are competition and innovation. Competition and innovation between kayak manufacturers will always improve the kayak angler's experience! And here's why.
Competition
When kayak companies push to stay ahead of their competitors, the competitive drive between them will create better and more improved kayaks for you! As companies demand more from their designers and employees, this will raise their costs of doing business.
With dozens of kayak manufacturers competing with each other to earn your dollars, even though prices can increase dramatically from year to year, you are the ultimate overall winner!
The competition between companies will always drive up costs associated with kayak development. Staying one or two steps ahead of the next guy will bring better kayak platforms to the consumer.
Innovation
Innovation results in better designs for all of us!
When kayak companies compete with one another, this results in advancements in designs and technology. It is this innovation from designers that create better kayak platforms for you!
Some of these innovations will appear as:
Increased storage space with better designs and placement options.
Comfortable seats with ergonomic designs.
Sleeker hull designs to improve speed and tracking.
Better built-in rod holder placements.
Lighter kayak weights for paddlers.
Improved efficiency for pedal drive kayaks
And other improvements released each year!
Innovations in kayak designs cost money to develop, and with these advancements come higher price tags! Still, the kayak angler consumer benefits from all of these new concepts!
Competition and innovation increase the company's costs, and these costs will certainly be passed on to the consumers. In the end, with all the improvements in kayak design with research and development, we receive a far better product, which is great for us!
Difference Between Cheap and Expensive Kayaks
The difference between a "cheap" and an "expensive" fishing kayak can be numerous!
Generally speaking, the definition of a cheap kayak can be under $500.00 for some buyers, and as low as around the $250.00 mark. For others, a cheap kayak may be anything below $1,000.00!
And again, depending upon the consumer, anything over $500 may be considered expensive. At the same time, thousands of kayak anglers will pay between $3,500.00 to over $5,000.00 for a specialized fishing kayak! Pricing is relative to what you desire and what you want from your kayak purchase!
The "Less Expensive Kayaks"
Cheaper, or as I like to say, less expensive kayaks, are generally smaller in length and do not track as well while being paddled. Most of these are sit-inside kayaks and aren't as comfortable as a sit-on-top model.
Many do not have rod holders built-in, although you will find some cheaper kayak versions with them. Most of the time, they are not where you would like to have them placed and are hard to use. One size does not always fit all!
Over the past few years, some companies are coming out with a sit-on-top platform. These kayaks are limited in what they can do as far as seating and feet placement options.
These sit-on-top kayaks can be commonly purchased in lengths from 10′ to 12′, are generally heavier than their more expensive counterparts, and you tend to become pretty wet on them.
Overall, you can take a box store kayak for under $500.00 and customize it to your liking with rod holders, electronics, safety flags, etc. You'll definitely give up quite a bit on performance and spend some of your money on upgrading, but you will have a kayak you can use and fish from.
Want more information on upgrading your kayaks? Here are a few of my other articles on this site!
The Expensive Kayaks
For most of the general public, I will state an expensive kayak will probably start at the $1,000.00 to $1,500.00 mark and go higher from there.
On the high end, the Hobie Pro Angler 17T is currently pricing at $6,599.00! If you want to see what a dang near $7,000 kayak costs, you can check it out here on the Hobie site! It just might be the Caddilac of fishing kayaks!
The more expensive fishing kayaks will most always have a great seat with multiple adjustabilities. The seat on my Wilderness Systems ATAK 120 will raise and lower, tilt back, and the recline almost flat!
Wilderness Systems AirPro Max Kayak Seat Kit
Outside of the comfortable seating, you will find gear tracks already installed so you can mount all your accessories. These may include but not be limited to different rod holders' styles, and electronics such as fish finders and Global Positioning Satellite units.
The more expensive kayaks will fish better and longer and have excellent paddling and tracking ability. The more comfortable you are, the longer you will be able to remain out on the water catching fish!
With plenty of scupper plug holes and storage areas, you'll remain drier and have multiple places to store your gear, so it isn't rolling around on the deck or beneath your feet.
You will also find the higher-end line of kayaks will have greater stability on the water and are easier to maneuver in rougher waters than their lesser expensive counterparts.
For more information on buying a fishing kayak, take a quick look at my article on How to Choose a Fishing Kayak (8 Basic Tips)
The Difference in Kayak Materials
When looking at a kayak before purchasing, you may not even give the plastic material it's made of a second look! Not all plastics are created the same or have the same durability!
As research and development of lighter and tougher plastics are achieved, they will cost more than those from years ago. Tougher, longer lasting plastics that take more abuse from rocks and being dragged around will make your kayak last longer!
Older plastics will dent easier and possibly deform while in storage if you do not store them correctly. (See my article: How to Store a Fishing Kayak: A Step-by-Step Guide)
With better plastics being developed, you'll also find a correlation with better hull designs being produced as well.
With better hull designs, much research and testing go into the new and upcoming hull designs. And again, this will cost you more money as a consumer.
High-grade hull designs are responsible for many things. Some of which is being able to track in a straighter line while paddling or under power. Lighter weights give you easier transportability too.
You'll also find these newer hulls will take more abuse and last longer than the plastics from years ago. As newer plastics and hull designs come out, many of the older models begin to drop in price.
Paddle, Pedal, or Electric Motor?
Another reason why fishing kayaks are so expensive is in the way you move across the water! Paddling is by far the most popular, followed by the newer pedaling kayaks. And as of late, electric motors and even gas-powered motors are becoming mainstream with kayak anglers!
Paddling
Paddling your kayak is the least expensive way to get into kayak fishing. You can buy paddles built in varying lengths and with a variety of materials. From inexpensive plastic and aluminum paddles under $50.00 to the top-of-the-line Werner Adjustable Carbon Fiber Fishing Paddle, you'll find on Amazon.
Paddling a kayak is currently the most popular way of getting around on the water while fishing. And the most economical in getting started in kayak fishing.
Pedal-Powered Kayaking
A considerable step up in why kayaks are so expensive is the newest method of powering your kayak, pedal power!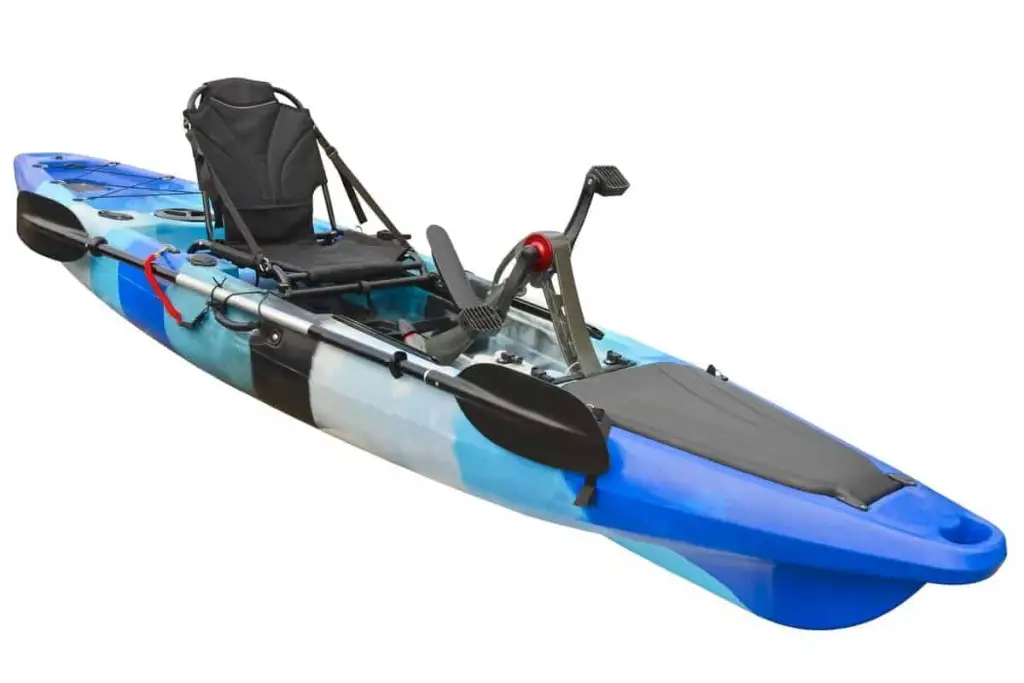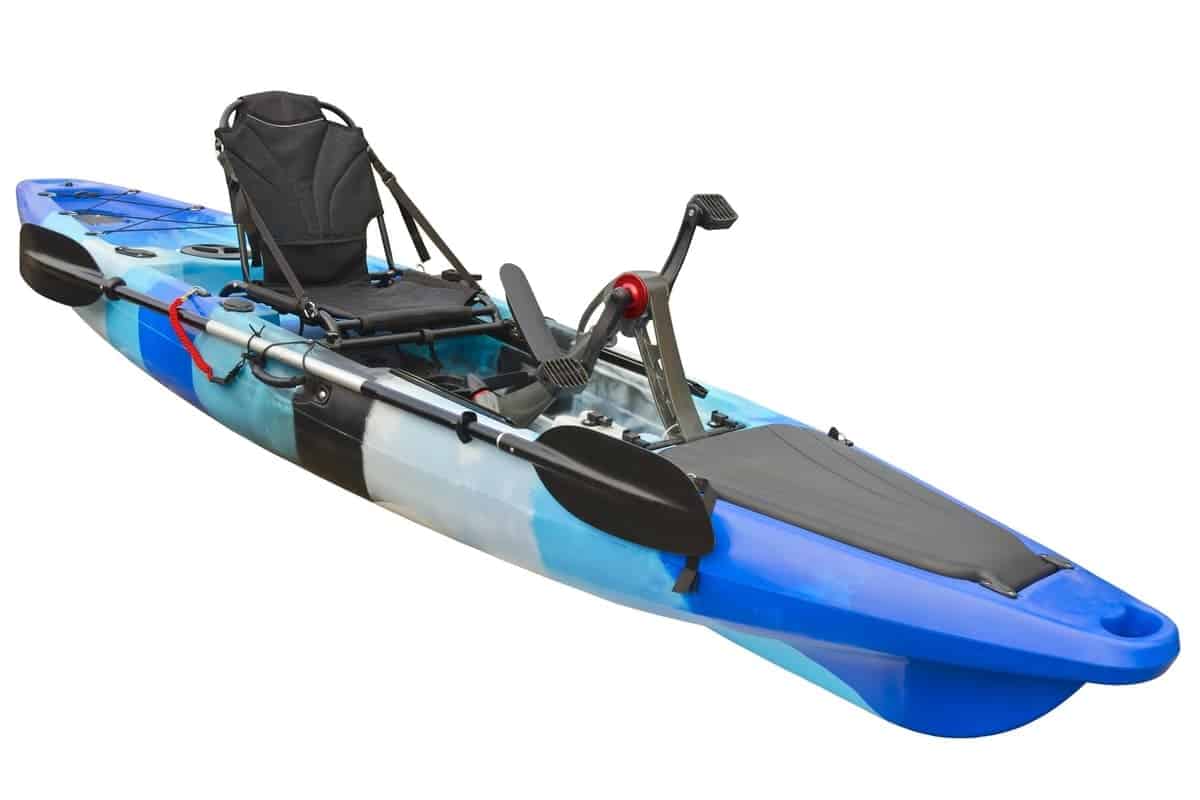 Pedal power isn't cheap, not for a good pedal drive anyway! The cost of a decent pedal drive system will increase a kayak's cost at last $1,000.00. To add a pedal drive to my current ATAK 120 would be over $1,000.00.
Wilderness Systems Helix PD Pedal Drive
Pedal drives are a step up from paddling because you can propel your kayak with your legs while fishing with both hands if need be. With a paddle, you can only fish while your paddle is down, and you're then at the mercy of the winds or currents.
Even if you chose to go with the pedal-powered kayak, it is highly advisable to carry along a paddle if your drive breaks down or becomes faulty. You would have a way of getting back to your vehicle. Stepping up to a pedal-powered kayak will certainly increase the expense of the kayak.
Electric Powered Kayaks
Another giant step up in cost is when you decide to go with an electrically powered fishing kayak! The advantages are many over a paddle or pedal kayak, but the cost is considerably more too.
As an example, with its 45lb thrust MinnKota electric motor, spot lock technology to keep you in one spot, and it's other accessories, the Sportsman Autopilot 120 from Old Town is a popular and gaining notoriety among anglers. But it boasts a cost of over $3,700 too.
You can definitely get to and from your fishing holes faster than with a pedal or paddle kayak. And with today's lithium batteries, you can go all day long without running out of power.
You will still want to carry a paddle with you in case your power cuts out or fuse blows, and you don't have a spare!
Are Cheap Kayaks Any Good?
Heck yes, even cheap kayaks are good! It all depends on what you want from your kayak!
Some people want to get out onto the water and don't stray very far from the vehicle or shore. At the same time, others may want to go miles out to am offshore drilling rig to fish the structure!
If you're not out trolling for large fish, or need a specialized fishing kayak, cheaper kayaks are a great way to get started in kayak fishing!
A few other good articles to read on this are:
You don't need to have an expensive new kayak. You can buy a used kayak and save hundreds of dollars and still have a terrific fishing platform. And I've seen trophy fish being held up high in the air while sitting in a regular plastic kayak you can find at Wal-Mart!
Fish do not know what you're fishing from! Just get out there and enjoy yourself and the outdoors!
In Conclusion
Kayaks become more expensive as the technology advances, the fishability increases, and how you power your kayak is developed and improved upon. With more storage options and designs to better use the limited space onboard comes more costs.
The kayaks themselves aren't expensive! It's the bells and whistles more specialized anglers and fishermen desire which drives the expense up. You can take a regular kayak and design it to fit yourself, modify as you need, and still have a fishing machine for under $200.00!
If you want to fish from a regular kayak, then check out Can You Fish From a Regular Kayak? Not all kayaks are expensive! And you can custom build your own kayak fishing machine!
Have fun and stay safe out there!