This post contains affiliate links.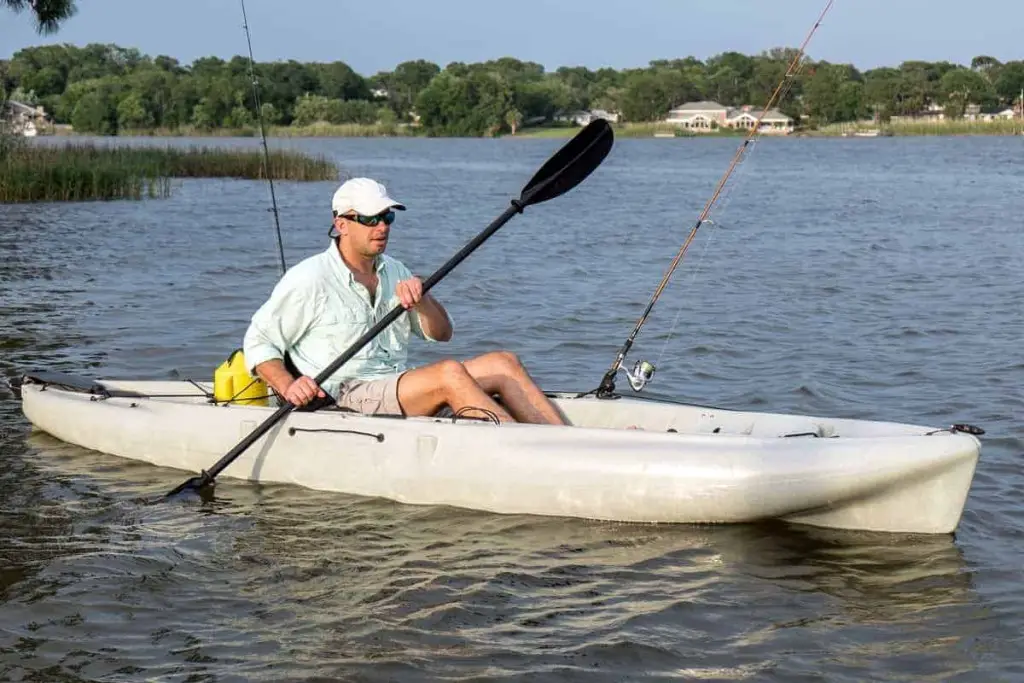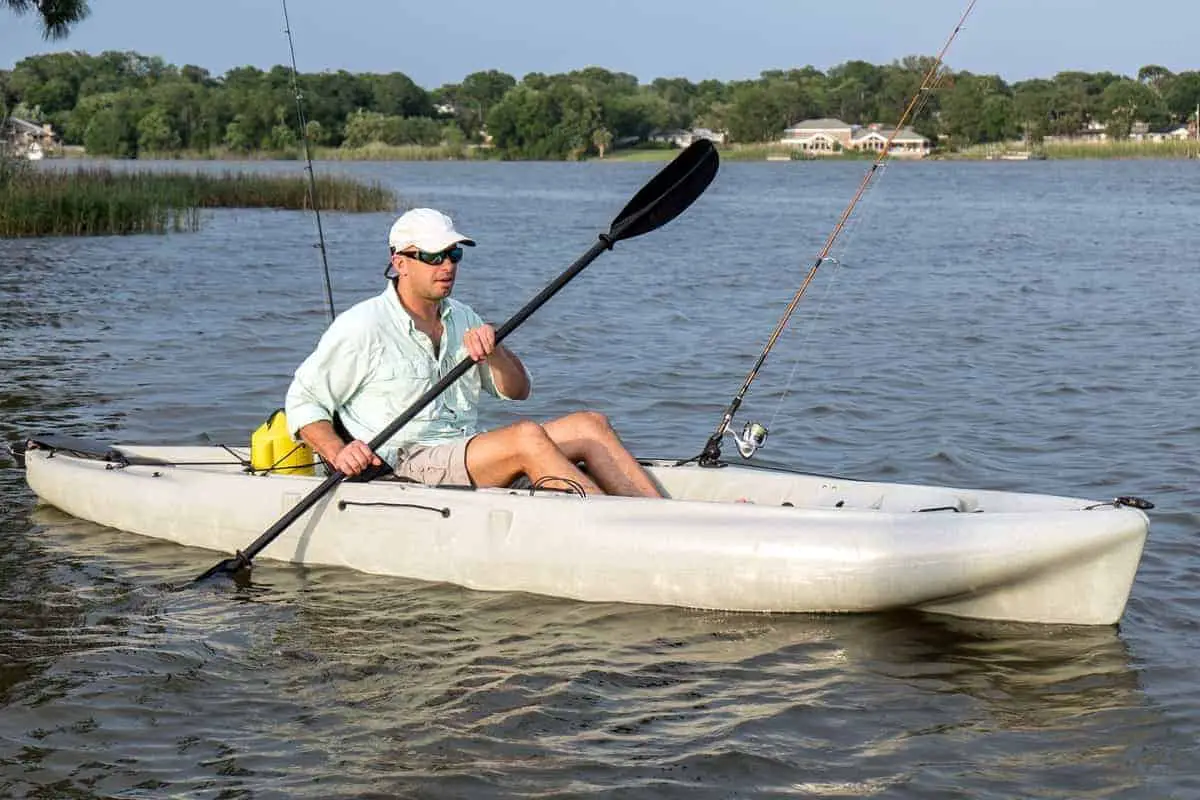 Going for a fishing adventure can be exciting. A kayak provides a convenient way to go fishing. However, you may be confused over whether to go for a regular kayak or a fishing kayak.
The difference between a fishing kayak and a regular kayak lies in the way you sit. A regular kayak allows you to sit in, while with a fishing kayak, you generally sit on top. The fishing kayak gives you ample space on the deck to store all your fishing gear.
Can you fish out of a regular kayak? Read on to find out more. We also look at what features make the fishing kayak unique and help you determine which is the best kayak for you. 
What Features Make a Fishing Kayak Unique?
The kayak market over the years has evolved, and you can find new types of kayaks. Back in the day, kayaks were reserved for sports, but now you can find kayaks for diving, camping, fishing, and more. 
If you're planning to go fishing, you may be confused over what type of kayak to choose. Here are some features that make a fishing kayak unique. 
Storage Options
Unlike regular kayaks, fishing kayaks have a range of storage options, whether you are a minimalist or an angler who likes to carry a tackle box, cooler, live bait, and other fishing gear. You'll find mesh pockets, hard enclosed hatches in the bow, bungee cords, big tank wells, midship for dry storage, among other storage options. 
Material
Fishing kayaks have lightweight material that makes them easy to load onto cars and get up to speed. They are also light as they are designed to carry extra gear and fishing equipment. Some models are made from ABS plastic. The material is durable and UV-resistant. However, these kayaks can be expensive than polyethylene kayaks, 
Kayaks made from polyethylene plastic are abrasion resistant and affordable. Unfortunately, they are not UV -resistant and degrade when exposed to the sun.
Rod Holders
Fishing kayaks come with molded-in rod holders or mounted rod holders. There are adjustable and flush-mounted rod holders. Some have grooves on the sides that allow you to put the rods horizontally. High-end models come with more than three holders, and an allowance to add more in the future. 
Regular kayaks do not have rod holders. While you can quickly install these holders to a regular kayak, having them already installed makes your work easier. Also, installing rod holders on a regular kayak is not recommended as fishing kayaks have areas where you can screw the holder without interfering with the kayak's structure. 
Seat Positioning and Comfort
Another feature that makes fishing kayaks unique is the seat positioning. Most fishing kayaks have seats that provide back support and offer cushioning. Some allow you to move or remove the seat when you need to stand in the kayak. Also, a few fishing kayaks enable you to recline or adjust the height of the seat. 
Those who love fishing while standing, fishing kayaks have footwells that are meant for standing. You can opt to add assist straps or support bars. 
Gear Tracks
You can attach your fishing equipment, phones, or cameras to your kayak without drilling holes. That's because fishing kayaks come with slide tracks. 
Kayak Chine
A kayak's chine is the place where the bottom of the kayak meets the sides. Soft chine is rounded, while a hard chine is angular and forms on the sides and bottom. Fishing kayaks have hard chines that provide impressive stability in choppy water. 
Motor Drive
While you can mount a trolling motor on a standard kayak, some brands sell fishing kayaks that are already outfitted with a motor. Having a motor drive ensures that you get to explore the various fishing spots without the tired arms and legs. 
Primary and Secondary Stability
Fishing kayaks are designed specifically for fishing. That's why they have primary stability, which is the stability needed on flat water. The stability for hauling and casting comes in handy when dealing with rough water.
Secondary stability in fishing kayaks allows the kayak to maintain its stability when it tips on its side in choppy water. That combination of both stabilities ensures that the kayak is stable both on flat water and rough water. 
Rudders
Fishing kayaks come with rudders that help track in the wind. You can readjust the rudder angle using foot pedals. That allows it to be responsive when the weather conditions change while on the move. 
Trolley System
Fishing involves sitting in one spot for hours. While this may be okay while you are on land, it's a different story when you are inside the water. The fishermen may find themselves far from the fishing spot. 
You can set up the trolley system to run along the side of the kayak. One can be used to raise/lower the rudder and the other for the anchor. An anchor trolley system allows you to secure the craft and not worry about drifting from the initial fishing position. 
Regular kayaks don't have this system as they are designed for paddling in the water and not for someone sitting still for hours. 
Water Drainage
Fishing kayaks have a series of scupper holes on the rear storage and front decking for better water drainage. The scupper holes drain in a contained cavity of the kayak. A few manufacturers design their kayaks to hold an LED pole light or anchor pole. 
The addition of a scupper plug allows you to plug the drain holes and ensure that any water from under the kayak does not splash into the cockpit deck. Nonetheless, you should note that plugging the holes prevents them from draining accumulated water on the deck. 
Drink Holders
Another thing that makes fishing kayaks unique is the inclusion of drink holders. It's nice to enjoy your drink while out waiting for the fish to capture the bait. 
Pedal Drive 
Fishing kayaks allow you to free up your hands. Some kayaks come with pedal power that enables you to fish without having to engage the pedal when moving downstream. Pedal kayaks can be push-pedal or rotational pedal kayaks,
Push-pedal kayaks mean that it's only your feet that propel the kayak. However, rotational pedal kayaks need you to move your legs in a walking motion, something that makes them ideal for longer distances. 
Gadget Rail
GPS and fish finders are two essential tools that you may need while fishing. However, figuring out where to place them can be daunting. Fortunately, fishing kayaks have a rail system that you can use to fix these tools. Some models have GPS-ready central consoles or a fish finder attached. Standard kayaks do not have these features as they aren't meant for fishing. 
Accessory Bracket and Adjustable Footrests
Some fishing kayaks have an accessory bracket that you can use to place items like fish finders, fishing rod holders, or a GPS. Adjustable footrests provide optimal leverage while casting or paddling. 
Differences Between a Regular Kayak and a Fishing Kayak
Kayaks are versatile, and you can use them for long-distance traverses, whitewater adventures, diving, and other activities. However, you should note that not all kayaks are created equal. A fishing kayak differs from a regular kayak in features and size. 
Here's a look at the aspects that differentiate a fishing kayak from a regular kayak. 
The Size
A fishing kayak measures about 14ft long, while regular kayaks can be as long as 23ft. Understanding the length of a kayak helps with tracking the kayak. You don't want the vessel turning when it should be moving straight. A 14ft long fishing kayak is easy to maneuver, especially when handling narrow side channels. 
Its width also balances between its speed and stability. A fishing kayak has a width of about 35 inches, which is too wide compared to a recreational kayak that's about 30 inches wide and a touring kayak that is 25 inches wide.  
Most fishing kayaks have a broader hull than standard models. The hull is essential when thinking of carrying capacity. The best fishing kayak should handle your weight, that of your gear, and your catch without sinking. Wider fishing kayaks provide fantastic weight distribution, something that allows them to carry a lot of weight. 
A wider hull gives the kayak less speed and more stability, which is essential when fishing. You get a lot of buoyancy to support your weight and gears with less circular hull and a wider deck. 
The Structure
Fishing kayaks can sit inside kayaks or sit on top kayaks. Sit-inside kayaks provide more fixation, something that works well in racing or whitewater adventures. While inside, your legs are enclosed in a cockpit. There's an attached spray skirt that stops water from coming in over the top.
This type of kayak keeps your legs out of the wind and ensures they are dry. That's why most sit-in kayaks are used on cold water. 
Unfortunately, sit-in kayak can be challenging when exiting and re-entering. You may find it difficult to get back in when you capsize. Moreover, you may need to paddle the kayak to the shore to drain it before getting back in the water. 
Sit on top kayaks provide a variety of seats that make it an excellent choice for fishermen. These kayaks are suited for warmer temperatures. Another advantage of sit on top kayaks is that you can get on and off the kayak when going swimming or when boarding. 
On the downside, sit on top kayaks will get you wet, and you may have to deal with the spray from riffles, waves, and paddle splashes.  
Using a sit-inside kayak can be overwhelming for the fishermen because of the lack of movement for hours. Nonetheless, sit on top kayaks provide more flexibility and space to rest and move your feet. 
Regular kayaks don't have the option of a variety of seats and can be uncomfortable to use while fishing. 
The Hull
A kayak's performance largely depends on the hull design. The hull shape determines maneuverability and stability. That's the reason why most fishing kayaks come with a flat hull featuring Muti chi construction.
With a flat hull, you're guaranteed of primary stability, while the multi chin improves secondary stability. 
The Weight
A regular kayak does not have the capacity to carry a lot of items as it is only meant for ordinary adventures. Fishing kayaks are designed to accommodate the fishermen, and you can also carry your fishing gear like rods, flashlights, GPS, and other accessories.
A fishing kayak is also not as heavy as it is used often. It also comes with storage options for all your gears and enough space for all your catch. 
The Functionality
Fishing kayaks are designed with an alteration in their structure. That means it is made in a way that suits the fishing job and cannot be used for recreational activities or racing adventures. 
Unlike regular kayaks, fishing kayaks are fast and have high stability and lesser track. While primary stability can be different depending on the model, almost all fishing kayaks have fantastic secondary stability. 
The Carrying Capacity
Fishermen need to carry gear and other fishing accessories. That is the reason why fishing kayaks are designed to accommodate more load compared to regular kayaks. 
What's more, fishermen go for hours in search of their catch and sometimes they can stay in one spot for long. That's what kayak fishing involves. You'll notice that most fishing kayaks are able to carry fishing gear, recreational gears, a change of clothes, and the catch on the return trip.
Standard kayaks can only accommodate relevant gears and not so much. Racing or touring kayaks can hardly carry anything. The carrying capacity is what separates the fishing kayak from a regular one. 
The Storage
You'll notice that regular kayaks come with small hatches that allow you to store items like flashlights and keys. While some of these kayaks have a good carrying capacity, it can be challenging to fit your fishing gear.
Fish kayaks have large cargo areas that allow you to fit a cooler for all your catch. Moreover, most of them have dedicated storage compartments for all your essential fishing gear. High-end models have inbuilt coolers and slots that you can use to carry bait.
The best thing about fishing kayaks is that they allow you to access your gear when you are on the water, unlike regular kayaks that require you to get to the shore to get your equipment. 
The Deck
A lot of fishing kayaks are sit on top, which means they have an open deck and the seat is on top of the Yak. That gives the fisherman room to not only place his gear but also to spread his legs. Sit on top models also allow you to stand and move when fishing. 
These kayaks also carry extra weight and distribute it well, which is critical while fishing. The seat is on the deck. The only major disadvantage of SOTs is their slower pace and the difficulty in moving the craft. However, sit-inside kayaks have the seat beneath the deck.
The Seats
Another huge difference between regular kayaks and fishing kayaks are the seats. Fishing kayaks come with an adaptable system or an adjustable back. That makes the fishing kayak seats more comfortable than standard kayak seats.
High-end fishing kayaks have reclining seats that allow you to lay down as you wait for your catch. Some have breathable fabric that keeps your back cool even in warm water. The best part is that the material also dries fast. 
The Propulsion System
Another factor that separates fishing kayaks from standard kayaks is the propulsion system. All kayaks have a double-edged paddle as the standard means of propulsion. However, some high-end models allow you to attach a pedal propulsion system or trolling engine.
These add-ons come in handy in fishing kayaks as they allow the fishermen to go further and faster. Furthermore, you can move the kayak and still have the rod in place when dealing with a big catch. Having a pedal propulsion system also ensures that you deal with fewer sounds and splashes. 
The Color
Fishing kayaks are not similar to regular kayaks. Standard kayaks are brightly colored, and you can easily tell them from far. However, fishing kayaks have dull colors and have some type of camouflage. That is to ensure that you don't spook off the fish as the kayak is able to blend better with the surroundings. 
Want more information on kayak colors? Take a look at my article Kayak Color: Does It Matter When Fishing? on this site!
Conclusion
Kayaks provide an excellent transportation medium and can come in handy when you need to go fishing, diving, camping, whitewater rafting, or any other adventure. However, not all kayaks are created equally. Fishing kayaks are different from regular kayaks in size, structure, carrying capacity, weight, and functionality.
Kayak fishing is versatile, affordable, accessible, and provides special angling benefits. Ensure that you check out the features of a fishing kayak to find one that suits your needs. 
You might want to check out my article Can You Fish From a Regular Kayak? for additional information! Thanks!
Have fun and be safe out there!