This post contains affiliate links.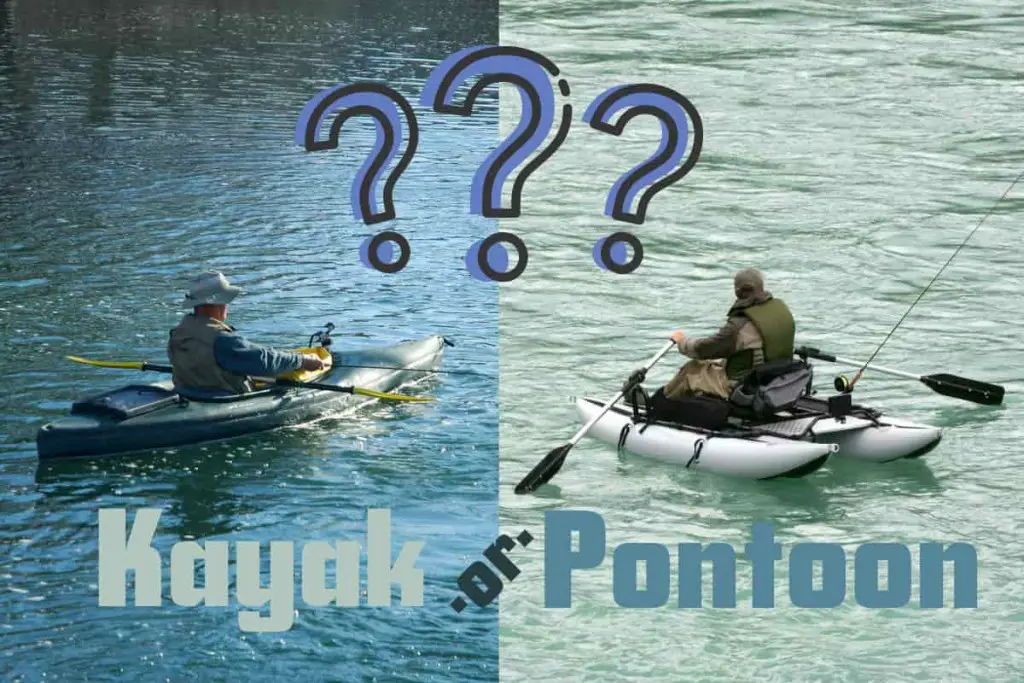 A huge ongoing debate within the fishing world has been raging over kayaks and inflatable pontoons and which are better for fishing. While fishing in Wyoming, Montana, and Colorado, I can honestly say I see more inflatable pontoons on the water than kayaks!
Though specialized fishing kayaks are making some serious inroads into these once pontoon packed waters! As with anything, there are tradeoffs and advantages to one over the other.
A pontoon sits higher, is maneuverable, stable, and easy to cast from. They can easily be deflated and transported in a car. They are slower and hard to paddle in waves and wind. A kayak has the speed to reach new areas, plenty of storage, comfortable, room for accessories, and harder to transport.
Let's take a look at the numerous differences between an inflatable pontoon and kayak for fishing and how one may suit you better for your type of fishing!
Pros & Cons of Kayaks & Inflatable Pontoons
Real quick, let's hit some of the high points you may want to consider when choosing between a kayak and an inflatable pontoon for fishing!
Fishing Kayaks!
Kayak Pros
They are faster – speed on the water
Very little setup time at the water
No flippers or need to wear waders
Comfortable and stable platform
Plenty of storage options
Maneuverable and can go shallow silently
No parts to come loose or straps to tighten
Very little maintenance
Kayak Cons
Needs a rack, pickup, or trailer to transport
Can be more expensive than pontoons
Sits lower in the water
Can be blown in the wind – anchor or drift sock
Inflatable Fishing Pontoons!
Pontoon Pros
Can be broken down to fit in the trunk of a car.
One person can set it up in 10-15 mins.
Sit high with comfort and visibility
Ability to store gear, tackle, and food
Can be rowed or motor-driven
Maneuverable in open water or rivers
Stable and safe – with good common sense
Affordable
Easy to cast from
Pontoon Cons
Can be heavy and bulky
Time to set up and inflate
Oars can get in the way of fishing
A motor upgrade can be costly
No built-in dry storage like a kayak
Slower than a kayak in waves and wind
Can pop if you run into structure.
Now that we've hit some of the high points above on the pros and cons of kayaks and pontoons continue reading for more details on the differences below…
Getting Your Kayak or Pontoon to the Water!
It doesn't matter whether you fish from a kayak or a pontoon. You're going to have to get whatever it is you own down to the water! You can have the most expensive and best kayak or pontoon, but you also need a way to transport it!
Transporting Your Fishing Kayak
There are numerous ways to transport a kayak to the water. Some are easier than others, while some may cost you a few more dollars! Since there are various ways people haul their gear, I'll go through a few of the basic ways that may fit your specific needs!
Trailer – A common way people will get their kayak to the water is with a trailer. There are specialty trailer companies which manufacture kayak specific trailers, and jetski trailers make great conversions if you can find one!
Trailers can take up quite a bit of room either in the garage or around your house! If you have the room for one, this is a great way to go!
Roof Top – We've all seen cars and SUVs hauling their kayaks down the highway! The racks they use are often referred to as " J-Racks". Some of these racks are more permanently installed than others.
Pro Tip: If you don't care for the permanent installation on your vehicle, Malone has a rack system that is very easy to install and remove!
Did You Know: You can also use pool noodles between the kayak and roof of your vehicle when strapping it down to protect the roof from scratching!
Pickup Truck Bed – Depending upon the length of your kayak, hauling it in the back of your pickup is a popular option. You lift one end into the back of the truck, go to the rear of the kayak, and slide it on in!
This will work nicely with kayaks up to 12 foot, but if you get much longer than 12 feet, I'd recommend a pickup bed extender much like the one pictured below on my personal truck.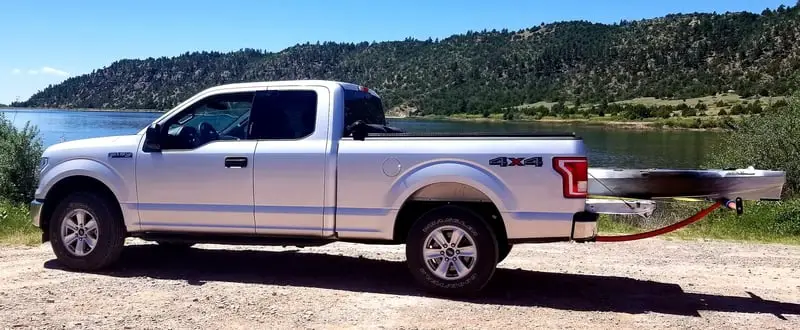 When I travel to a lake, reservoir, or river, I prefer using a bed extender on my truck. It adds more support for the kayak, and when not being used to haul my yak, it stands up out of the way nicely in the corner of my garage.
One of the advantages of this bed extender is its curved feature! I can drive off a curb or back up near a slope, and I have way more clearance than the straight bed extender!
Amazon has a great description of the T-Bone bed extender if you're interested in more details! It installs right into my hitch receiver and breaks down into two sections for easy storage at the fishing hole. You can also use a locking pin to secure it in the hitch if needed!
Transporting Your Inflatable Pontoon Fishing Boat
Transporting your pontoon to the water is way easier than a kayak for the most part! Inflatable pontoons are generally smaller than their kayak counterpart and will often weigh less too.
For comparison, I'll review the similar ways people will haul their pontoon!
Trailer – It isn't very often you see a single inflatable pontoon on a trailer!
Although I have seen anywhere from two to four pontoons already inflated on a trailer, strapped down tightly, with a group of guys heading toward the North Platte River 'Miracle Mile' near Casper, Wyoming.
If you're not going too far and with a group of guys, this is a viable option! But overall, a trailer isn't always the best way to get to your fishing spot as there are easier ways to haul them!
Roof Top – Never yet have I seen an inflatable pontoon being transported on top of a vehicle! Won't say it hasn't happened, but I've never seen it.
The best thing about transporting a pontoon is it can be deflated and easily broke down and stored in the trunk of your vehicle, in the back seat area, or the bed of a pickup truck!
What Are the Price Differences?
With two totally different styles of fishing platforms, you'd only expect the price range to differ as well. Here's a quick breakdown between the two!
Inflatable Pontoon Boat Prices
You can expect to pay anywhere from a couple of hundred dollars up to and even over a thousand dollars for an inflatable! Keep in mind, the more options, accessories, and quality the boat gives, the higher the pricing!

Classic Accessories Colorado Pontoon Boat
For a good quality medium range inflatable boat that won't "break the bank" on you. One that will last you many years, and longer if properly taken care of, many anglers tout the Colorado Pontoon Boat.
With oars, a framework, and a basket behind the comfortable seat for additional storage, the Colorado Pontoon is a stable casting platform. There's even a motor mount if you decide to mount a trolling motor behind you! For pricing, please give it a quick look here on Amazon.
Fishing Kayak Prices
First of all, even though you can fish from a sit-inside kayak, it isn't the best option for safety reasons. So for this article, we are going to compare a sit-on-top kayak to the inflatable pontoon boat.
My personal fishing kayak is the Wilderness Systems ATAK 120, and it suits me fine for the types of fishing I do! It does price out at around $1500.00, though, which may be more than someone just getting involved may want to spend.
You can expect to spend anywhere from three hundred dollars to over five thousand dollars for a sit-on-top fishing kayak! The same holds true for kayaks, you'll get what you pay for!
Just about all of the major sporting goods box stores carry a variety of sit-on-top kayak models that begin on or near the $300.00 mark. Even Walmart has inexpensive kayaks on display!
These inexpensive models will get you on the water, although you will be giving up some physical comfort and room.
Related Article – How to Choose a Fishing Kayak (8 Basic Tips)
A very nice mid-priced kayak I see making waves with the entry-level crowd is the Ascend 12T Sit-On-Top. There is plenty of storage options, and many kayakers are modifying this kayak to fit their needs in many ways!
The bottom line is you can pick up a nice inflatable pontoon or fishing kayak that will suit you nicely for anywhere between four hundred dollars to six hundred dollars.
You can go cheaper on either one of them if you'd like, but you'll be giving up considerable comfort, quality, and storage room!
On the other side of the coin, you could go as expensive as you want to! The phrase, "Buy once, cry once!" comes into play here!
The Type of Waters You'll be Fishing Make a Difference
Where you'll be fishing makes a huge difference in which type of fishing platform you choose.
Fishing Kayak
A fishing kayak will handle a little rougher waters and paddle upstream easily in streams and rivers. They are faster in the water and you can cover more water in a kayak.
If you're fishing a small lake or reservoir, a kayak can get you to those distant fishing spots rather quickly.
Kayaks are maneuverable and can also fish shallow waters such as back bays, close to points, etc., since you are floating on top of the water with your feet inside the kayak.
Inflatable Pontoon Boat
Are nice to float on when you're in a slow-moving river or stream. Even with your flippers, you can often move back upstream a short way to hit a honey hole you may have floated past.
If you're floating downstream and hit a shallow sandbar or shoal, you can pick up your pontoon and walk, or even "schooch" over it. Your kayaking buddies will need to get out and portage their kayak over the same spots.
Inflatables will also fare well on small ponds, beaver dams, etc.
Which Is More Maneuverable?
By far the kayak will be more maneuverable than the inflatable pontoon once it's on the water.
If there is a slight or strong breeze blowing, the kayak will do much better than a pontoon being propelled backward with flippers.
The pontoon will turn sharper than the kayak in certain spots, but overall I believe the kayak wins hands down for maneuverability!
Is a Kayak More Comfortable Than a Pontoon?
When you compare a top-quality kayak to a lower end kayak, the comfort factor will be a huge disparity. The same holds with inflatable fishing pontoons!
Some kayaks come with hard plastic seats and very little room for storage or your legs, and then there are kayaks with reclining seats and the ability to stand up and move around the kayak!
Pontoons are equipped much the same way! Either hard plastic seats or cushioned seats which swivel. Some pontoons have nice storage areas like the Colorado Pontoon Boat shown above, and then some will have minimal storage.
Overall, even though I've been in numerous fishing pontoons, I do enjoy fishing from the kayak platform much better for my own personal experiences.
In the end, what is comfortable for you may not be comfortable for someone else.
Which Has the Better Storage Options?
Hands down most kayaks will have better storage options than the pontoon boat.
A mid-range priced sit-on-top kayak will generally have storage compartments for your gear and tackle in the fore and aft area of your seat. Also, mounting tracks and both sides of the kayak are available to mount a wide variety of accessories.
Pontoons, being smaller than the kayak, will obviously have less storage area for you. That being said, even in a kayak, you won't be able to haul large amounts of gear with you!
Both types of fishing lend themselves better to the person who enjoys fishing light, and brings along just what they need for the day.
Which Handles Better in the Wind?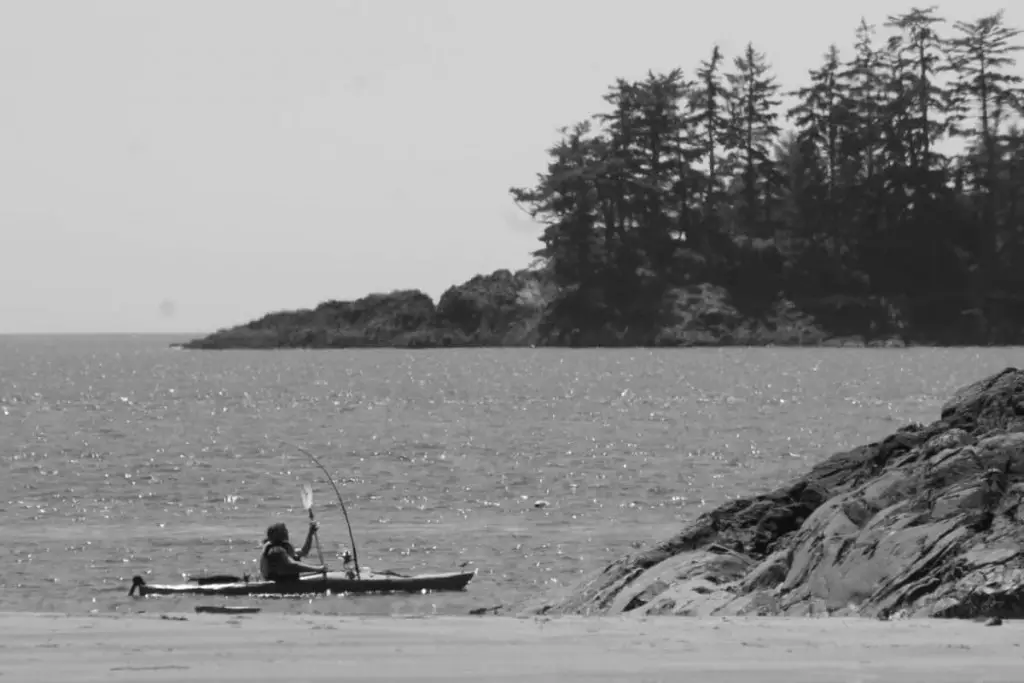 Again I'm going to have to go with the kayak over the pontoon!
As for paddling, the pontoon is moved through the water with the flippers on your feet, small oars, or possibly an electric trolling motor if you have one mounted!
There is no keel beneath you to keep you moving in a straight line. Plus, you're going to have to propel yourself backward and this can be difficult in a strong wind.
If you have a pontoon with oars, the oars are shorter hence do not remain in the water as long as a kayak's oar. Therefore it takes more energy and strength to go the equivalent distances.
The kayak does have a keel and is propelled by longer oars and is easier to move upwind.
Since both watercraft are fairly light, they both will bob around and drift if in good breezes.
Which Is Easier to Cast From?
Both the kayak and pontoon are very similar to cast from in my opinion.
I've found as you sit lower to the water, you no longer have the ability to "sight fish". It's not easy to see your target fish or see the structure beneath the water's surface.
Different kayaks and pontoons will allow you to sit higher than others and see more efficiently.
When I fished from a pontoon with oars, a big caveat was the oars tended to get in my way from time to time. You really need to watch the oar handles, especially if fly casting! Your fly line can easily catch an oar!
When in my kayak, I have a paddle storage near the front to tuck it away when not in use.
It is also easy to cast with the paddle laying across my lap as the handles are pretty much level. While in a pontoon, the oar handles are held up higher by the oarlocks.
Which Will Last Longer?
The kayak will last you longer than the pontoon for several reasons.
The kayak is made from hard plastic and can take more abuse than a pontoon. The pontoon is subject to more abrasions and tears if you hit rocks, rub up against a dock, or drag it consistently.
Once the fabric covering to protect the inner air bladder, which is prone to puncturing, begins to wear thin, it's easier for the pontoon to experience a puncture or to begin leaking air.
Try It Before You Buy It!
What may be my best choice may not be the best choice for you and your fishing conditions!
The thing to do is sit down and consider the types of fishing you want to do and choose the best for you, either the kayak or the pontoon! Then go out and try them both for a day or two and see which one you prefer.
Please check out some of the other articles below too!
Have fun and stay safe out there!
Related Articles