This post contains affiliate links.
Kayaking is one of the most popular summertime activities for people who live near bodies of water. It's a simple and accessible way to get out onto the water. Most outdoorsy folks are familiar with recreation kayaking, but have you heard about fishing kayaks?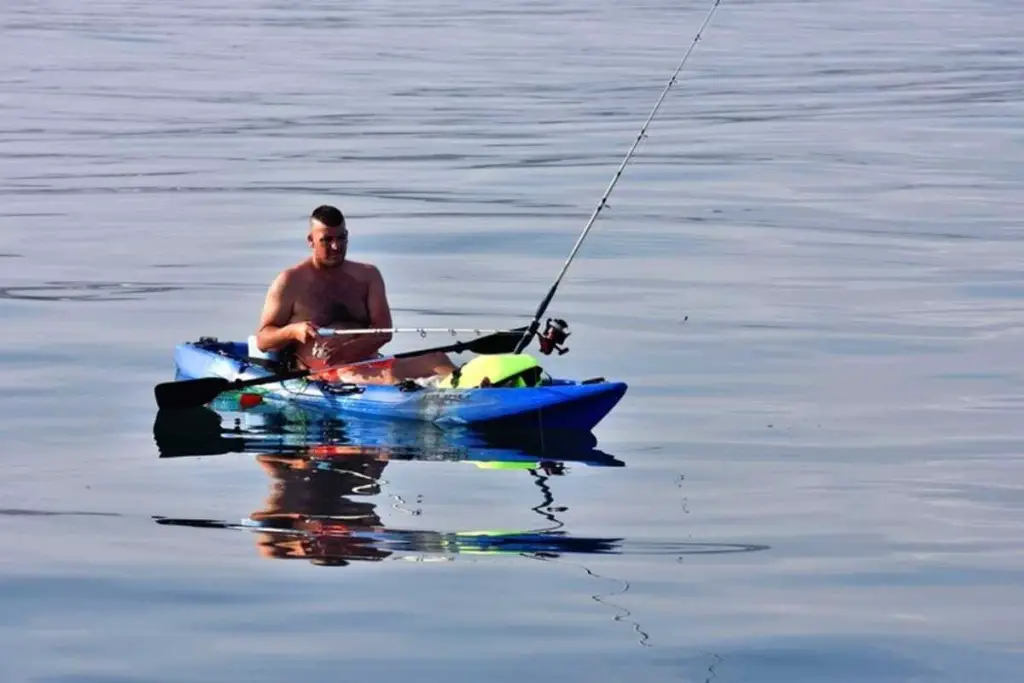 A fishing kayak is almost identical to a regular recreational kayak except for the addition of fishing accessories such as extra storage space, bait and tackle boxes, rod holders, and an anchor. They are often seen as the most affordable, eco-friendly, and easy-to-use vessel for fishing. 
If you're looking for a better way to go fishing and want to get out on the water as soon as possible, a fishing kayak is the best option. Read on for more information about these simple yet swift vessels.
Fishing Kayaks Are Affordable
If you are looking for a cheap way to get yourself out onto the water to fish, a kayak is the best option for you just based on the price alone. Kayaks are some of the most budget-friendly watercraft we have today and are known for being generally spacious and comfortable for single passengers.
If you're a solo fisherman, kayaks may be of particular interest to you. Many fishermen think that the only way to get out onto a body of water is to use a motorboat or a big canoe, which can run you a pretty penny.
In comparison to motorboats and canoes, fishing kayaks are the perfect option for people who have slimmer budgets but still want to fish on the water. 
They are easily found on sale at sporting goods stores as well as larger superstores, like this Lifetime Tamarack Angler Kayak found on Amazon. One of the main reasons they are becoming so popular for fishing is that they are dirt cheap compared to other ways of getting out on the open water. 
While motorboats can cost you upwards of thousands of dollars, a fishing kayak may only cost you a couple of hundred dollars new. The cost will be even less if you can find one used or refurbished – make sure to check out your local Facebook Marketplace, Craigslist, or eBay listings.
Fishing kayaks are so affordable because the construction of a kayak is generally simpler and more sparse than motorboats and larger canoes. Since kayaks have hollow bodies and are slim, they don't require a lot of material to make. 
Kayaks are usually made out of plastic, which is cheaper than the wood and metal materials that other watercraft are made out of. The kind of plastic that kayaks are made out of is called polyethylene, which has a reputation for being extremely durable. If you buy a polyethylene fishing kayak, it will last you a very long time if properly taken care of.
Another perk related to how affordable fishing kayaks are is that, for the price of one motorboat that may only fit two or three people, you can easily afford multiple kayaks to share with your friends and family. They come in a variety of bright colors and patterns and also come in smaller sizes for more petite people or children.
Fishing Kayaks Are Eco-Friendly
If you are an environmentally conscious fisherman, this topic will be of interest to you. One of the perks of choosing a fishing kayak over a gas-powered vessel is that you are not contributing to pollution either into the atmosphere or into the water where you're fishing. 
One of the most significant responsibilities of being an ethical fisherman is to contribute to the wellbeing of the environment instead of adding to its destruction, which includes being mindful of the kind of craft you set sail in.
Gas-powered boats consume a vast amount of fuel and often leak oil into lakes and ponds. When used in the long term, gas-powered boats are an environmentally negligent option.
In comparison, using a kayak for fishing is one of the best choices you can make for the environment when you're out on the water. They are a completely gas-free option and have little to no environmental impact. Instead of being powered by gas, kayaks are powered by the passenger.
For those unfamiliar with kayaks, they are powered by one double-sided oar and the strength of the passenger or pedals. More expensive kayaks can have electric motors powering them!
All you have to do to get from point A to point B is to engage some bicep power and paddle or pedal on, making fishing kayaks not only an eco-friendly vessel but also an easy way to get exercise when you're out on the water.
Fishing Kayaks Are Easy to Use
Along with being an affordable and environmentally conscientious option for your fishing excursions, kayaks are also rather easy to use. They do not require any training or experience to use, as many other fishing vessels do – people rarely have difficulty learning how to handle a kayak. Kayaks are also a low-risk watercraft, making them a potentially safer option for young people who like to fish as well as people who might have limited lower body mobility.
The first element that makes kayaks easy to use is its simple construction. They are an uncomplicated fishing vessel – their hollow bodies are helpful for storing your bait and tackle kit, and with a little rigging, you can easily attach your fishing poles along the sides of the vessel and an anchor to keep you in place. They're just made of hollow plastic with a small seat that places you right at the water level. 
Depending on the style and brand of kayak you purchase, along with the seat, it may also have two footrests that are generally adjustable to the length of your legs.
The second element that makes kayaks easy to use is how light they are. When you want to take your motorboat to a lake or other body of water, you need a truck and a trailer to be able to transport it. Along with having to load it onto a trailer, you also need to have the necessary skills to get it on and off of the trailer.
When you choose to use kayaks for your next fishing trip, you will need to have a rack for the top of your vehicle to transport the kayaks. 
Most styles of kayaks are light enough that just one person can transport them. They almost always have handles on the front and back so two people can carry them. Still, possible to have one person either hoist the kayak overhead while carrying it upside down or to drag it into the water through sand or grass – make sure not to scrape up the bottom of the vessel. 
Summary
Fishing kayaks are almost identical to recreational kayaks in that they are slim, hollow-bodied vessels that allow you to sit at the water level. Many fishing kayaks also include other accessories such as storage bins, rod holders, and an anchor. They are an affordable option for fishing instead of a motorized boat because they are far less expensive and give you a similar fishing experience.
Fishing kayaks are also more environmentally friendly than using motorboats because they give off zero emissions. Motorboats consume vast amounts of gasoline and leak into the lakes or ponds you're fishing in, while kayaks are people-powered and don't use any fuel.
Finally, kayaks are some of the easiest watercraft to power. They are light enough that just one person can transport them. All you need to be able to fish with a kayak is the vessel, a life jacket (PFD), a paddle, a pole, and some bait or lures!
Learn more about fishing from kayaks with a few of my other articles!
Stay safe and enjoy!