This post contains affiliate links.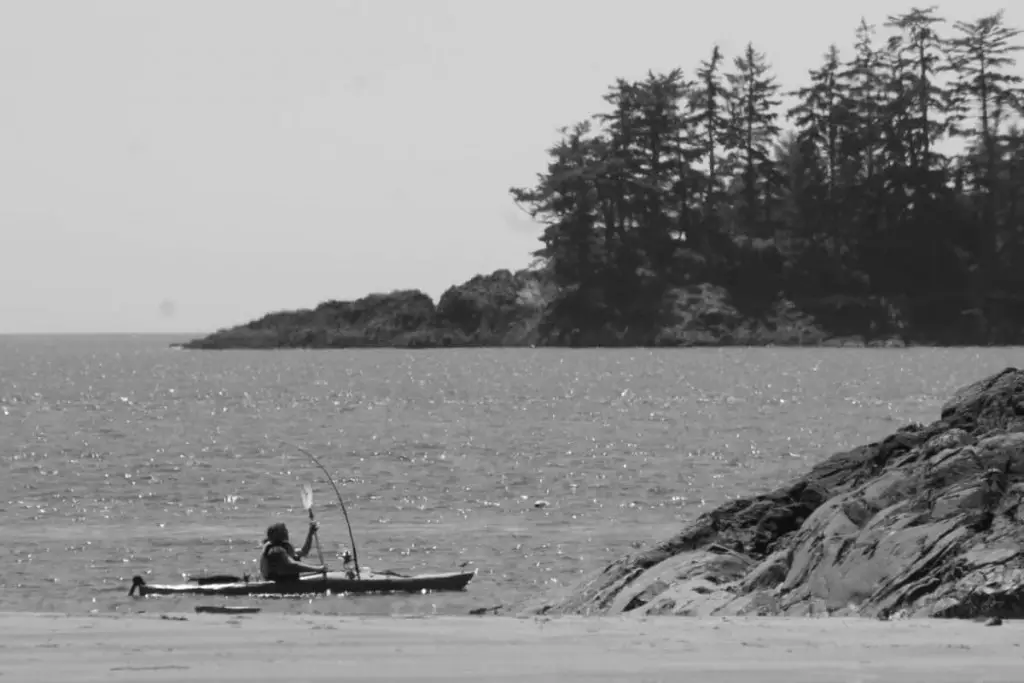 If you're looking for a proven technique to land more fish from your kayak, you don't need to look much further! Trolling baits and lures behind your kayak will very often out-produce other types of fishing techniques!
Trolling in a kayak is easily accomplished and an efficient way of fishing from a kayak. You can troll with paddles, pedals, or a trolling motor. Using downriggers, line counting fishing reels, lead core fishing line, and diving lures are just a few techniques which make trolling in a kayak fun!
There are many different setups to begin trolling from a kayak, and much of it depends upon what fish species you're targeting.
Are the fish deep or shallow? Are they feeding on specific baitfish? How far back do you need to keep your baits from the kayak? These are some of the variables we'll go over below, so read on!
Kayak Trolling Setup – The Basics
We'll review some of the basic techniques for trolling in your kayak. Once you start fishing using these methods, you will begin to adjust them to fit your needs and personal preferences.
What Type of Rods to Use for Trolling
When fishing from larger boats or charter boats, you'll often find longer specialized trolling rods used for different types of lines, baits, and lures. When trolling from a kayak, there is no need for you to have a specialty rod. Your everyday fishing rod is more than adequate. So, any quality casting or spinning rod will suit fine.
In building custom fishing rods for a number of years (you can see some of the work I do at Rodman Custom Rods), I would advise a good rod length for trolling from a kayak to be 7'6″ to 7'10" in length. Certainly not under 7′ and I wouldn't want to be handling a rod over 8′ for freshwater trolling.
If you're going to be fishing saltwater, you can certainly go longer than an 8′ rod. Even a rod around the 10′ length wouldn't be totally out of line. Just keep in mind you still want to be able to transport your rod easily and maneuver it comfortably while out on the water.
Spinning or Casting Rods for Trolling
Which type of rod you use doesn't matter either. Whether you have a preference for fishing with a spinning rod or casting rod really won't come into play as they all work fine!
My personal preference is a 7'6″ Medium Light Action rod capable of handling from 12 lb to 20 lb fishing line. The type of rod you choose is determined by the kind of fish you're targeting and where you'll be fishing. But this is an excellent all-around basic setup rod choice.
If you're looking for a trolling rod setup that won't break the bank, give the 7'6″ Medium Light Action Ugly Stick Walleye Round Combo w/Baitcaster Reel a look on Amazon. It's a good starter stick.
What Fishing Reels to Use for Trolling
Whatever reel you happen to have strapped to your fishing rod is a good reel to use! Some specialty reels are designed specifically for trolling, but the reels I currently have do fine for me.
Line Counter Reels
Line counter reels are used when you need to know the exact amount of line you have out behind your kayak or boat. As the line pays out, a numeric counter on top of the reel shows you the amount of line that has left the reel.
Another good use for this type of reel is if you happen to be jigging vertically in deep water for lake trout or a similar deep water fish. You can tell the exact amount of line that is out and how deep you want to drop your jig.
The KastKing ReKon reel shown below comes in two sizes with line counters for trolling. One size is good for Kokanee, Walleye and Trout fishing but will also handle the bigger fish as well. The larger Size 20 ReKon will handle larger fish in big waters and has a maximum 30 lb drag setting.
It's a popular line counting reel and like the rod/reel combo above, won't break the bank!
KastKing ReKon Line Counter Trolling Reel – Check Pricing on Amazon
Spinning Reels
I tend to use spinning reels quite a bit for most fishing applications and when ice fishing I use spinning reels exclusively. That being said, I will troll and throw about everything with a spinning reel from my kayak!
The spinning reels I have been using for years while ice fishing, I also use during open water fishing. The Pflueger series of reels are dependable, affordable, and last just about forever with a little care and attention from time to time.
The Pfleuger President Spinning reels are my go-to's, although I have recently upgraded a few reels with the Pflueger President XT series. It's a step above the President line, but I still have quite a few Presidents in different sizes.
My Pflueger Presidents have landed monster lake trout, Manitoba Master Angler Walleyes, countless perch, crappie and smallmouths!
Pflueger President Spinning Reel – Check Pricing on Amazon
The President XT is a smoother overall reel if you are looking to step up a bit for a higher-performing reel. Although I enjoy using it, there is nothing wrong with the President line of spinning reels
Baitcasting Reels
When I bass fished in the Midwest, baitcasting reels were what I used to pull largemouth bass out of the stumps, lily pads, and weed lines! Since moving to Wyoming, I've been using spinning reels but recently picked up a couple of new baitcasters for kayak fishing.
Baitcasting reels are becoming more and more expensive every year! Some are priced at more than $300.00, and they continue to go up and up in price. It's crazy!
With close ties to the fishing industry, a good friend prompted me to give Piscifun reels a shot. And I must say, they certainly fish above their price tag!
I brought in a couple of Piscifun Torrent Baitcasting Reels, and they have performed flawlessly for their ridiculously low pricing! Many years ago, I only threw Shimano baitcasters, and with the improvements in designs and technology, these Torrents perform better than those older reels did!
They come in Right Hand or Left Hand models and have an 18 lb max drag setting. I picked one each in a 5.3:1 and a 7.1:1 gear ratio for crankbaits and topwater lures. They also troll nicely for my applications as well.
Piscifun Torrent Baitcasting Reel – Check Pricing on Amazon
For the saltwater kayaking crowd, they also have a version for your heavier needs, the Piscifun Salis X Trolling Reel. With a graphite frame and stainless steel handles, a 37 lb drag, and a braid ready spool it's a reel setup for the saltwater.
You can certainly pay much more money for an equivalent reel, and I know brand loyalty is always a huge thing. But if you're getting started these are good reels at an affordable price to get your feet wet!
Piscifun Salis X Trolling Reel – Check Pricing on Amazon
Those are a few of the reels you might consider if you're looking to add to your arsenal. Just remember there is nothing wrong with the reel you have attached to your rod either! Now lets's take a look at the fishing line!
Which Fishing Line for Trolling
There are many different types of fishing lines from numerous manufacturers, and they all have their fans and detractors, pros and cons. When you begin to discuss fishing lines, you'll find anglers with passionate likes and dislikes on companies, knot strengths, UV ratings, among other points.
I'll just quickly review the basic categories and provide some options for you to look over if you like. Since there are so many manufacturers and options of fishing line, I'll leave a link in each category so you can choose the right line for your situation.
Lead Core Line
Lead core colored line is a heavier line that quickly sinks to get down to those deeper depths. The line has colored sections that you can count to see how much line you have let out.
The line itself is comprised of a dacron sheath and has a lead inner core. The strategy behind using lead core line is the heavier line will sink a crankbait, jig, or spoon, to a deeper depth than it would have on its own.
The lead core line is popular with many kayak anglers who would rather not use a downrigger system to get their lures to a deeper depth. You can quickly check out a listing of lead core line companies and pricing on Amazon.
Braided Line
Braided fishing lines can be made out of nylon, combined with Dacron, or Spectra which is a polyethylene
These lines have a smaller diameter than other lines and no stretch to the line to speak of. Braided lines will cut through vegetation like lily pads or submerged weeds relatively easier than other lines.
You are also able to spool more line onto your reel due to the smaller diameter. And if you have a lot of line out behind your kayak your hook sets will be firmer since there is no stretch to the line like monofilament line.
I use braided lines often. Here's a listing of the different braided lines available on Amazon.
Fluorocarbon Line
The fluorocarbon fishing line is an extremely popular choice of fishing lines. It is more abrasion resistant than monofilament lines and is often used around heavy structure like rocks, edges, jetties, and docks.
Fluorocarbon lines are thinner than monofilament lines of the same strength. It also will let more of the natural light pass through it, so fish are less apt to see it than mono. Being thinner, it will also sink faster in the water.
Another feature that makes this fishing line popular is its high sensitivity. You can feel every bump, structure nuance, and even the lightest of nibbles! Being super-sensitive is one reason this line is often used for plastic worms and slow-moving jigs on the bottom by top professional anglers.
Amazon has a wide choice of the top rated fluorocarbon lines.
Monofilament Line
Monofilament fishing line is made from a single (mono) strand of plastic, and it comes in a variety of colors. You can purchase it in clear, green, blue, red, fluorescent, and even white from most manufacturers.
Monofilament lines are more buoyant than the other lines mentioned and are better suited for topwater lures, or hardbaits that are neutral and neither sink nor float. Baits like a suspended jerkbait are best fished with a monofilament line.
If you have your reel spooled up with mono, don't be too concerned about using it for trolling. For years anglers trolled with mono. And if you're trolling in a shallow depth, it will work just fine for you.
There is generally a wide variety of mono lines available at your local stores. The other lines usually cost more, and selection is limited to a few manufacturers per store. To see a wider variety and pricing, you can view monofilament fishing lines on Amazon as well.
Rod Holders Are a Must
The majority of you will be paddling when you're trolling, and holding a rod while you're paddling isn't going to work well! Rod holders are going to be a must for most of you unless you pedal or have an electric motor propelled kayak and hold your rod in your hands while you troll.
Trolling Rods Behind You
If you have rod holders on the back of your kayak, like attached to a milk crate system or rod storage setup, that will work to troll with if you're paddling. A good idea is to set your drag light enough, so when a fish hits your lure, the line pulls out slightly since you can't see the rod all the time.
Trolling Rods in Front of You
The idea spot is to have your rods while trolling right in front of you. Have the rod holders mounted far enough in front of you to not interfere with paddling movements. Yet close enough, you can easily reach them when needed.
This way you can watch the rod tips while you paddle and when you see or hear a strike, you can set the paddle down, grab the rod and fight the fish.
Whether you have the rods behind you or in front of you, I'd recommend setting the drag a bit lighter than normal. Once a fish hits and you pick the rod up, you can always tighten up the drag appropriately.
There have been many rods lost to a hard-hitting fish pulling it from the kayak. Having a rod leash attached to your rod is also a good idea to keep it from accidentally going overboard!
Using the Wind to Troll in a Kayak
One of the simplest ways to troll I found out was to use the wind. While fishing in the BWCA (Boundary Waters Canoe Area Wilderness) back in my early twenties, an older gentleman who owned a bait shop near Ely, MN, gave me some great advice.
I had always fished from a bass boat with an electric motor casting toward the structure. And I had never fished in a wilderness area or from a kayak. I had purchased the terminal tackle to fish for walleyes by trolling and asked him what the best way to troll for them was.
Find Wind Parallel to the Shore
The first thing the bait shop owner told me was to find a section of the shore I wanted to fish that had the wind blowing parallel to it. Once I found a section of shore to fish with a slight breeze blowing alongside it, get my trolling rig ready, bait up, and start downwind of the shore.
Paddle and Troll Into the Wind
Start out paddling into the wind with your trolling rig out behind your kayak. Estimate your distance from the shoreline and paddle slowly into the wind keeping the same distance from the shore the whole time.
With clear water, you may be able to look down and guess what the water depth is. Or you can extend your paddle into the water to touch the bottom and get an idea as well. By remaining a constant distance from the shoreline, you will have a line of reference to fish by.
Once you reach the end of the section of water you want to troll on it's time to turn around and go back the other way!
Now Troll Back With the Wind
If you didn't get a hit trolling into the wind by the time you reach the end of the section you are fishing, move out about ten feet further from the shore, and let the wind "drift" you back down the shoreline.
By moving out an additional ten feet or so from the shoreline, you'll be fishing water that is a little bit deeper. You will also be drifting over new structure, small humps, and depressions, or even submerged weed lines beneath the water that could be holding fish.
What do you do if the wind is blowing a bit too hard and you feel like you're trolling too fast for the fish to bite? You can slow your drift down by back paddling, or you can utilize a drift sock with buoy float.
MOOCY 24″ Drift Sock w/Buoy Float and Rope – Check Pricing on Amazon
Using your paddle, you can slightly adjust your positioning as you drift back down to the end of your trolling line. By moving further out from the shore a little at a time, and going back and forth, you can effectively troll and cover a section of water thoroughly. Rinse and Repeat!
At some point in your trolling, you'll begin to catch fish or get hits, and you'll know just about how deep to continue fishing from how far out from shore you are.
Tips for Shallow Kayak Trolling
When trolling in shallow water, keep your noise to a minimum. Anything banging on the kayak deck or sides can spook fish. There are deck pad kits that are easily installed that will muffle the noise of anything dropped in your kayak.
Having a pair of polarized sunglasses make it easier to cut the glare and see into the water. You can pick out underwater rocks and weed lines to fish.
As always, be sure to wear a Personal Flotation Device (PFD). The PFD of choice for me is the NRS Chinook Fishing PFD found on Amazon. It has plenty of pockets and places to stash gear, pliers, terminal tackle, etc., and probably the most comfortable fitting PFD I've used to date.
When shallow trolling, you can use any equipment you usually fish with. Look for points that reach out into the water and troll them thoroughly. Weed lines are always good as are the mouth of any bays and cut banks, ledges, and drop-offs.
Paddle your kayak around with just enough speed to give your lure the proper action you're looking for. If you're unsure, drop it off to the side of your kayak and watch it until you get the action wanted. This will be the speed you want to retain for trolling in the shallows.
Tips for Deeper Kayak Trolling
Trolling deeper waters will pose a whole new set of issues to contend with.
First of all, be sure to have your PFD on at all times you are on the water!
When trolling deeper waters, use heavier jigs and spoons, and deep-diving crankbaits that are designed to go down to twenty feet or more. Unless fish are suspending in the thermocline or chasing moving baitfish, you'll want to be fishing close to the bottom.
Most fish relate to structure and even the slightest changes in the bottom depths. Many lakes that get a lot of fishing pressure will see fish start to go deeper and hang near the bottom of deeper areas, especially if Jet-skis and other Personal Watercraft are chopping the water up.
With the deeper trolling depths, you'll often find anglers using longer rods and lead core lines to get those lures and baits even further down into the water, and closer to feeding fish.
Once you've exhausted all other techniques to get your lures and baits down deep, you'll find using a downrigger will further meet your needs. There are downriggers designed specifically for kayaks you can use with 4-5 lb balls.
One of the most popular and cost-effective downrigger systems is the Cannon Mini-Troll Manual Downrigger setup. It has a horizontal reel/brake system and comes with 100′ of stainless steel cable. You can count down the depth with each full turn of the handle.
Cannon Mini-Troll Manual Downrigger – Check Pricing on Amazon
With the cannonball downriggers, you can place your baits at an exact depth and repeat it over and over. With a small clip, you can attach your line to the cannonball, and when a fish hits your lure, the line will release right away, allowing you to fight the fish freely.
How to Control Lure Depth
When trolling lures and baits, numerous variables will affect your presentation.
Kayak Speed
The speed of your kayak will play a considerable part in depth control. The faster you go with lighter lures or jigs, the higher in the water they will rise. And it's the opposite with crankbaits with large lips or bills. They will generally dive deeper the faster you go.
As with fishermen, we all have our favorite strategies, and you'll hear from many of them on how fast you should troll. Some like it super-slow, while others prefer a faster pace. I typically begin at just over 1 mph and increase to just over 3 mph or so.
Experiment with your speeds until you find one that works for you on that particular day. The preference of the fish may change from day to day or time of day too.
Different Lure Sizes
The weight and size/shapes of your lures are important as well. Depending on the depth of the water column you are deciding to fish will often determine the weight and size of lure you use.
When trolling deep waters, a large lipped or billed crankbait that can reach depths of 20′ or more should be chosen over a lighter jig body or spoon. Take the weight and shape of the bait into mind as well. Some run better for deeper waters while others are better for shallower waters.
When trolling in water up to 10′ to 12′, lures up to half-ounce are preferred as they retain better "action". When fishing deeper than that, I have used jigs and spoons up to one ounce and even three ounces.
What Line Are You Using
Fishing line plays a key part in trolling. Braided lines are generally the preferred line since you may want to cast at a later time. Lead core lines are pretty much dedicated trolling lines on dedicated rods as they sink quickly.
Monofilament is the buoyant choice of lines and is better suited for trolling a topwater plug behind you. As it will neither sink nor float, it is a fairly neutral line.
How Much Line You Have Out
The longer length of line you have out, the deeper a bait will generally run. You can tweak your trolling presentation by adjusting the amount of line you have out along with the speed being maintained with your kayak.
7 Top Kayak Trolling Lures
As a little something extra to go along with this post on trolling from a kayak, I wanted to show you my top 7 favorite trolling lures from deep to topwater! The list is in alphabetical order, and they are some of my "Go-To" confidence baits.
The Arbogast Jitterbug at the top may not catch the most fish all of the time, but ever since I was a kid, I loved to see those SMASHING topwater hits on the 'Bug! It's also a blast to drag behind your kayak while watching the sun drop on your way back to the vehicle!
Arbogast Jitterbug/Black – Check Pricing on Amazon
Berkley Dredger/Gilly – Check Pricing on Amazon
Berkley Flicker Shad/Chartreuse Pearl – Check Pricing on Amazon
Rapala Shad Rap 07/Crawdad – Check Pricing on Amazon
Rat-L-Trap Lures 1/2 oz Trap/Chrome Blue Back – Check Pricing on Amazon
River2Sea Whopper Plopper/Bluegill – Check Pricing on Amazon
Yo-Zuri Crystal 3D Minnow/Silver Black – Check Pricing on Amazon
These seven baits will catch fish for sure! I've always been a fan of the topwater action, but these diving cranks will produce fish for you!
For more posts on kayak accessories, please read:
Conclusion
Troll with whatever rods you have
Use spinning or baitcasting reels
Braided lines for deep water
Monofilament lines for shallow or topwater
Keep rods in front of you if possible
Use the wind to troll and drift back
Always wear a Personal Flotation Device
Fish with the proper size and weight lures
Vary your speed and line let out for depth control
7 of my Top Producing Trolling Lures
Enjoy your time on the water! Experiment and try new and different approaches to your fishing game and give trolling in a kayak a try!
Stay safe and have fun out there!