This post contains affiliate links.
With all the many different fishing reel manufacturers out there, deciding where to spend your hard-earned money on a fishing reel can be a time-consuming decision! Piscifun Fishing reels are an excellent option, and I own them myself now!
Piscifun produces high-quality fishing reels similar to reels priced much higher. Manufactured by the same companies that produce Abu Garcia and Diawa fishing equipment, Piscifun reels are built to the same precise standards and are an excellent valued reel for experienced and beginner fishermen.
Advertisements for Piscifun Fishing Reels showed up regularly on my social media for quite a while, and many of my friends were using them. Even a couple of high-profile tournament anglers I knew were using Piscifun, so I too became interested in them!
When I was looking for a new baitcaster for my kayak, I was stunned by the high prices on most fishing reels and began to look for an alternative option! So I decided to take a good look at the Piscifun Torrent Baitcasting Reel (the one I ended up purchasing), seen below.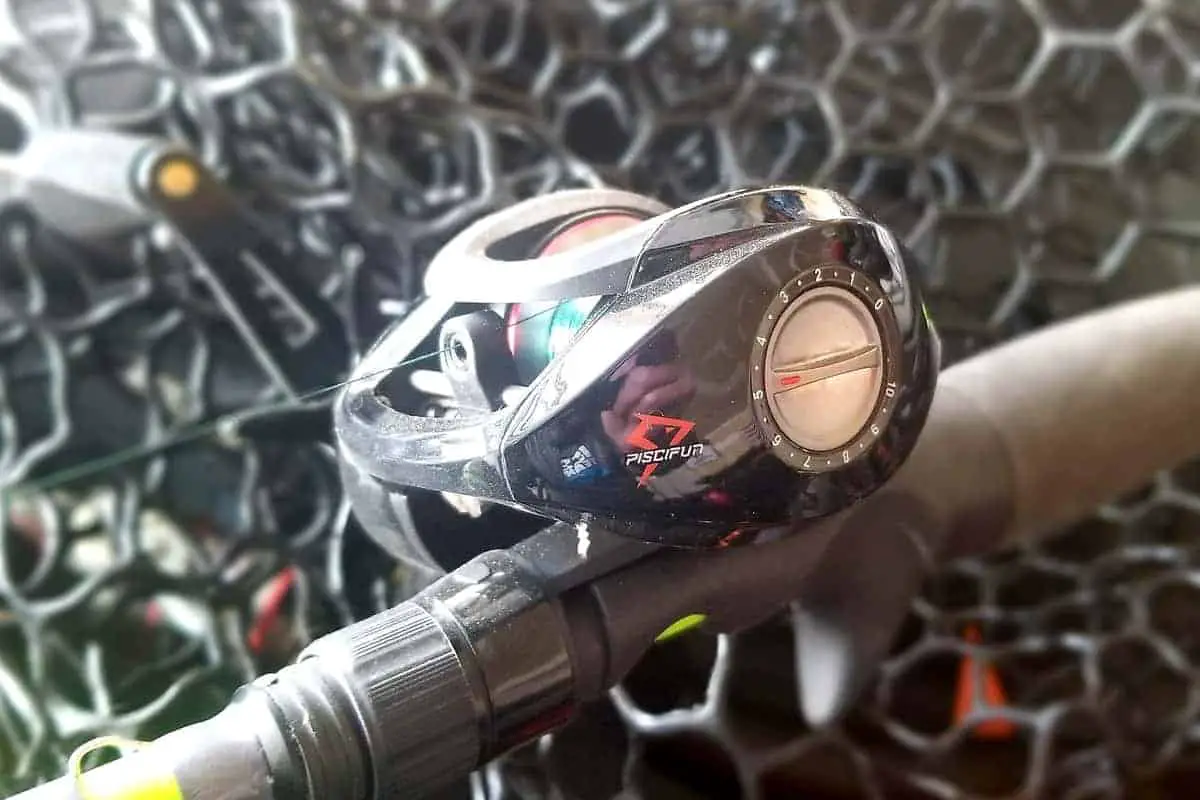 In the past, I have mainly fished with the following reels: Pflueger, Daiwa, and Shimano reel products. And overall I had been very happy with their performance. But decided I wanted to pick up a couple of Piscifun Reels to try out. But which one to buy, I asked myself?
If you're interested in checking out the best Piscifun fishing reels, you can find them here!
Piscifun Torrent Baitcasting Reel vs. Top Brands
When you want to know if a particular reel is any good, the best thing to do is compare stats with reels of comparable abilities and see how they stack up against each other! I researched various fishing reels within the middle of the pack, and I was a little hesitant about the $39.99 price.
I owned fishing reels that I paid over $150.00 to $200.00+ for, and to pay less than $40.00 for a fishing reel seemed kind of out of line to me. How good could a reel actually be for that price?
Well, here's how they stacked up against one another.
As you can see from the table below, the Piscifun Torrent Baitcasting Reel reel is right in the middle of the pack of some outstanding fishing reels and companies! At a far lower price point too! I ended up purchasing the Torrent!
Reel/Price
Ball
Bearing
Drag
Gear
Ratio
Piscifun
Torrent
$39.95
5+1
18 lb
7.1:1
Shimano
SLX XT
$129.99
4+1
12 lb
6.3:1
Daiwa
Fuego
$99.99
5+1
13.2 lb
7.5:1
13 FISHING – Origin
Chrome – Low-Profile
$80.01
4+1
16.5 lb
8.1:1
Plueger
President XT
$79.99
9
12 lb
7.3:1
Abu Garcia Revo
X Low Profile
$99.99
7+1
18 lb
6.6:1
Lew's Speed
Spool LFS
$99.95
9+1
15 lb
5.6:1
More expensive reels are offered by other companies with higher-end features. However, I wanted to directly compare their entry and intermediate line of fishing reels to the popular Piscifun Torrent Baitcaster!
I found I could purchase two and even three Torrent fishing reels for what I'd have to pay for just a single comparable reel from some of the other manufacturers!
Keep in mind the Torrent Baitcaster isn't Piscifun's top of the line reel either! They also offer reels with additional features at a higher price point.
Take a quick look at the Piscifun Baitcasting Reel comprehensive lineup of reels on Amazon for both fresh and saltwater fishing!
I do enjoy casting baits with the Piscifun Torrent! It's a smooth casting reel and the drag has operated flawlessly so far!
Fishing reels with more ball bearings will operate quite a bit smoother than those with fewer bearings, but the difference is negligible with the Torrent.
Drag operation and the line speed are comparable to reels costing five times more. I can say without a doubt, the Piscifun Torrent Baitcasting reel is a pretty good deal for the money!
Piscifun Viper X Spinning Reel vs. Top Brands
Initially, I looked at the Piscifun Viper X in the 1000 Series but decided to "upgrade" to the Piscifun Carbon X 1000 Series model after making the following comparisons.
The Carbon X had the same setup but had a carbon frame and rotor! For much less than I would pay for a similar reel from another company, I just had to go for it!
Reel/Price
Ball
Bearing
Drag
Gear
Ratio
Piscifun
Viper X
$34.99
10+1
8.8 lb
5.2:1
Shimano
Sedona Fi
$73.99
3+1
7 lb
5.0:1
Daiwa
Exceler LT
$79.99
5+1
8 lb
5.2:1
13 FISHING
Creed GT
$89.99
10+1
11 lb
6.2:1
Plueger
President
$64.95
9+1
8 lb
5.2:1
Abu Garcia Revo
Max STX
$42.99
5+1
6.5 lb
5.2:1
Lew's Speed
Mach 2
$79.99
9+1
8 lb
5.2:1
As you can see, both models of Piscifun reels, baitcasting, and spinning, line up nicely with their competitor reels. All things being relatively equal except for the price, this was an easy decision to make!
My Experience with Piscifun Reels
If I were to close my eyes and you handed me a Piscifun Torrent baitcaster, I'd have a difficult time distinguishing it from my Shimano reels as far as handling them goes.
Once I filled the reel with 20 lb of braided line and took it out back, and made a few practice casts, I knew I would be adding a few more of these Torrents to my kayak in the future! They are that nice!
Last summer, when fishing smallmouth bass, the reel showed no signs of "cutting corners" in its production. The drag was buttery smooth, and I could feather my casts and drop spinning baits and topwater plugs right where I wanted.
The Carbon X spinning reel did double duty from my ultralight crappie and panfish rod during the summer and found a place on my ice rod reel seat over the winter!
It never hiccupped once on me when kayak fishing light plastic jigs for crappie, and the drag and reel never froze up on me during the winter either!
If you're looking for a solid baitcaster reel, definitely check out the Piscifun Torrent Baitcasting reel on Amazon!
For a high-quality spinning reel, you cannot go wrong with the Piscifun Viper X reel. I really like this reel and it performs too!
Overall, I would have to say Piscifun makes a darn good reel despite what the brand-name users say!
Where Are Piscifun Fishing Reels Made
Piscifun reels are made in China with their offices in the Chaoyang District of Beijing. The same company that manufactures Piscifun also manufactures Daiwa reels. The Piscifun Carbon X and Viper X are built on the same frame as the Daiwa Tatula and Fuego LT.
Most of today's mainline brands are either built in Asian countries or source a vast majority of their parts from those countries.
Fishing Reels Made in the USA
Still, there are many fishing reels made in the USA. Most are expensive and built for fly fishing and saltwater fishing. And as a rule, you won't find them in your local discount box stores!
Here are some of the companies that make or source their parts in the USA for reels they sell.
The History of Piscifun Reels
Founded in 2013 by two friends with a passion for fishing, they both set out together to provide high-quality, affordable fishing gear by reducing the expenses of circulation other Big Name Brands had to cover.
One of the friends already owned a facility where he had been manufacturing fishing gear for over 20 years and supplied other well-known brands with their fishing products. In addition, he also had the capabilities of designing his own original products as well.
Enter his buddy who is an avid fishermen and has traveled to and fished many amazing fishing destinations, such as New Zealand, Malaysia, Florida, etc.!
Between the two of them, Ben and Peter, they launched Piscifun and bring their high-quality fishing equipment to you!
Piscifun's Business Model
Piscifun works with numerous Pro Fishermen from all over the world to access the knowledge and insights on what the fishermen need and want. They are based on being devoted to their customer.
By focusing on what anglers want, they design and develop the best and most cost-effective reels and products on the market.
It is with this belief Piscifun strives to produce top-notch equipment at affordable pricing. And from what I've seen with the few reels I've fished, I'm convinced they are what they appear to be.
Related Article: The Best Length Rod for Kayak Fishing – 5 Tips!
Have fun and stay safe out there!