This post contains affiliate links.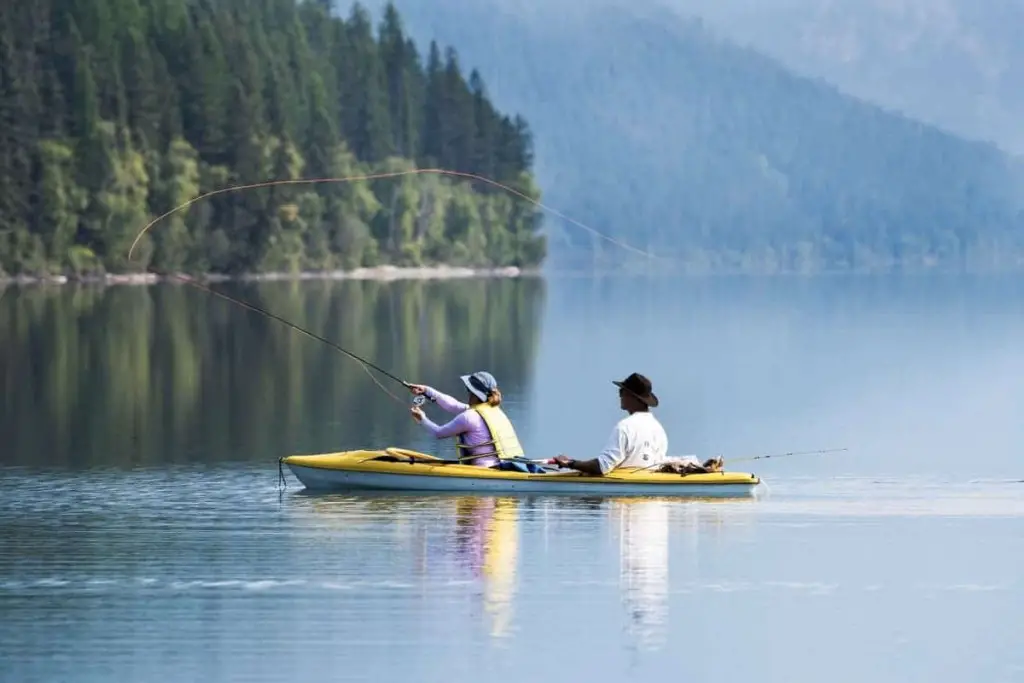 Fly fishing is a popular sport at any time of the year. As long as you have the right equipment and follow certain rules, you'll be able to have a good time. Fly fishing from a kayak can be tricky, especially since the area is so compact; however, you can have quite a bit of success if you follow the essential tips.
To fly fish from a kayak, start by choosing the right kayak size, attach rod holders to the side, and bring an anchor in case it gets windy. Keep your workspace clean and make sure there's enough room to stand and move around. You could also consider using a spray skirt if it gets too wavy.
Throughout this article, you'll also learn the following information about fly fishing from a kayak:
Which bait you should use
How to position yourself in the kayak
What gear you need to bring to fly fish
Tips to keep the fish biting
Pick the Right Type of Kayak
Choosing the right kayak for fly fishing can be the difference between being comfortable and having a terrible time. Sitting and standing in a small or misshapen kayak can result in stiff legs, a hurt back, and cramps throughout your body. Furthermore, it can make it harder for you to control the kayak.
One of the best tips that you can use when you're trying to choose a fly fishing kayak is to make sure that it's between 12 to 14 feet. If you're able to handle the kayak easily, you'll have plenty of room to store your gear and move around without feeling confined to one area.
Attach Rod Holders
Another suggestion is to make your own rod holders at home. Using a thin PVC pipe, you can hold the fishing rods on either side of your kayak while you move around. Utilizing these rod holders will free up your hands to move around, steer the kayak with the paddles, and access your other gear.
Here's how you can make a rod holder at home:
Find a 5' to 10'-long PVC pipe.
Cut it down the center, creating an area for you to slide the fishing pole in and out of the holders.
Attach the rod holder to the side of your kayak with clamps. You can either use super glue or drill the holder to the kayak with U-clamps.
Test your work by sliding the pole into the PVC to make sure that you can do it from the kayak in a sitting position.
Personally, the rod holders I have chosen to use above all the others and can handle any rod and reel combo is the Railblaza Rod Holder on Amazon. Check out my post Railblaza Rod Holder Review: Best Rod Holder for Kayaks? for more information!
Keep Your Workspace Clean
Keep your kayak clean and gear laying around to a minimum while you're fly fishing. Anyone who's gone fly fishing from a boat, kayak, canoe, or the dock will tell you that it can get messy very quickly. You have to maintain your kayak to prevent the lines from getting tangled and bunched.
Remove anything that you don't need to bring with you. Other than simple cleanliness, reducing the clutter aboard your kayak will prevent it from being weighed down too much. Exceeding the weight limit can cause it to sink or go too slowly.
Always Anchor Your Kayak to the Ground
Anchoring your kayak to the riverbed or lakebed can prevent you from floating around too much. If you're not able to hold still, you won't be able to cast a line that stays long enough for a fish to bite. Constantly movement from a swaying kayak can also cause the fish to swim away because they're afraid.
There are plenty of kayak fly fishing anchors to try out. One of the best ones on the market is the Amazon Extreme Max 3006.6548 BoatTector Complete Grapnel Anchor Kit. This lightweight anchor only weighs 3.5 pounds, so you'll be able to carry it without a problem. It has a 25-foot long rope that allows you to fly fish in deep water as well.
Don't Allow Too Much Slack
Too much slack on the line causes two major issues:
If you have too much slack, you won't be able to reel it in on time. Fish will bite, but they'll get the bait and swim away before you can whip it back. Remember that you won't have as much space to pull the line.
It'll keep the kayak disorganized. When there's too much slack, you might end up tripping over it or causing other problems. The goal should be to have enough slack for a smooth cast, but when you pull it back, it should flow with your movement.
Organize the Line to Prevent Tangles
As you read above, a tangled line can lead to all sorts of accidents. For example, it could make you spend extra time dealing with the line rather than casting your fly fishing pole. Rio Products suggests making a basket to hold the line in place. Instead of having it sit tangled at the bottom of the kayak, it'll wind throughout the basket.
Make sure you know how much line you need before you head out on the water. Bringing too much is obviously pointless, but you don't want to be short on it either. When you have the right amount, line the inside of the basket or hamper in a spiral. As you use it, it'll slowly unwind without causing a mess.
Consider Getting a Starter Combo
Fly fishing starter kits have everything you need to get going. As with any style of kayaking or fishing (or both), many beginners end up buying way too much gear. If you're worried about buying extras or you don't know what you're supposed to have in the first place, then getting a starter kit is the only way to go.
The Wild Water Fly Fishing Starter Kit has rods, weights, carrying bags, bait, and everything else you need to get going. Even if you already have a few essential pieces, this kit covers the basics, and it's incredibly budget-friendly. It also has printed instructions to show you how to get started.
Choose the Best Weights
The size of the weights you choose when you're fly fishing from a kayak can make or break the experience. If you're fishing on water with a sandy bottom, then you need something that won't roll around. Diamond-shaped and pyramid-shaped weights are the best choices.
On the other hand, soft mud usually calls for sharp weights or sinkers so they can stick to the bottom without floating around.
In both scenarios, they need to weigh enough. Yak Gear shows the importance of making sure that everything from your sinker to the line to the pole itself all needs to be the right weight for optimal results.
Always Backcast High
Backcasting is one of the most important parts of fly fishing. Orvis suggests that a good backcast is behind every caught fish. If you're not able to perfect your fly fishing skills, it's a smart idea to start with your backcast.
But what's considered a decent backcast? How can you improve your skills to ensure that the line is straight every time?
For starters, always backcast high when you're fly fishing from a kayak. You won't have a lot of room, so a high backcast can increase the distance of your forward cast, thus increasing your chances of catching a fish.
When the line lands far away from the kayak, you're more likely to get a bite because the wake of your kayak isn't disrupting the water far away. Stand still, watch your backcast rather than looking forward, ensure that it's high over your shoulder, and watch the sinker as you throw the line toward the water.
Use the Best Bait
If you've ever gone fishing, then you know that the bait is at the top of the list of requirements. You can have the best sinker, pole, line, kayak, and everything else; If you don't have the right type of bait for the fish you're trying to catch, then you won't be able to get any bites.
The best way to know which bait you need is to think about the fish that you'll be catching. Many fishes that are caught during fly fishing stick near the top of the water. This usually indicates that they prefer to eat insects and other small creatures.
By using worms and small insects, you can get quite a few bites without weighing down the line.
Fly Fish at the Right Time
Although it's not entirely true 100% of the time, fly fishing usually proves easier during the golden hours of the day. The golden hours are when the sun is just starting to rise in the sky, and right before it goes down to set. If you're able to show up at dusk and dawn, you'll have the best chances of succeeding.
However, it's important to remember that the time of day isn't the only external factor that plays a role. If it's too cold outside, then the fish have likely gone to a different location to stay warm. Many fish populations swim hundreds of miles to get away from cold water during winter.
On that note, warm water often has the fish sitting near the bottom of the lake or river. You won't have much luck fly fishing if they're not near the surface where you're casting the line!
Aim for the Correct Distance
Knowing where to aim is equally as important as the bait and weight. You could have everything lined up, but aiming in the wrong direction can prove detrimental to the situation. The aim is all about pinpoint accuracy and distance, so let's break down what you need to know below.
Casting your line between 15 to 20 feet from the boat is ideal. You won't be able to see much further than 30 feet, so always try to at least have the line cast within that distance.
Using your eyes and ears is the best way to know where to aim. It's all about practicing where the sinker hits the water. As mentioned above, backcasting practice can have a dramatic impact on the aim and overall precision.
Once you nail the motions of fly fishing from a kayak, you'll be able to catch fish much more often.
Know When It's Time to Pack Up
Whether it's too late, too early, or too risky, you should always know when it's time to pack up and leave. Fly fishing from a kayak is an intense activity due to the standing, sitting, casting, reaching back and forth for your gear, and so on. When it gets a bit too much to handle, it might be time to call it a day.
Another issue could be if it's getting too crazy on the water. If you're fly fishing from a sea kayak, you're much more likely to deal with high waves and unpredictable weather conditions. However, don't underestimate the power of a river's current or waves on a big lake.
Attach a Spray Skirt
Spray skirts are used for sit-inside kayaks that deal with high waves and intense weather patterns. If there's too much flooding on your kayak or you're going during a rainy day, then you'll need something to keep you and your gear dry. Spray skirts are always a good addition to your kit because they're lightweight and incredibly effective.
The Attwood Universal Kayak Spray Skirt is an awesome skirt and uses a few drawstrings to secure itself around you and your kayak. It's made out of water-wicking materials to keep everything dry inside of the kayak.
It also includes a storage bag and a base that fits the vast majority of kayaks, all for a low price. Best of all, you can take it off or put it back on in a matter of seconds.
Remain Silent and Still
Whether you're fly fishing from a kayak or off of a dock, stillness and quietness are crucial. Fish can feel and hear the slightest movements. If you're floating around and splashing, then they're going to steer clear of your kayak. You won't catch any fish if you're making too much noise or movement around the water.
The aforementioned usage of an anchor will limit your kayak's movements, but so will smooth casts. Always stand up when you're fly fishing from a kayak. If you're sitting down, you won't have enough range of motion to cast far out enough. It also causes much more water movement to cast while sitting in the kayak.
Keep an Eye on Weather Forecasts
The weather can ruin fly fishing for a variety of reasons. Below, you'll find a handful of useful tips and information about dealing with the weather forecast when you're fly fishing:
Always listen to the radio weather channels on the way to your favorite fly fishing spots. Rain, lightning, and snow can make it very difficult to catch fish.
Use a handheld radio to stay on top of sudden changes in local weather patterns.
If you hear thunder off in the distance, you should pack up and leave. Lightning strikes can be very dangerous when you're on a body of water.
Pack a Signaling Device of Some Sort
Bringing a signaling device is an excellent decision too. You can bring a flare, walkie talkie, radio, or anything else to keep in contact with people back at home. Many states have regulations that require you to bring a signaling device for safety purposes. Whether you're abiding by the law or protecting yourself, signaling devices are a must.
Another consideration is to turn on the location services on your smartphone. As long as it's waterproofed, you'll be able to let everyone know where you're at and when you should be back home.
Wear a Life Vest
Along the lines of safety, always bring a floating device when you're kayaking. Life jackets, safety rings, and many other devices will allow you to stay afloat if anything goes wrong when you're out on the water.
Wearing a life vest is the best course of action because you don't have to reach for anything extra during an emergency. You'll be ready to go with your signaling device, spray skirt, and life jacket.
Finally, consider staying close to shore if you haven't' gone fly fishing from a kayak. Without much room to move around, it's easy to fall overboard.
The PFD I choose to wear is the NRS Chinook Fishing PFD found on Amazon. By far, the most comfortable wearing PFD and comes with a ton of pockets to store extra gear!
Conclusion
Fly fishing is exciting, especially when you're kayaking down the river. Set your anchor, let the water calm down a bit, watch your backcast, and enjoy the experience.
Here's a quick recap of the post:
Make sure there's not too much slack on your line, or it can get tangled.
Attach a spray skirt to the kayak to keep your gear dry.
Focus on perfecting your backcast when you're standing up in the kayak.
Use an anchor if you need to stop your kayak's movement.
Remember to bring the right type of bait, sinker, fishing pole, and kayak.
Always look at the weather forecast before you go.
Have fun and stay safe out there!