This post contains affiliate links.
If you don't swim or aren't a strong swimmer, there is absolutely no reason for you to be afraid of kayaking! The concerns you have are more about yourself than it is the kayak. If you want to experience a great day on the water with friends, then you should, and here's why!
Kayaking is safe for non-swimmers. If you can't swim, there is no need to fear the water. Kayaking with another person, carrying a signal whistle to attract attention, and wearing a Personal Flotation Device will keep you safe if you fall in the water. Just climb back onto your kayak and have fun.
I've never been a good swimmer myself, and this fact didn't keep me from enjoying fishing and being on or near the water, and it shouldn't for you either!
I have fished, boated, and kayaked with many folks who were not strong swimmers over the years. A few of the guys who went kayaking with us couldn't even swim at all, and they did just fine! Let's take a look at some of the things you should know about the need to swim and kayaking!
Can I Kayak if I Don't Know How To Swim
You most certainly can kayak even if you don't know how to swim! Kayaking with the proper gear, and the right people keeping an eye out for you, is the safest way to begin your kayaking adventures!
You can do many things to make your first day on the water one that will make you want to come back again and again. Here are 7 tips on what I'd recommend you do!
1. Choose a Calm Day on a Quiet Body of Water
For your first few more trips, make sure you have good weather and choose a nice quiet local lake or slow-moving water! When you haven't yet learned to swim or aren't a strong swimmer, you will want a leisurely afternoon on the kayak to acclimate yourself to the water and your kayak.
The weather does have a nasty habit of changing when you least expect it. So if the weather whips up and you become uncomfortable on your first few trips, go ahead and head in! You can always come back another day!
The same thing also applies when kayaking on a body of water. If the wind picks up and the lake begins to become too choppy for you, or the surf is getting rougher than you'd like, head on in! It's about your enjoyment and comfort on the water!
As you become more adept with your kayaking skills and your confidence grows, you'll begin to venture further out from your comfort zone. Every skilled kayaker and swimmer had to learn along the way at one time!
2. Wear a Coast Guard Approved Life Jacket (PFD)
In 2018, there were approximately 16.38 million kayakers in the U.S.! And according to the United States Coast Guard, for those wearing life jackets while kayaking, there were only 18 drowning deaths reported out of 73 reported incidents!

Even though a life jacket or PFD (Personal Flotation Device) is US Coast Guard Approved and meets the New Recreational Life Jacket Standards, not all PFD's are created equal. PFD's are designed for specific needs!
See my Top Life Jacket Pick on my Kayak Fishing Life Jacket Gear Page!
For kayaking, there are kayak specific life jackets that are super comfortable to wear all day long! I can recall wearing those chafing orange ones as a kid and hated them! You'll have no fun wearing a PFD that isn't comfortable for you while kayaking!
Wear a good quality kayaking PFD. They have a high back that rides above the seatback, and they fit you nicely. Best of all, you won't even notice you have a PFD on after a while!
PFD's are now categorized by Levels. Level 50, 70, 100, and 150. Higher Level numbers generally offer greater flotation, turning, and stability in the water.
Don't be out on the water like this guy! Most US States require a PFD, and the United States Coast Guard has an interim rule that requires children under 13 on moving boats to wear a U.S. Coast Guard-approved life jacket that fits.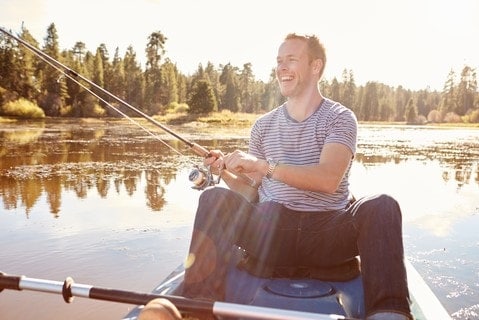 Safety Tip: Check your state's PFD rules on the USCG Boating site to see the regulations!
Life jackets are designed to keep your head above water and give you the ability to breathe properly when in the water. Worn correctly, a properly fitting life jacket will fit you snugly and not rise above your chin or ears. A good fitting life jacket will make your day that much better!
Lifejackets are available in a wide variety of shapes, colors, and sizes. Remember, your life jacket must be:
The appropriate size for the intended user
Appropriate for the planned activity,
In good and serviceable condition
Coast Guard Approved
To be fair though, the best life jacket is the one you will wear!
ALWAYS WEAR A PFD WHILE ON THE WATER!!!
3. Learn Your Kayak's Abilities – Trust It
Kayaks of today are designed with your safety in mind! Sit-on-top kayaks are designed to float even when filled with water and partially submerged!
Many kayaks have waterproof storage compartments that will also keep your kayak afloat. If you happen to fall into the water, hang on to your kayak!
Related Article: How Stable Is a Fishing Kayak?
The inexpensive plastic sit-inside kayaks you find in a Walmart or your local discount store will also float when filled with water, but not very well. They can also be challenging to get in and out of, especially while you are in the water!
For your first kayaking experience or two, remain close to your kayak if you end up in the water! If you become separated from your kayak, have trust in your life jacket, breathe calmly, and allow your PFD to hold you up!
4. Kayak With a Friend or Small Group
If you can't swim or swim well, be sure to go with either an experienced friend or a small group of kayakers. There is safety in numbers!
When you go with an experienced kayaker, they will be close by to assist you in the event you need a little help. It's also easier for you to flip your kayak back over with another person to help. and they will give you solid advice to make your day a fun one!
When you're with a group or a buddy, you will be more at ease knowing someone is there to help you. And when you're more at ease, things always go better.
Plus, when you go with a group or a buddy, they can carry some of your gear while you're learning!
5. Relax on the Water – Don't Panic
Probably the best advice you will receive, other than wearing a PFD, of course, is to relax! Kayaking can be a wonderful experience!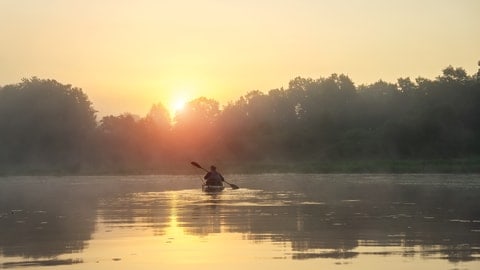 When you're feeling anxiety build up within you about being in or on the water, it can be paralyzing. Take deep breaths if that helps you. Wear your PFD and slowly walk out into the water. Lift your feet off the bottom, and relax!
Allow the PFD to hold you there until you're becoming more comfortable with the feeling of being in the water.
A kayak can float in a few inches of water, so you do not need to go way out to the middle of the lake until you're ready. Stay in the shallow water and paddle around for fifteen to thirty minutes or longer.
As you move in your kayak, you'll learn to feel your kayak beneath you. Lean over to one side and then the other to get the feel of your kayak as it rolls a little bit. Trust the ability of your kayak to float and remain upright!
6. Carry a Whistle and Keep It Handy
One of the cardinal rules of kayaking is to bring a signaling device. This will most commonly be an air horn or whistle of some type.
When out on the surf or offshore, most will bring along a small air horn that, when used, the sound will carry an extremely far distance. Usually, they will also take a whistle with them as well.
A whistle takes up very little room and can be attached directly to your PFD, so it is always handy. A loud piercing whistle blast will carry quite far and also attract attention when you need it!
7. Conquer Your Fear of Water!
I can speak personally about my experience with Fear! Even though I'm deathly afraid of heights, I wanted to rock climb our nearby Devil's Tower in Wyoming. It was something I always wanted to do, and I overcame my fears!
Over the years with a group of good friends, I've summited the Tower numerous times!
The same rings true for you and getting out onto the water, especially if you're not a good swimmer and have a fear of getting out there.
A good friend of mine doesn't swim either but has become a fishing fanatic over the years. Now, he'll even walk out onto a frozen lake and fish with me in deep water!
Conquering your fears is no easy feat, and I don't take your concerns lightly either. I won't pick up or touch a snake, but I'll climb 867′ from Devils Tower's base to the summit. I won't hang Christmas lights on my house either!
Take a Few Swimming Lessons
If you really want to conquer your fear of the water and get out on a kayak, the best choice is to take a few swimming lessons.
Most towns and cities have a recreation department that offers inexpensive, or free, lessons. Take advantage of the opportunity there. They'll have qualified individuals to guide you into the water.
How Dangerous Is Kayak Fishing
Kayak fishing is not dangerous when done correctly and with good sense! Just like any other hobby or sport, when people take shortcuts, become complacent, or act stupidly, that's when things will happen!
Most accidents or incidents occur when weather conditions are drastically changing, and you get caught far from your launching point.
In 2019 the USCG counted 4,168 boating accidents. The most common kayaker incidents were the following:
| Primary Contributing Factors | # of Incidents |
| --- | --- |
| Alcohol Use | 12 |
| Force of Wave/Wake | 6 |
| Hazardous Waters | 46 |
| Operator Inattention | 11 |
| Operator Inexperience | 27 |
| Weather | 19 |
Source: USCGBoating .org Accident Statistics
With so many people out on kayaks, and all the people running Class V whitewater rapids, the number of incidents in the US Coast Guard category of kayaks is extremely small.
Inexperience and hazardous waters lead to incidents involving kayaks. Overall, kayaking, especially kayak fishing, is a relatively safe hobby and sport to pursue! Don't be afraid to step into a kayak and experience the thrill and fun of fishing from one!
A Quick Recap For Safe Kayaking
When you're not a good swimmer or can't swim and want to get out on a kayak, follow these 7 best tips for safely getting out onto the water!
Choose a Calm Day on a Quiet Body of Water
Wear a Coast Guard Approved Life Jacket (PFD)
Learn Your Kayak's Abilities – Trust It
Kayak With a Friend or Small Group
Relax on the Water – Don't Panic
Carry a Whistle and Keep It Handy
Conquer Your Fear of Water!
Have fun and stay safe out there!