This post contains affiliate links.
Over the years, I have owned numerous fish finders. Up to five at one time sitting on my shelf! Moving them between my fishing kayak, ice fishing sled, and four-wheeler and used them for backups when I traveled out-of-state on fishing trips.
Here's what I've found regarding "waterproof" fishfinders over the years.
As a general rule, fish finders are waterproof to IPX7 industry standards. They can remain submerged up to one meter (3.28 feet) for thirty minutes. Meaning they can withstand rain, water splashes, and your kayak temporarily capsizing. Manufacturer ratings can be higher for more expensive units.
Currently, I own two Helix 5 units and three Vexilar flashers for ice fishing. My first LCD fishfinder was an early model Lowrance unit, which came on my bass boat back in the early 1980s!
Fishing in the rain, snow, and sleet with electronics has given me many opportunities to field test electronics from the budget to the expensive models. Let's dive in a little deeper, shall we?
Can Fish Finders Get Wet?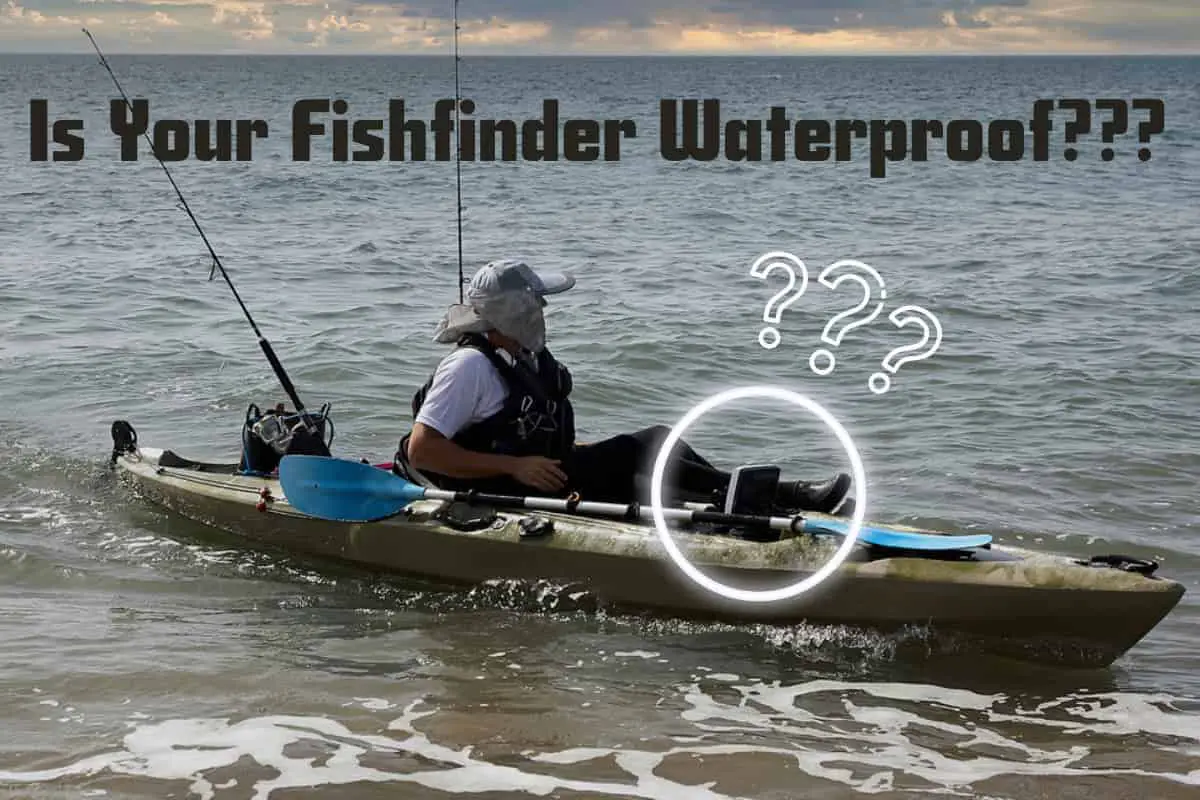 Whether you're on the water or fishing from the shoreline, a certain amount of water is going to be splashed around your electronic equipment. And we all know electronics and water do not get along, but it's still okay to get a little wet!
Fishfinders from the major manufacturers are, at a minimum, are designed to be water-resistant and waterproof to IPX7 industry standards.
Being in the rain or splashed by water is fine and certainly will not harm your equipment. Saltwater fishermen will have a different set of issues to deal with due to the corrosiveness of salt and metals.
Fishfinders, by nature, are built with the knowledge and intent that they are going to get wet to a certain degree. Sometimes really wet!
What Does IPX7 and IPX8 Waterproof Mean?
When you read the specifications of your fish finder in the owner's manual, you may come across the terms IPX7 or IPX8. Both of the ratings are industry standards for testing equipment against water failures.
IPX7 stands for Ingress Protection testing of an enclosure against water intrusion. This rating is one step higher than "water-resistant." The IPX7 rating tells us your fish finder can survive being submerged underwater up to one meter (3.28 feet) for thirty minutes.
An IPX8 rating tells us your fish finder can be submerged continuously below the one-meter mark (3.28 feet). The manufacturer's Owners Manual will inform you how deep your unit is rated for!
With either of the above IP ratings, if your electronic fish finder happens to go under the water, the housing and seals should keep any moisture out long enough for you to right the kayak or retrieve your unit.
Does Saltwater Ruin Electronic Fish Finders?
Kayak fishermen who fish in saltwater have an extra issue to deal with than their freshwater counterparts do. And that is immediate corrosion to their units due to saltwater on their fish finders and additional electronic gear!
Saltwater is harmful and corrosive to electronic fish finders. In seconds, sodium chloride in the water can create a chemical bond and leave a residue on your connectors, deteriorating their performance. Over time, electrical connections can corrode and result in faulty equipment or total failure.
As soon as saltwater hits your fish finder and any of its exposed connectors, the sodium chloride will begin to do its nasty work immediately! It may not happen right away, but continued daily exposure to saltwater and your fish finder can either short out or completely shut down!
Most saltwater fishermen rinse off all their gear with clean, freshwater, including their kayak, rods and reels, and electronics. A good rinsing down with a garden hose after they arrive home is about all it takes!
Cleaning Salt Corrosion From Fish Finders
Suppose you find your electronics are becoming corroded even with rinsing off your gear after a day on the water. In that case, the following steps are a simple way to clean your connections and any other corrosion you come across.
Disconnect the fish finder from the power source and remove or disconnect any cables and wiring.
Dip a soft-bristled brush (I use a toothbrush), or Q-Tip, into isopropyl alcohol or vinegar, and brush/swab the corroded area. (You may see some fizzing as the corrosion is being cleaned off.)
Repeat the process as needed.
Be sure to clean every wire and cable end thoroughly—especially at the ends of the wires and cables to prevent further corrosion.
Once everything is clean to your satisfaction, rinse well with distilled water to remove any remaining isopropyl alcohol or vinegar.
Allow the components to dry completely.
Reassemble cables and wires to the power source, and you're ready for your next outing!
How To Better Waterproof a Fish Finder
To make your fishfinder as waterproof as possible, do this!
Fish finders' main areas of concern when it comes to water are the cable connections between the unit head and the transducer and power source cables.
Even your fishfinder's battery, where the power source connection is secured, you are going to find most of the issues regarding water intrusion.
These cable and battery connections are prone to water intruding into the pin connector areas. They can cause electrical shorts and possibly your fishfinder to give false or erratic readings.
Every so often, I like to use Permatex Dielectric Grease on my electrical connections and wiring. This grease will protect your cable connections and wiring from salt, dirt, and corrosion.
If you're not sure what it is or have never used it, give Permatex Dielectric a quick look on Amazon if you don't have any around. It'll come in handy for numerous projects too!
Dielectric grease is super easy to use and does an excellent job at protecting your electrical gear.
Clean all of your electrical connections as shown above.
Apply a small amount of dielectric grease to the connections where they come together. The grease will assist in stopping future corrosion and still allow the electrical current to flow freely.
Reassemble your components and wipe off any excess grease you may see.
Pro Tip: Use dielectric grease on all your vehicles and kayak trailer's wiring as well!
Can Fish Finder Batteries Get Wet?
Water and electrical currents should never go together! And even though the low amperage in a small kayak battery won't harm you, it's safe to say water contacting a battery terminal or wiring could short out the system!
Suppose you count on your battery to power your kayak's interior lighting, navigational lights, or possibly a lighted hi-viz orange visibility flag. In that case, you could be paddling in the dark with a water-caused electrical short!

Elephant Waterproof Battery Box
The Elephant Waterproof Battery Box fits a standard 12V-7AH / 9AH (5.9″ x 2.6″ x 3.7″) with male spade terminals. You can pick up a lead-acid battery from your bait shop and have a pretty economical waterproof setup.
If you're concerned about weight in your kayak adding up, Dakota Lithium has been making huge inroads into the kayak fishing market with their 12 volt, 10 Amp, Powerbox.

Dakota Lithium Powerbox, 12v, 10 Amp
With two USB charging ports, a 12V car plug, binder posts, and high efficiency LED lighting. You can charge your phone, camera, or personal electronics and power your fish finder, lighting, and GoPro cameras simultaneously!
What's a Good Waterproof Fish Finder for a Kayak?
If you're beginning your kayak fishing adventures, you know an electronic fishfinder is almost mandatory anymore!
Although you can fish for many species without one, there are fish species you may want to target that swim in deeper waters.
In these deeper waters, or when looking for submerged roadways, structures, humps, and channels, you almost certainly will need some electronics to pinpoint these areas for you.
The prices of fishfinder can run into the thousands of dollars for the very high-end units, but there are high-quality units for a few hundred dollars and sometimes right around the hundred dollar mark!
To give you an idea, I've listed three reputable fishfinders which won't break the bank, are very popular, and will serve you well in shallow or deeper waters!
Hummminbird Helix 5
My favorite and the unit I run between my kayak and four-wheeler and snowmachine for ice fishing, is the Humminbird Helix 5 with the Navionics chip.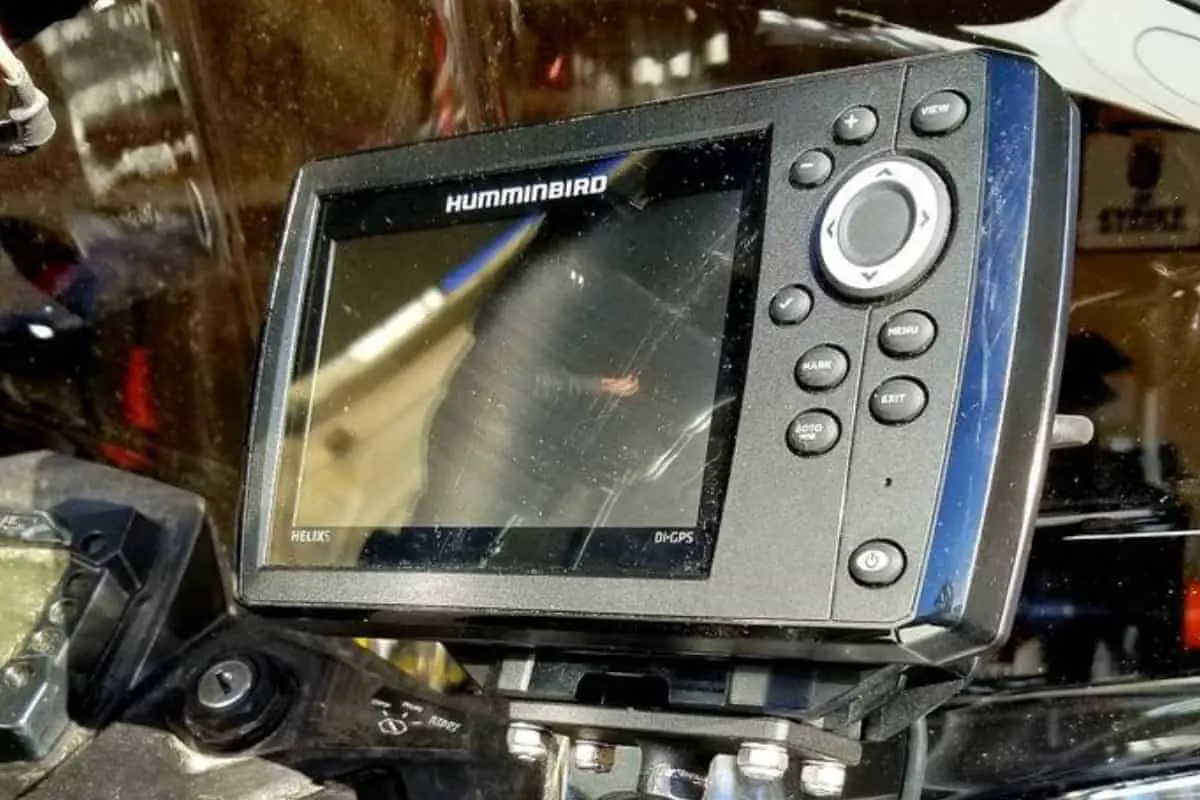 My first Helix 5 was a DI (down imaging) and GPS (Global Positioning Satellite) unit. You can mark waypoints, track yourself, and a host of other neat functions within the menu.

Humminbird HELIX 5 CHIRP DI (Down Imaging) GPS G2 Fish Finder

The second Helix 5 unit I picked up this summer has the upgrade of 'Autochart Live' mapping capability, a great feature for those secluded places where only a kayak can go!
Since I take my yak to off-the-path water in the mountains and on smaller bodies of water, I can now map the bottom and save the map!
This unit is more expensive than the two shown below, but it definitely won't break the bank for all the upgraded options you get compared to the others!
I highly recommend this unit both on the water and on the ice if you also do a lot of ice fishing! Check out the rest of the features for the Helix 5 quickly on Amazon.
Garmin Striker 4
The Garmin Striker 4 is a solid unit. Compact and feature-driven.
Personally, I'm not a fan of the screen size being narrow and tall. I much prefer the wider 5″ Helix 5 screen.

Garmin Striker 4 with Transducer, 3.5″ GPS Fishfinder with Chirp Traditional Transducer
The cost-effectiveness of this unit and the performance it provides are certainly worth your dollars.
Give the Garmin Striker 4 a price check on Amazon, and for your first sonar unit, I:m certain you'll be satisfied with it. But I also believe you will outgrow it quickly and want to upgrade to a larger sonar with more options.
Lowrance Hook 2
The Lowrance Hook 2 is very similar to the Garmin Striker 4 above, except for the screen size. And it is also very easy on the wallet!
Again, I'm partial to the Humminbird and paddle with quite a few guys that run the Lowrance units. The Hook 2 is a basic entry model but is also packed with features for a very low cost, like the Striker 4.
The Hook 2 has auto-tuning sonar, similar phone-like menus to the Helix units, and a wide-angle sonar cone to cover a broad area below your kayak.
You're not going to find an electronic sonar fishfinder for much less than the Hook 2 unless you start looking at the portable bobber-style units you cast out and retrieve!
You'll be amazed at the pricing on the Hook 2 compared to the other units, and you'll be using it in no time. You can see the cost of the Hook 2 unit on Amazon and quickly compare the pricing and features to the other sonars above.
Want to know where to mount your transducer? Check out my article: Can You Mount a Transducer Inside a Kayak? (Pro Tips!)
Do You Need an Expensive Fishinder To Be Successful on the Water?
No. No, you don't.
You can spend thousands of dollars on electronic fish finders, but the three listed above will serve you nicely when you're first getting into kayak fishing.
Fishfinders are waterproof to a certain degree, but they are not infallible. I have dipped mine into the water several times, and they still operate like new.
If you leave them or do not retrieve them from the water within reason, the screen may get hazy or the unit short out with an electrical issue.
Overall, I would spend the extra dollars for the Helix 5 DI/GPS with the Autochart Live option. I believe this is the best unit for the money and will serve you well for many years to come!
Keep your battery and connections dry with an application of dielectric grease to protect the connection, and you should be good to go if you happen to flip your kayak and get wet!
Have fun and stay safe out there!