This post contains affiliate links.
Now that you've been paddling a kayak and have been out on the water fishing a few times, you're probably wondering if a fish finder would help you catch more and bigger fish?
A fish finder is usually the next big purchase most kayak fishermen make. But do you really need one? There are some things you'll certainly want to consider before making your decision!
A fish finder is useful on a kayak when fishing deeper water, and you are targeting fish suspended or swimming close to the bottom structure. A fish finder isn't necessary for shallow water, as you'll be casting toward the shoreline near vegetation or structure away from your fish finder's range.
Having a fish finder on your kayak will provide you with added benefits too.
A quality unit can add functions to supplement your time on the water other than simply locating fish swimming nearby!
If you decide to mount a fish finder on your kayak – which electronic unit would best fit you and your fishing style? Let's take a look at some of the reasons you may or may not want to have one on your kayak!
A recent online survey of kayak fishermen I sent out asked about their fish finder use. The following results were actually pretty surprising!
62% always use a fish finder
16% never use a fish finder
13% would like to have a fish finder
4% only use them on new or unfamiliar water
3% wouldn't want a fish finder
Less than 1% use a fish finder solely for the GPS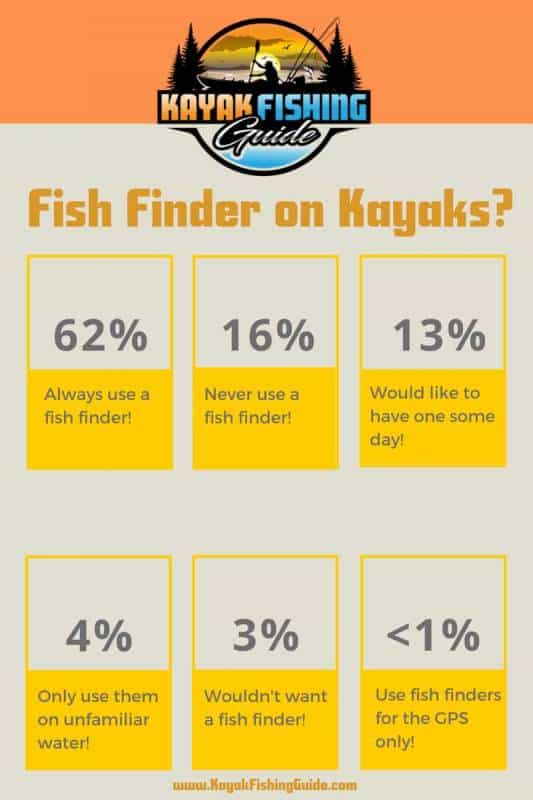 After going through the results, I thought the percentage using electronics on their kayaks would be quite a bit higher! So I contacted a professional fishing guide, Tim Moore, for an inside breakdown.
4 Things To Consider Before Actually Buying a Fish Finder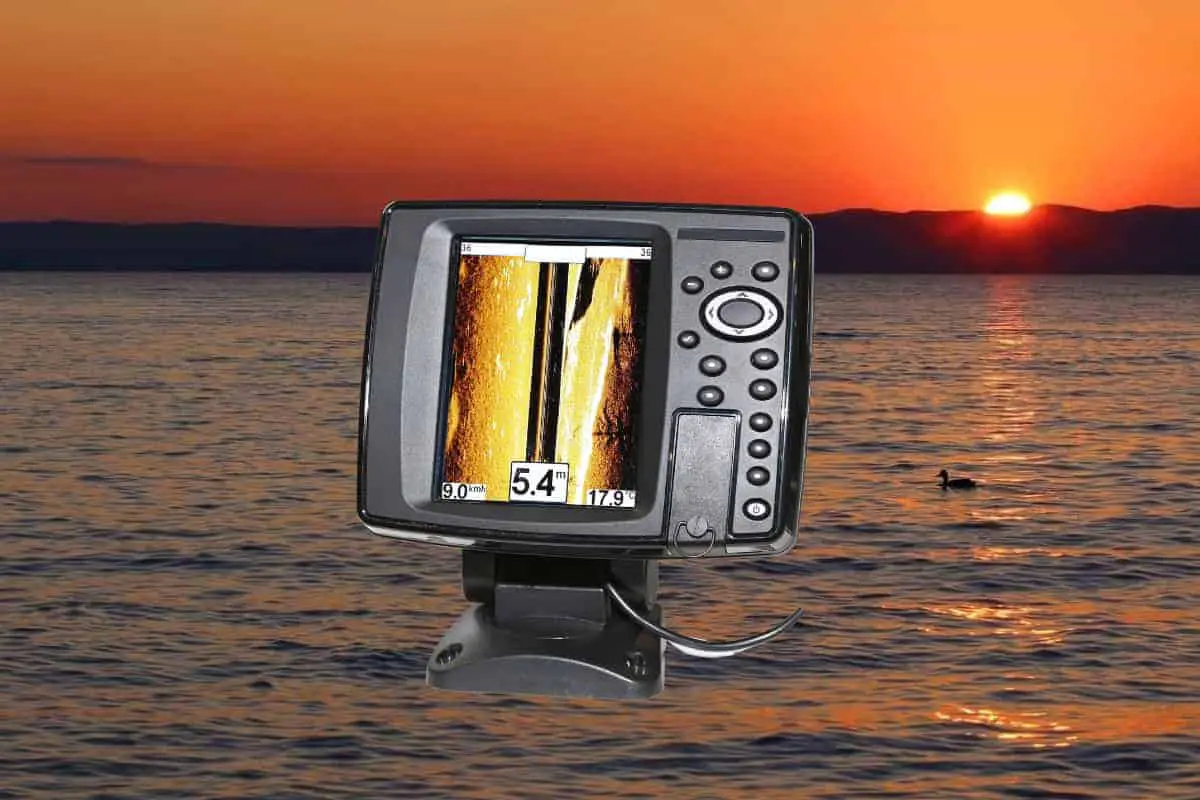 You can spend less than $100.00 on a bare-bones unit or well over $1,000.00+ on a high-end one with more features and options than you may ever use! Or you can kayak fish without one!
The choice of using one and how much money you spend on electronics will be yours to make!
Although most kayak fishermen use electronics on their kayaks (62%), quite a few enjoy the traditional approach to the simple aspects of kayak fishing: a rod, reel, kayak, and paddle.
Many who are introduced to kayak fishing are having a good time and enjoying the simplicity of learning the sport! And like our friend Brandon, they don't necessarily need to spend money on a fish finder to catch fish!
Where Do You Live and Fish?
One of the biggest reasons you may want or need a fish finder depends on where you live and your style of fishing!
There is a vast difference in fishing styles – and electronic needs – in kayak fishing. You may live on the coast and fish the ocean versus in the middle of the Country on a small reservoir. Anglers' needs are different!
Fishing for lake trout in the high country alpine lakes of the Rocky Mountains versus casting topwater baits like the Whopper Plopper for smallmouth bass in the Ozark streams can pose varying requirements for your electronics.
What Type of Water Do You Fish?
If you fish along the deeper ocean shores or close to oil rigs, etc., you will most likely want and need some type of electronic fish/depth finder to locate deep structures and suspended fish.
The same holds with larger impoundments and reservoirs. Especially if you are searching for a submerged roadbed or old river channel running through the lake!
Before purchasing a fish finder, you might want to read my article Are Kayak Fish Finders Waterproof? (You Better Do This!)
You'll often hear the phrase "skinny water." Skinny water refers to any shallow water you fish, including small streams and rivers, inlets, shallow bays, etc.
A fish finder may not be suited for you if you're fishing in these types of skinny waters. Although, they still can come in handy for other reasons, which I'll touch on further below!
Which Species of Fish Are You Targeting?
When fishing lakes for largemouth bass as your primary target, bass are going to be keying in on structures such as docks, lily pads, and anywhere they can easily ambush baitfish/prey in the shallows.
Those structures are easily identifiable, and a fish finder isn't necessarily needed to find and spot them.
But if you're targeting fish such as walleye, smallmouth bass, or saltwater fish like red snapper, jack crevalle, or stripers following a channel next to a 10′ flat, a fish finder will put you right on top of these spots!
Where Do Fish Finders Work Best?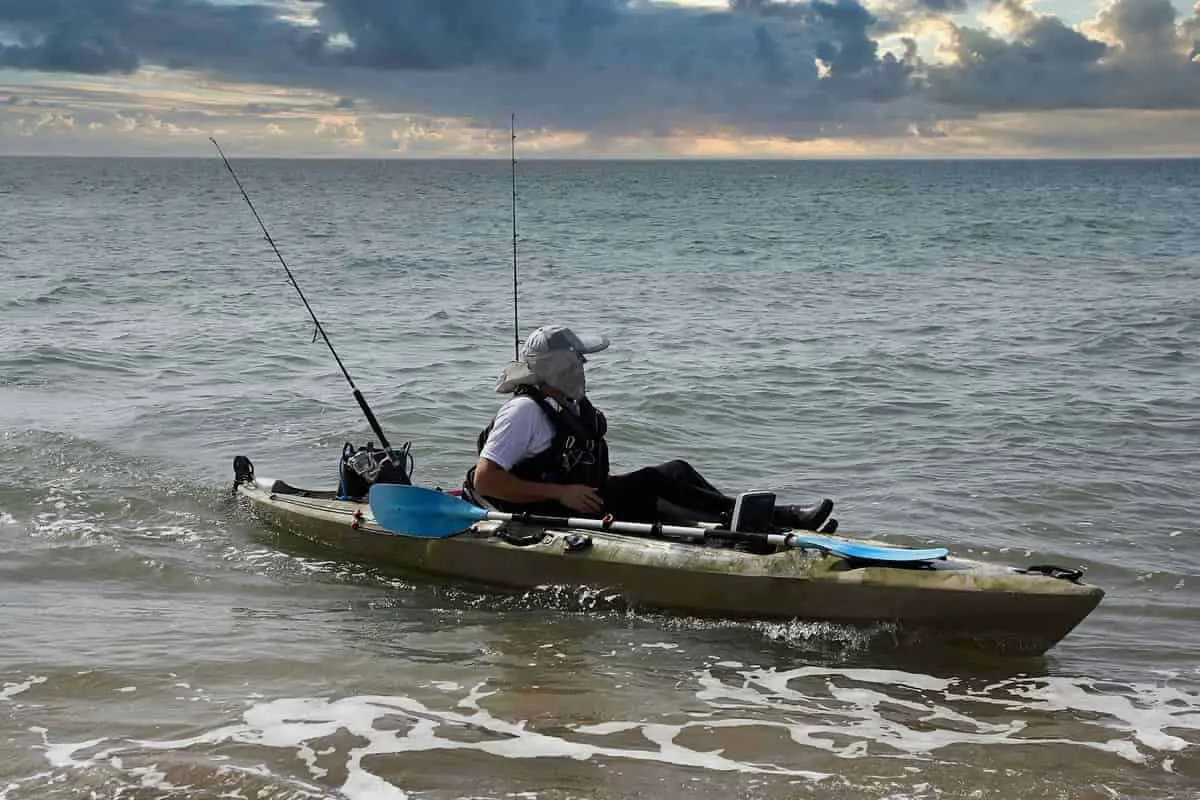 Modern technology has made fish finders better than ever compared to the units of three to five years ago. With Down Imaging, Side Imaging, and sweeping Livescope sonar, you can find a unit to meet almost any need!
Generally speaking, traditional sonar fish finders work best in deeper waters. Side imaging units scan out to 400′ on either side to create an image of depth, distance, and fish. In comparison, down imaging units will provide a detailed image of what is directly below you, including any fish.
I enjoy fishing for lake trout in water that may be eighty to ninety feet deep. One lake I fish is over 120′ at its deepest, and lake trout will roam the submerged humps and saddles.
Having a quality sonar unit on my kayak is key to locating these fish! The same will hold if you're searching for roaming schools of walleye feeding on the flats, smallmouth keying on channels, or suspended basin crappie in deep water.
Transducers can be mounted in a variety of placements, my article Can You Mount a Transducer Inside a Kayak? (Pro Tips!) is one way to accomplish a solid mount!
You can float in relatively shallow waters with side scan units and pinpoint bass and other fish hiding beneath boat docks or in grass flats!
Modern sonar units can work in all types of water as long as you have the proper transducer setup and cone angles.
What Is the Best Size Fish Finder for a Kayak?
Fish finders come in so many different sizes you can find one that fits your specific needs, from a narrow few inches to over 15″ wide!
On average, the best-sized fish finder for a kayak is a 5″ screen. The 5″ screen is easily readable, and the options menu is readily accessible. Smaller fish finder screens can be difficult to see, and the larger units take up valuable kayak space.
Keep in mind, generally speaking, the wider and larger the unit, the more expensive it's likely to be! A 15″ Humminbird Helix can easily reach the $3,000.00 price point, while a 3.5″ screen will run around the $100.00 mark.
My personal preference is the 5″ screen that doesn't take up much room yet still allows you to see the screen clearly while sitting back paddling or pedaling your kayak!
I recently upgraded my kayak to the Humminbird Helix 5 G2 Down Imaging, GPS, and Autochart Live unit. You can read more about it on Amazon. My previous unit was the first-generation Helix5.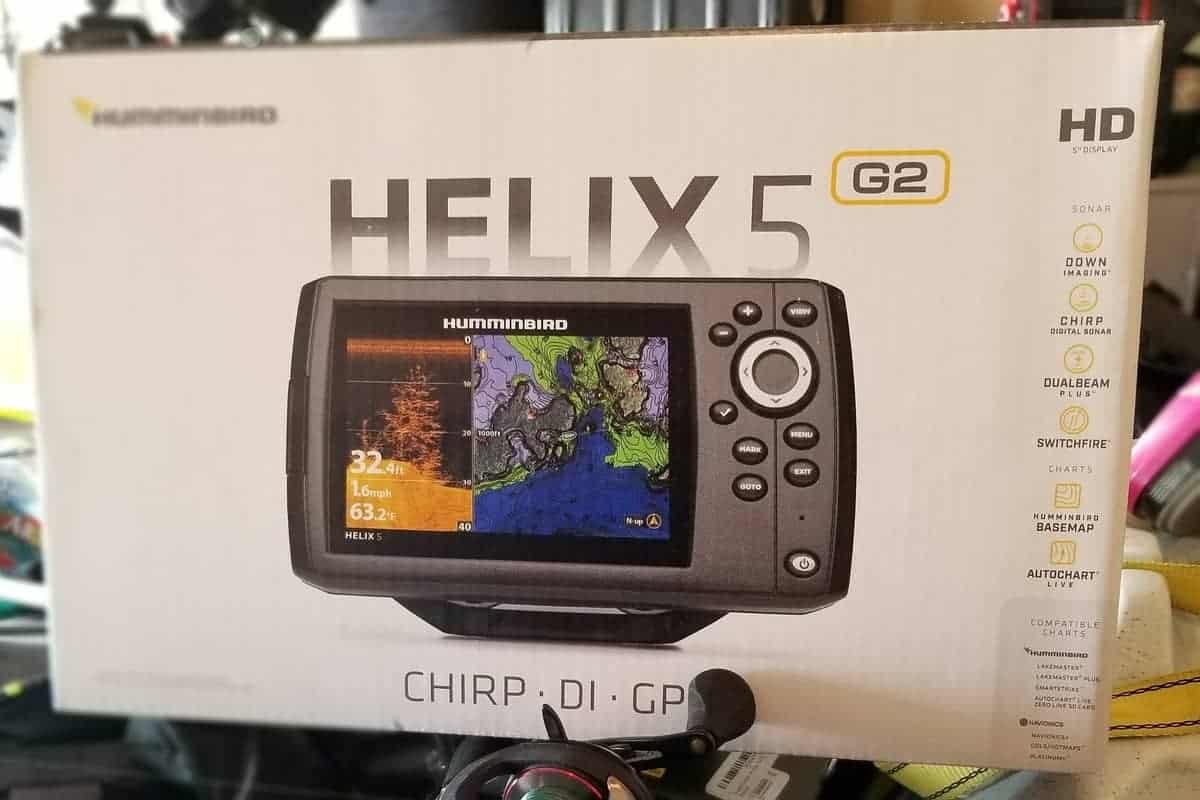 There are many manufacturers and units to choose from, and they can offer many options. A good fish finder not only identifies fish that are near you, but they can also do a lot more!
Global Positioning Satellites (GPS)
Having GPS accessible to you can not only mark waypoints for hot fishing spots or specific submerged structures you want to return to, but it can also be a safety tool!
I have fished well after dark and had a hard time returning to my launch point if it wasn't for the ability to set a waypoint at the launch site and later return directly to it.
Even when paddling straight toward where the GPS marked the launch ramp and my truck that night, my head was telling me it was totally the other way. Have to trust your electronics!
If it weren't for the ability to mark the launch ramp on my fish finder that night, I'd have probably been paddling until the sun came up, and I could see it!
If you decide to add a fish finder to your kayak, spend the extra money and purchase one with a GPS option. You don't want to get caught in a fog bank offshore or in the complete darkness and start paddling away from the shore!
Autochart Live – Making Your Own Maps
One of the options I really enjoy on my Humminbird Helix 5 is the Autochart Live feature. With Autochart, I can paddle on smaller bodies of water, city or mountain lakes, and create my own underwater map!
This is useful when I return or want to share the mapping info with a fishing buddy.
I also run the Navionics chip in my unit for more popular waters and have Navionics Boating App on my cell phone. If you're unfamiliar with the app, check it out on the Navionics website! It's a great tool!
But many of the smaller lakes aren't indexed, and with Autochart, you can create your own maps.
How To Kayak Fish Without a Fish Finder
What do you do if you want to save up for a better fish finder or decide not to use one at all? You learn to read signs from the water and land to increase your fish-catching effectiveness, that's what!
Here are some simple tips using your eyes and ears to help you learn your fishing hole better!
Lay of the Land – Watch Those Slopes
Use your eyes to gauge how the bottom gradually drops in depth beneath the waves by looking at the slope adjacent to the water's edge.
As a rule, the degree of slope from the shore continues into the water. If there is a steep or vertical bluff, chances are the water is pretty deep right next to it as well. Watch those slopes!
Cast at an Angle to the Shoreline
To cover various depths when fishing, cast at an angle to the shoreline not directly perpendicular to it. By doing this, you can cover some shallow water and hit varying depths as you reel the bait back to yourself.
Drifting With the Wind
Once while fishing for walleyes in the BWCA (Boundary Water Canoe Area) outside of Ely, Minnesota, I had to deal with a pretty good stiff breeze. This made controlling the kayak difficult at best!
Utilizing the breeze, I found a tasty-looking shoreline where the breeze was blowing parallel to the shore. After paddling upwind and storing my paddle, the wind allowed me to drift a nightcrawler back down the shoreline and catch our evening dinner!
To drift the nightcrawler rig at different depths to locate feeding walleye, I started my drift 10-15′ further out from shore than the previous drift.
Bait Fish, Birds, and Splashing
One of the easiest ways to locate feeding fish is to watch bait fish jumping out of the water and feeding birds, hitting the water chasing them.
Many times a day has been saved when we spotted a school of shad jumping from the water attempting to get away from a roaming school of feeding wipers or white bass!
Maybe you hear a bass splash behind you when it's taking down a frog. I have seen cattails and lily pads move slightly, giving away the location of a fish that is silently passing beneath them!
Use your eyes and ears to watch for signs of feeding and moving fish and expose how the lake's bottom may slope into the deeper water.
Is a Fish Finder Worth It on a Kayak?
Having used a fish finder for so long, I'd feel almost naked if I were out fishing without one! But are they worth it to you?
A fish finder is certainly worth having on a kayak! You can locate and easily return to submerged fish-holding structures, mark your favorite fishing locations, and find schools of baitfish and feeding fish. With GPS, you can quickly and safely return to your launch ramp in the dark or when needed.
Have fun and stay safe out there!