As an Amazon Associate, we earn from qualifying purchases made on our website. If you make a purchase through links from this website, we may get a small share of the sale from Amazon and other similar affiliate programs.
Transporting your kayak to the water has always been an adventure for many, myself included. You'll often see various methods being used as you drive along the highway, some of which may damage the kayak. There are better ways to haul your kayak!
The kayak's length will determine the best way for you to haul it to the water. And your kayak may be an expensive investment you want to protect! So please, don't throw it around!
Transport your kayak in the bed of the truck using cam lock tie-downs and foam blocks. Kayaks 10′ to 12′ long can be transported with the tailgate down for added support. Kayaks 12′ and longer can be easily transported with a bed extender. Always place a red flag on the end of the kayak for safety.
Not only does the kayak's length play a large part in how you transport your kayak, but the type and size of pickup truck you drive also does as well! Allow me to share my preferred method of transporting my own Wilderness Systems ATAK 120!
Truck Bed Extender for Pickup
There are good reasons you should choose to go with, or eventually go with, a truck bed extender if your kayak is 12′ or longer. I researched several bed extenders and chose one built and designed with paddlers in mind.
The bed extender that fit my needs perfectly and finally decided upon was the Boonedox T-bone Bed Extender, which can be seen on Amazon.
The latest Boonedox bed extender has recently been upgraded with several great features from the one I purchased a couple of years ago. They have placed gear tracks on it so you can mount a number of accessories when fishing or hauling your kayak!
The reasons I chose a bed extender over allowing the kayak to hang out the back of the bed were as follows:
Support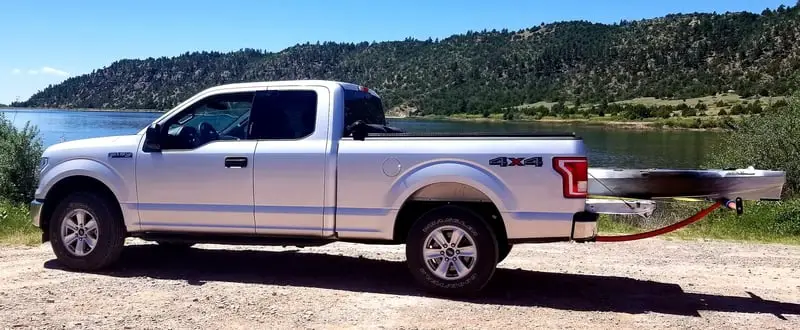 Currently, I fish from a Wilderness Systems ATAK 120. From the image above of my truck and kayak, you can plainly see how much of the kayak hangs over the tailgate!
If you're traveling with a kayak that is 16′ long or even 14′ long, there is going to be quite a bit of overhang. Having solid support for a longer kayak is critical if you'll be traveling a long distance.
With the weight of the kayak and any gear you may have riding inside of it, there is the chance the plastic hull could deform or even crack at a stress point.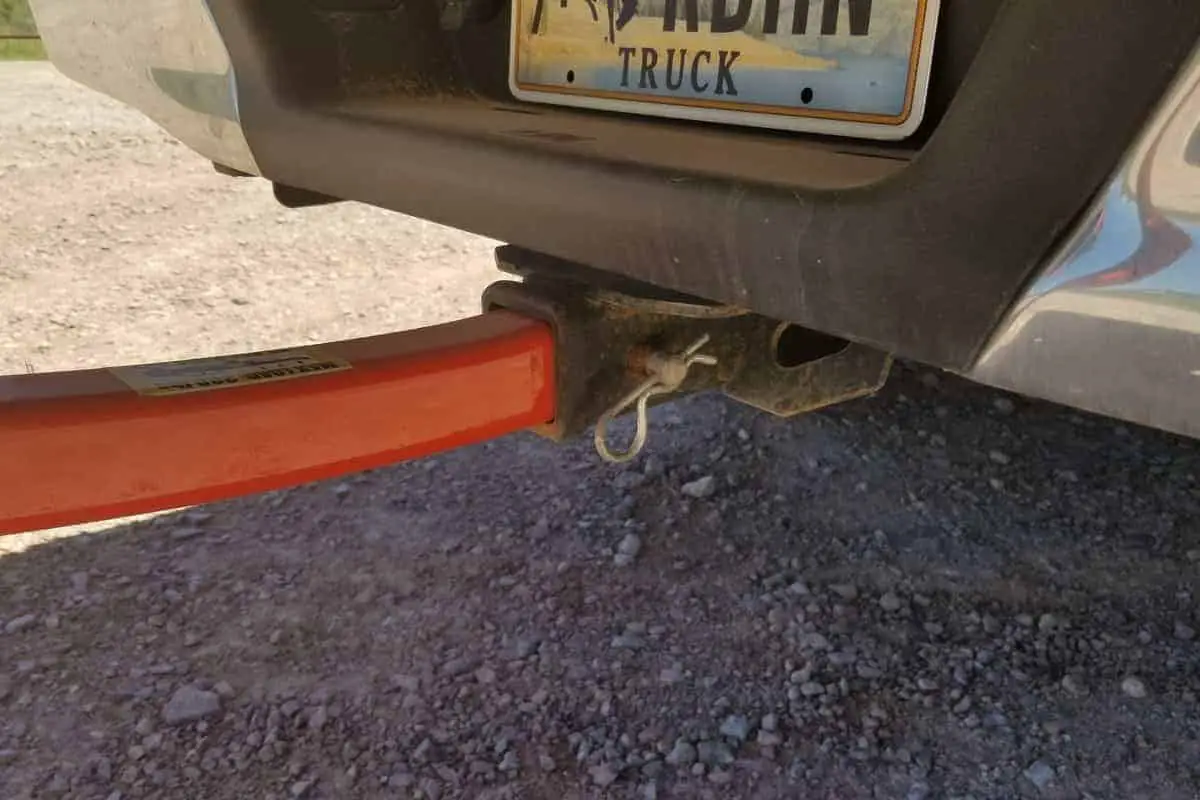 The T-Bone Extender sites tightly on your receiver hitch and can be locked with a locking receiver pin or pulled out and stored inside of your truck for safekeeping while you're on the water!
Safety
With the additional support of a bed extender, a higher degree of safety comes while traveling with a longer kayak. The angles of your tie-downs aren't as severe, allowing you better securement.
Convenience
Most truck bed extenders are easily stored along a wall or even hung up out of your way in the garage when you are not using them. They also store out of sight in the bed of your truck if you have a truck cap or tonneau cover on!
Ease of Use
It is super simple, quick, and easy to install a bed extender into a receiver hitch! It also makes loading the kayak into the bed of the truck a breeze!
I find the bed extender to be the simplest, safest, and most secure way to transport my ATAK 120 to my fishing and kayaking destination.
Transporting a 10′-12′ Kayak in a Truck
You'll find most kayaks ranging from 10′ to 12′ in length can be hauled in the back of a pick up with the tailgate down for added support.
Smaller kayaks have less overhang hence less unsupported weight, and are less prone to hull deformation and/or stress cracks.
Use a strong, high-quality padded cam lock for your tie-downs as you don't want your kayak sliding out the back of the truck as you pull away from a stoplight!
You can use the corners of your bed box to anchor your tie-downs and run them to the portion of the kayak hanging over the tailgate. Do not over-tighten the straps.
As you pull the tie-downs tighter to secure your kayak, they will force the bow of your kayak into the bed of the truck behind the cab. To keep the kayak from sliding around, and support the keel off the truck's bed, place pool noodles alongside it!
Hauling Kayaks in a Short Bed Truck
Short bed trucks leave us little options since there is limited room to work with.
The best way to haul a kayak in a short bed truck is to leave the tailgate down for added support and secure the kayak with at least two tie-down straps. Always place a red flag, cloth or plastic, at the end of the kayak for safety reasons. If traveling a short distance, prop it up on the tailgate.
When my Wilderness Systems ATAK 120 was shipped to Wyoming during the winter, I owned a little GMC Sonoma pickup. The Boonedox T-Bone Bed Extender was the ticket to getting the 14′ kayak from the shipper to the house!
I received a lot of stares from fellow Wyomingites along the highway driving home with a kayak in the middle of the winter!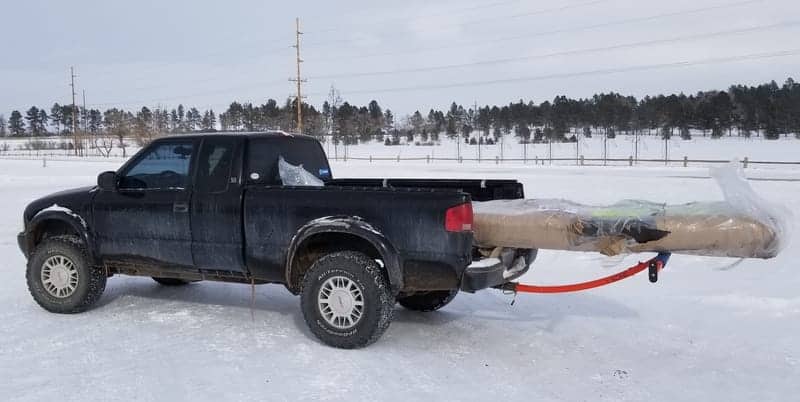 Transporting Kayaks With Tailgate Up or Down
It is always best to transport your kayak with the tailgate down if at all possible. Having the tailgate down provides additional support beneath the kayak.
We've all seen those little trucks hauling one or two kayaks with them angled inside of the pickup bed and hanging out over the back, haven't we? This can cause damage to the kayaks hull!
Having the kayak hanging over like this can bend or dent the hull in hotter weather. Only travel short distances using this method!
How Far Can a Kayak Hang Out of a Truck?
Be guided by the Code of Federal Regulations. Any load extending more than 4′ beyond the rear must have the extremities of the load marked with red or orange fluorescent warning flags. Each warning flag must be at least 457 mm (18 inches) square.
Depending upon your specific kayak and the truck you drive, most kayaks will stick out anywhere from 2′ to over 4′ beyond the rear bumper of your truck.
It is considered 'good practice' to always place a red or orange flag on the rear of your kayak! Not only for safety reasons but to protect your expensive gear!
How To Haul Three or Four Kayaks in a Truck
When heading out kayak fishing with friends the problem always arises on how to haul three to four kayaks at once!
One way which is pretty easy is to stack the kayaks on one anther in the pickup bed. Making certain you strap them down securely.
I always try to stack them with the tailgate down for additional support. There are times when you can stack them together on one side across the bed of the pickup truck too!
If the kayaks are smaller and 10′ long or shorter, you can haul them with the tailgate up, but I recommend leaving the tailgate down when traveling a long distance.
Although this is my preferred method of going out with multiple kayaks! If practical, try to take two vehicles if you'll be fishing a flowing waterway like a river or stream or would like to put in at one spot and take out at another!
This way, you'll have a pickup vehicle at the take-out spot to go back to the starting point.
Should a Kayak Be Transported Upside Down?
Generally speaking, plastic rotomolded fishing kayaks can be transported hull down in the pickup bed without sustaining any damages or deformities.
I often find having to remove and install the accessories mounted onto my gear tracks to be annoying when heading to the lake. So I haul my kayak hull down on the bed extender, leaving my accessories attached, without any issues.
In the end, I've hauled my kayak a couple of different ways to the fishing grounds. The bed extender is the easiest for me and supports the weight of the kayak.
When I'm heading to the city lake or somewhere relatively close, I slide the ATAK 120 into the bed, strap it down securely, place a red flag on the end, and drive a few miles to the water.
Whichever way you choose to transport your kayak and gear to the water by yourself or with friends, do it safely!
Related Articles
Have fun and be safe out there!