This post contains affiliate links.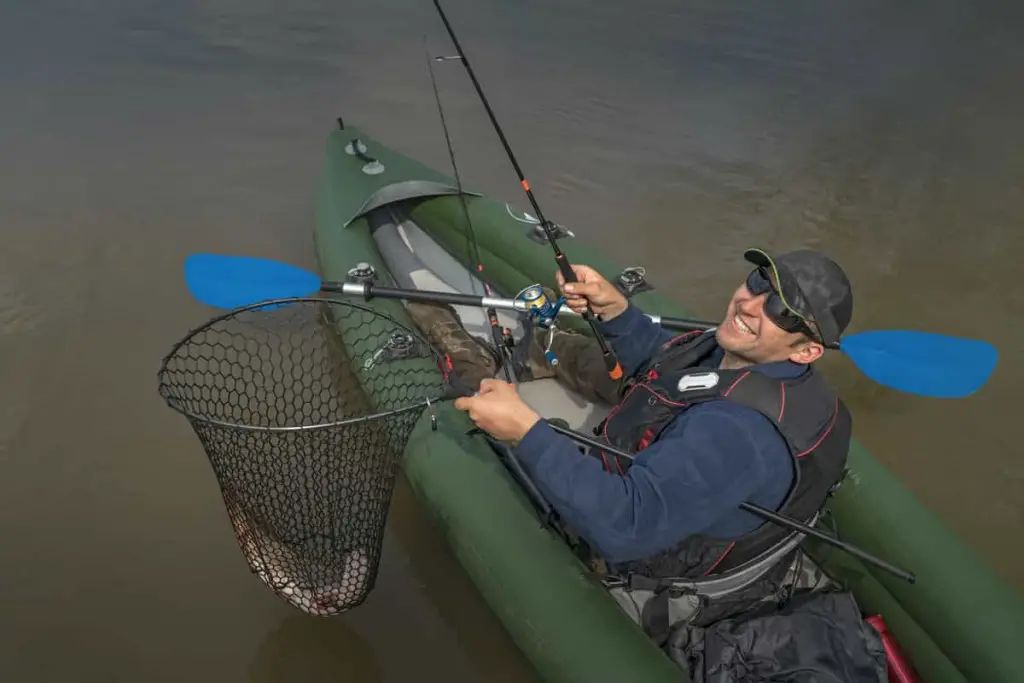 Kayak fishing is simply fishing onboard a kayak. The sport may have gotten increasingly popular in recent years, but its origins can be traced back to around four thousand years ago. Arctic inhabitants made the earliest versions of the kayak from driftwood and sealskin and used it for hunting and fishing. So you may have heard of the modern-day version of kayak fishing and are wondering whether it's fun.
Kayak fishing is quite fun. You get to be outdoors, and you get to exercise and have a workout. It adds a novel twist to the normal fishing experience, and it can add some variety to outdoor adventures, vacations, and trips with family and friends.
But what makes kayak fishing fun? And what are the things you need to know about it? Read on and find out why you should take it up some time!
Kayaks Give You Easy Access to Water
The thing with kayaks is that if you can't reach the shore, then you can use a kayak to fish. With a kayak, you can go to any waterway with a public access shore and do your thing. 
You can get your kayak on the water without needing a launch ramp. In fact, it's possible to carry your kayak to the water by yourself. And here is a video that shows you just how to do it without risking injuries:
It's not particularly recommended, but it can be done. Not only that, but you also have an easier time going through narrow waterways with a kayak. 
What's more, there are places where you cannot use a motorized boat. For example, in Yellowstone National Park, there are places where only non-motorized boats such as canoes and kayaks are allowed. 
It's Easy to Go Where the Fish Are
There are times when the fish just aren't biting, no matter how long you stay on the shore. Other times, there are too many people on the bank with you. With a kayak, you can leave the shore and go to a remote part of the lake, river, or sea and have better luck angling there.
What's more, with a kayak, you can fish in freshwater lakes or rivers and in the seas or oceans. You have the potential to get different types of catch. You can go fishing for largemouth bass in a river this month, and then angle for some mahi-mahi next month.
Kayak Fishing Lets You Add Variety to Your Fishing Expeditions
For some people, part of the allure of fishing trips is the activity that you get to do while waiting for a fish to bite. You can stand in the water and go fly fishing on a still river while gathering your thoughts. Or you can go surf fishing in between swimming with your friends.
With kayak fishing, you not only get close to where the fishes are, but you can also sightsee. 
For instance, while kayaking on a river, you get to enjoy the various geological features you pass by, spot various animals on the riverbank, and admire the waterfalls, trees, and vegetation. You get to take in the scenery and savor the sounds.
When you're done fishing, your group can use the kayak for other stuff, such as exploring the nearby waterways, getting to another part of the park, or perhaps getting to another island.
Furthermore, you can use kayaks where motorized boats are not practical. You will have an easier time hauling your kayak than a powerboat. 
Imagine being able to catch both freshwater and saltwater fish from various places.
Kayak Fishing Offers a Different Fishing Experience
You may be a seasoned angler from the banks, on the shore, or on powerboats, but you can learn something new or can be challenged when you go kayak fishing.
When you're in a kayak, you are pretty close to the waterline and near the action. This makes topwater strikes even more exciting.
What's more, with a kayak, you can easily go under a dock or perhaps get close to submerged timber where fishes are abundant.
It's Relaxing
When you are on a powerboat, you're mostly zipping through the water to get to your fishing spot. Kayak fishing is the opposite. You're paddling slowly, which can be quite relaxing.
There's a Lot to Learn
Kayak fishing might be a new way of fishing for you, so there is a lot to learn, especially in the methods you can use to catch fish.
You can't bring a lot of tackle on a kayak, so you make do with what you have, forcing you to learn new ways of catching fish. Mobility is also limited, so you will need to be creative in reeling the fish in.
You Can Get Healthier with Kayak Fishing
According to this page, kayaking can make your muscles, torso, and legs stronger. It can also provide good cardiovascular exercise. Plus, because it's typically a low-impact activity, you get fit without punishing your joints and tissues.
The American Council of Exercise helps you get things in perspective. If you weigh 165 pounds (74.8 kilograms) and you go kayaking for an hour, you will lose 374 calories. The heavier you are, the more calories you'd burn: if you weigh 10 pounds (4.5 kilograms) heavier, you will be burning 22 calories more in that hour you spent kayaking.
Based on weighing 165 pounds, kayaking is comparable to an hour of:
Casual aerobic dancing: 374 calories burned
Shooting baskets: 336 calories burned
Cycling at 5.5 miles per hour: 299 calories burned
Fast dancing: 411 calories burned
Playing catch: 187 calories burned
Playing a friendly game of Frisbee: 224 calories burned
Golfing: 336 calories burned
Gymnastics: 229 calories burned
Motocross: 299 calories burned
What's more, kayaking is a low-impact exercise that does not punish the joints with its fluid motion and gentle movements. Low-impact exercises also present a lower risk of injury. Further, low-impact activities can also make you more flexible and stronger.
According to SportsRec, kayaking can work most of the muscles in your body. It's a great workout for your chest, heart, abs, hands, back, and shoulders.
Kayaking might be a low-impact activity, but it's not less intense. Kayaking will also make your back stronger because the paddling motion is very much the same as the movements you do in a dumbbell row or seated cable row. It helps define your rhomboids and lats.
Other muscles that are used include:
Core

Abdomen
Obliques
Lower back

Chest
Arms/Shoulders

Biceps
Triceps
Deltoid
Forearms
So while burning all those calories, you are also strengthening different parts of your body, leaving you with awesome muscle strength. And you don't have to be in a gym smelling like sweat to do all that.
You get your heart beating without the risk of leg and joint injury. 
Research has also shown that kayaking builds your upper body strength and teaches you how to breathe more efficiently. The study has found that professional kayakers have higher oxygen intake.
There are also some mental benefits when you go for kayak fishing. It helps you de-stress as the paddling movement can be seen as meditation. It also releases endorphins that are your brain's happy pill.
Kayak Fishing Is Not Only Fun. It's Affordable, Too
If you're thinking about getting into kayak fishing, you should have all the gear you need to make it even more fun. However, getting your kayak fishing gear together will be much more budget-friendly than getting gear for fishing on a motorized boat. 
Choosing a Fishing Kayak
If you're a beginner and looking for the perfect fishing kayak, you can choose any one of the products coming from big kayak brands. These boats have features like a compartment for a fish finder, rod holders, tackle storage, catch storage, and others.
The Perception Pescador Pilot 12 has a one-piece construction that makes it very durable and gives it extra buoyancy. There's space for a cooler, tackle, fish finder, gear tracks, and rod holders, among other things.
Or you can go for the Wilderness Systems ATAK 120, which gives you a very compact kayak that is more manageable in the water and portable on land. You can keep all your gears on the huge rear tank well.
While both of these options are in the $1,500 to $2,000 range, there are more affordable choices such as the Vanhunks Voyager Deluxe Kayak, the Lifetime Triton Angler 100 Fishing Kayak, and the inflatable Intex Excursion Pro Kayak. These products have a price range of $400 to $900.
However, if you already have a kayak, you can use that to go fishing.
What Should You Look for in a Fishing Kayak
Sit-on-top kayaks are your best bet for an easier time on the water because it's easy to get into or out of one. This type of kayak also doesn't flood with water, and you have a better view of the water because you are sitting higher.
It also has more seating options, as well as extra storage for all your gear. You can also stand on a sit-on-top kayak, and you can customize it to your heart's content.
A sit-in kayak, on the other hand, might not be a good idea. But you can still use it. These boats, after all, are usually cheaper than the sit-on-top variety.
Buying a Paddle
When buying paddles, you should choose one that is the right length and is lightweight.
A paddle that is too long or too short might be difficult for you to paddle with correctly. And if it's too heavy, you could easily get tired and could possibly get injured.
So, how long should your paddle be? It depends on how wide your kayak is. Here's a table that can help you choose the right paddle.
| | |
| --- | --- |
| Kayak Width | Paddle Length |
| Under 58.42 centimeters (23 inches) | 210 to 220 centimeters (82.7 to 86.6 inches) |
| 58.4 to 71.1 centimeters (23 to 28 inches) | 220 to 230 centimeters (86.6 to 90.6 inches) |
| 73.7 to 83.8 centimeters (29 to 33 inches) | 230 to 250 centimeters (90.6 to 98.4 inches) |
| 86.4 centimeters (34 inches) and wider | 240 to 260 centimeters (94.5 to 102.4 inches) |
Buy something like the Werner Camano Premium Fiberglass Kayak Paddle. It comes in a variety of colors and is available in sizes from 230 to 260 centimeters. It's also very lightweight and is collapsible into two pieces so it is easier to store.
Accessories 
There are several accessories that you should consider when buying a fishing kayak. But if you're choosing a kayak that does not come with these features or accessories, you can easily add them separately:
Comfortable seats because you will be sitting for hours
Tools such as pliers, landing nets, and fish grips, among others
Anchor trolley, which allows you to change the angle of your kayak so that you can follow the wind or tide movements
Anchor pin, which is the quietest and fastest way to anchor in shallow waters
Transporting Your Kayak
You should think about how you're going to take your kayak with you. Kayaks can weigh a lot, typically around 35 pounds (15.9 kilograms) to more than 120 pounds (54. 4 kilograms), depending on the type of kayak you have and its main material. Fishing kayaks, with their bells and whistles, tend to be heavier than comparable regular kayaks.
We know what you're thinking: lifting these kayaks will not be fun. It will be backbreaking to lift something this heavy over your head and then put it on your vehicle. It also gets more difficult if you have a taller vehicle.
Most people will find it easier to just strap the kayak to their vehicle's roof rack using cradles. With a motorized boat, you will need a trailer to transport it, which will add another $1,000 or more to your expenses.
Kayaking with Friends
Kayak fishing is an awesome activity that you can enjoy with friends and family.
The best way to go kayaking with your buddies is for each of you to have a boat. You can paddle and fish together. Or if you're a beginner, it's safer to go kayaking with somebody who's more experienced.
Alternatively, there are tandem kayaks that you can buy, such as the Intex Dakota K2, which holds two people up to 400 pounds (181.4 kilograms) in total and comes with two dry bags, removable seats, and 86-inch (218.4-centimeter) oars.
If you can't decide whether to bring your best friend or significant other, then you don't have to because you can just take both of them with a three-seater kayak such as the Sevylor Big Basin Three-Person Kayak.
A Word About Inflatable Kayaks
You might have concerns about using inflatable kayaks because they might puncture, leaving you without any choice but to swim to shore. However, inflatable kayaks are safe, provided that they are made of durable material, have comfortable seating, and boast a rigid construction. 
The possibility of inflatable kayaks puncturing is really low. Plus, when they capsize or turn over, inflatable kayaks stay afloat, making it very easy to right the boat on the water and get back on.
However, these products are not designed to be used in rough waters where there are rapids or debris. What's more, these kayaks are very lightweight, so you might easily be swept away by currents.
Tandem inflatable kayaks with two or three people aboard can weigh the boat down, making it less likely for the currents to take you away from shore. To be extra safe, always wear a lifejacket.
Staying Safe While Kayak Fishing
While kayak fishing is fun, you should not think that it's totally safe. You might just be surrounded by peaceful waters that lull you into a false sense of safety. So always be on alert. 
There are some safety precautions that you should observe when you go kayak fishing, even if it is relatively safe. Some of the things you need to prepare include:
Bug spray to keep insects away
Personal flotation devices
Food and water
Sunscreen
You should also check out the weather, which will tell you what to wear, how rough the waters will be, and how much paddling you will need to do.
You should also know the park rules, including fishing etiquette and areas where fishing or kayaking is prohibited. These rules are there to help protect you and other people from dangers that you may not even know about.
It's very important not to drink alcohol when you're going kayak fishing. When things go wrong, it could get serious in no time, so you need clear thinking to decide what to do next. Furthermore, consider getting a lifejacket that is designed specifically for kayak fishing.
Lifejackets like NRS Chinook Fishing PFD don't hinder free movement, so you can cast your line freely without snagging your arm on any part of the lifejacket. It also has several pockets that allow you to carry important gear and tools safely. 
What's more, you should be prepared for whatever is in the area. For instance, dangerous animals such as crocodiles, sharks, or beavers, depending on where you'd be fishing. You should also be wary of large boats that can create waves big enough to capsize your kayak.
You should also have a navigation device to avoid getting lost. Plus, you should inform your group regarding your whereabouts in case you want to explore.
Rapids and rocks can also be dangerous when you're on a river. Avoid getting into a river with even the gentlest of rapids if you're a beginner. You should also secure your paddle to your kayak with a tether to avoid losing it. 
Lastly, you should practice getting back into your kayak should you fall into the water.
If you're going fishing as a group, you might want your friends to watch this video on essential safety tips when you go kayak fishing:
Conclusion
If you're thinking about going on a kayak fishing trip, then you should go and have loads of fun. You can commune with nature, get some fresh air, and have a rigorous workout in the process. The fact that you're combining kayaking and fishing is a bonus, plus you can do it with friends.
Just be sure to have the right equipment and gear, and always be prepared for anything in the unlikely event that things go wrong.
Other posts you may be interested in looking at!
Have fun and stay safe out there!